Yego rules out retirement, looks forward to Olympics comeback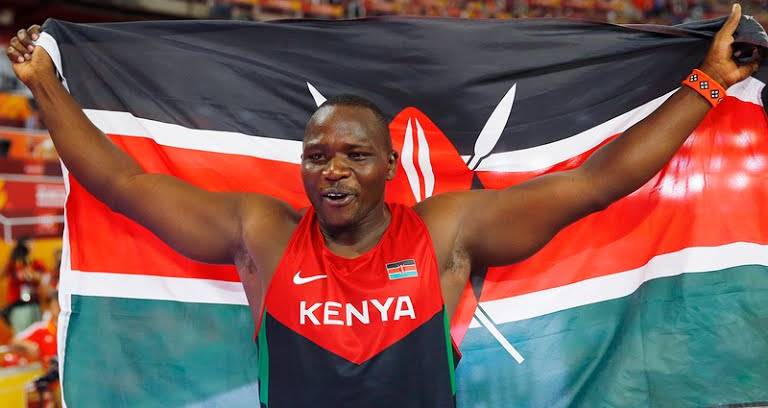 With no discernible successor, and after a disappointing show at the rescheduled Tokyo Olympics last year, Julius Yego is still hoping to do more in javelin.
The former Olympic silver medalist and world champion continues to eye glory and add more medals to his wall cabinet despite challenges in training and a series of injuries.
Yego, 33, has had his fair share of fame, success and controversy. He says he is in top shape this year and that he has no plans of retiring from the sport.
"This far, I can describe my career as successful, but with many more feats to be accomplished," Yego told The Nairobian in a telephone interview.
He continues: "I went to the Olympics (in 2016) as an amateur, competing with experienced javelin throwers, and I won silver. I returned last year when I was a professional but I did not reach the finals. Sports teaches us to accept results and use them as lessons to prepare better for the next competition. You need to appreciate what you have done."
Last December, just three months after returning from Tokyo for the Olympics, Yego, an alumnus of the prestigious Kapsabet Boys High School, graduated with a degree in Public Policy and Administration at Kenyatta University after four years of study.
Yego, who is nicknamed The YouTube Man after using the online channel to train during the initial stages of his career, had hinted at retirement after Tokyo Olympics, but he reveals that he has two world championships to clear before considering quitting.
"I had indicated that I might retire after the Olympics, but I am still active in athletics. I am in the best shape this year and my main focus is on the World Championships (in Oregon, USA)," the javelin sensation says.
There is also the 2023 competition in Budapest, Hungary.
He says he is participating in the third edition of the Kipkeino Classic Continental Tour in Nairobi slated for May 7.
Yego says he will use the Kipkeino Classic Tour to attain qualifications for the World Championships where he eyes another gold after winning in 2015, in Beijing.
"We have the 2021 World Championships and the 2023 edition and this makes me compete this year and next year, and I hope to qualify," Yego says.
He, however, did not indicate whether he is taking part in this year's Commonwealth Games in Birmingham, England. He won gold in Glasgow Commonwealth Games (2014).
Last year, barely a month to the Olympic Games, the self-trained javelin thrower expressed displeasure with the manner in which his training was being managed, accusing Team Kenya management of not allowing his tactician to coach him in preparation for the global competition. He unceremoniously resigned as team captain in protest.
"The challenges ahead of the Olympics (last year) are now water under the bridge and the main focus is the World Championships. So far, my training has been smooth. My coach is doing a great job. The main thing is to maintain good shape," says Yego.
After next year, and if he considers retirement, Yego rules out taking up javelin coaching, to nurture the next generation of throwers.
"I am not looking forward to coaching after my retirement, but I may consider if there will be basic facilities to train young javelin athletes here. Our biggest challenge is the lack of a training camp for javelin throwers.
"I have been competing for more than nine years and I may need to take a rest and focus on serving my country as a police officer in the National Police Service. I will focus on what my employer assigns me to do. I will try javelin coaching if I am asked to train our athletes," Yego, who is known as a YouTube athlete after using the online video channel to train himself during the initial stages of his javelin career, says.
He is currently a police officer attached to the Directorate of Criminal Investigations.
On balancing education and training, Yego says: "It requires discipline and determination. Remember sports, job and schooling are not easy to manage, but I thank God I was able to get through. I had to sometimes halt training for studies, and it really affected my performance at some point, but I don't regret it."