Nearly-forgotten Maragoli FC were the real pioneers of Kenyan football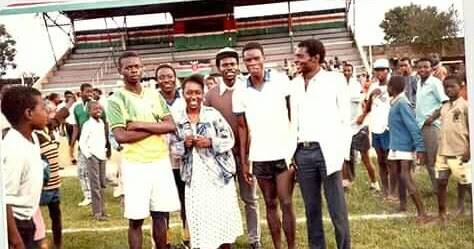 In my attempts to explain our average success in football, I first thought that the relatively young age of our biggest clubs was a major reason. AFC Leopards and Gor Mahia were formed in 1964 and 1968, respectively. Young here is relative compared to some big clubs in Africa. Al Ahly of Egypt was formed in 1907, while in DRC, Motema Pembe and TP Mazembe were formed in 1937 and 1939, respectively. Closer home in Tanzania, Young Africans (Yanga) was founded in 1935 while their rivals Simba SC came to be a year later. Then I heard that Maragoli FC was formed in 1935 and a few weeks ago, I wrote that Elijah Masinde played for the national team in 1930.
That's when I realised that our problem is not that we picked up football later than other African countries, but our inability to build on past success and learn from our failures. Maragoli FC was formed the same year its greatest player and team manager Joe Kadenge was born. Little is known of who formed the club and its initial years until the 1950s when it popped up in Nairobi. The story of Kenyan football always has a tribal and political perspective.
Maragolis are one of the 18 recognised Luhya sub-tribes and the second largest after Bukusu. They were also the first to receive the Quaker Missionaries and went with them to Kaimosi among the Tirikis in 1902. As the Tirikis were still trying to understand Quakers, they realised the Maragolis had taken over most of the slots at the mission centre. They resisted passively and soon the Quakers opened up another station in Vihiga and later Kimilili in Bungoma. From this perspective, it is obvious that Maragolis embraced football earlier from the settlers than most communities in Kenya.
The club must have been formed in Maragoliland in the current Vihiga County before moving to Nairobi. Those who remained formed Andimi FC in North Maragoli and Mungoma FC in South Maragoli. North and South Maragoli clans can be roughly designated as Sabatia Constituency for North and Vihiga Constituency for South. These two clubs became feeder clubs for Maragoli FC in Nairobi. Andimi FC later featured in Nairobi Provincial League in 1979 but has since died too.
Football in Kenya during colonial times is always told as Gossage Cup and Remington Cup, the precursor to CECAFA Challenge Cup for countries and clubs, respectively. It is until 1959 that we hear of Maragoli FC as runners-up in FA Cup. The following years must have been tough for the club as Abaluhya FC (later AFC Leopards) dominated the Luhya space from 1964. On March 12, 1964, Marama FC, Bukusu Brotherhood, Samia United, Samia FC, Kisa FC, Tiriki FC, Lurambi, Butsotso, Eshirotsa and Bushibungo FC folded to form Abaluhya FC. Maragoli FC held its ground, as the oldest club in the land, they could not fold up to join a new club. There has also been the undercurrent from Maragolis that they are not Luhyas due to their early uptake of education and adoption of western cultures.
The inaugural national league was played in April 1963 by 10 teams. Maragoli FC came fourth ahead of Luo Union in Number 5, as Nakuru All Stars won the league. That season, it is reported, Joe Kadenge scored the fastest ever goal in the history of Kenyan football for Maragoli FC. He later joined AFC Leopards in 1965 and won the league in 1966.
Kadenge, a Maragoli, leaving Maragoli FC to join Abaluhya FC was a coup and a sign that Maragoli would play second fiddle to Leopards in terms of Luhya support. Wilberforce Mulamba would leave Maragoli in 1980 to become AFC Leopards' leading goal scorer of all time. It was a case of 17 vs 1, Leopards had a larger support base, which translated to better financing.
In the 1967 League won by Abaluhya FC, Maragoli came in sixth, but also lost 3-0 to Abaluhya in the FA Cup finals. They must have been relegated from the top flight in the 1969 or 1970 season, according to former player Edward Kedogo, who joined in 1971 from Andimi FC when they were in Division One league. The same season club legend Naftally Agufwa joined from Mungoma FC.
They returned to the top flight in 1975 when they finished sixth. The same season, Kadenge returned home to play for Maragoli but retired the following season. In 1977, with Kadenge as team manager, they toured Holland where they played friendly matches, losing one 6-0 to Ajax Amsterdam Select side.
They did not feature in the 1978 league because they had faced the axe once again. They featured in 1979 when they reached the Nairobi Mayor's Cup final against Gor Mahia and won the cup after Gor Mahia refused to play in the extra time.
In 1980, Maragoli FC was relegated from the top flight. The following year they obeyed a government order and changed their name to Imara FC, Kiswahili for strong or stable but with "mara", short for Maragoli. They bounced back in 1983 when they finished 17th in a 20-team league. That was the last time they were heard of in the top flight. They struggled in the lower leagues and later folded. Reuben Osoro is the club's all-time top scorer with 44 goals.
The story of Maragoli FC is the story of Kenyan football, great potential, great history, but lack of consistency at the top level has meant that we cannot become a football power house. We also do not keep club records, which makes it easy to repeat past mistakes.