Eliud Kipchoge, Magical Kenya ambassador, is representing the country for free, "as a patriot"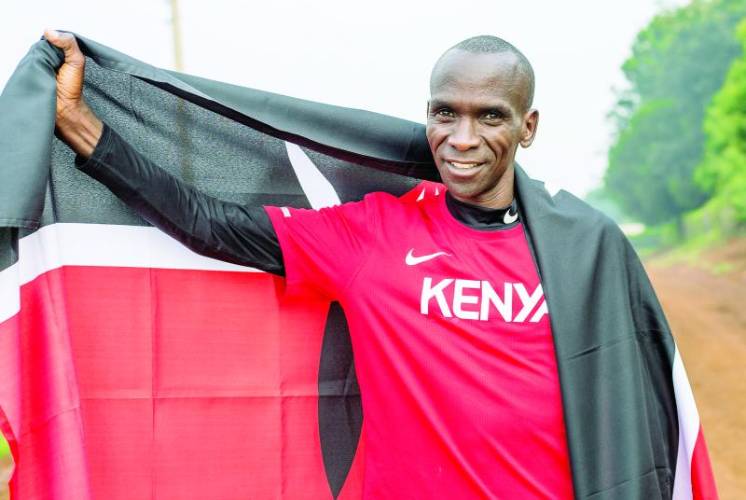 In July 2020, Eliud Kipchoge, the fastest man on earth in marathon, was unveiled as Magical Kenya destination ambassador.
At the time, Kenya Tourism Board (KTB) did not mention how much money they forked out to secure the services of the two-time Olympic champion.
Kipchoge, a man regarded as the greatest marathoner of all time, is a brand worth millions of shillings.
The star athlete, for instance, scooped Sh14 million in August last year when he signed up a deal with Isuzu Car dealers to become their brand ambassador.
Kipchoge boasts of an impressive CV. He has lost just two of his last 15 outings at major marathons. His last loss was two years ago.
Before the painful eighth-place finish in London, Kipchoge had not tasted defeat in seven years.
The only other loss before that was a second-place finish behind Wilson Kipsang Kiprotich at the 2013 Berlin Marathon, a race where Kipsang broke the world record.
In August last year, Kipchoge joined an elite list of only three runners in the world to have successfully retained the Olympic marathon title. Other than Kipchoge, only Ethiopia's Abebe Bikila (1960 and 1964) and East Germany's Waldemar Cierpinski (1976 and 1980) have managed this rare feat.
The man who hails from Kapsisiywa in Nandi County, but trains at the chilling Kaptagat ecosystem, also holds the world's fastest time of 2:01:39 in the distance. To cap it all, Kipchoge is the only human alive to have run a marathon in under two hours, a feat he achieved during the INEOS Challenge in Vienna, Austria, on October 12, 2019.
For such an impressive CV and a trademark name, it is perceived that any brand wishing to have Kipchoge name attached to his product should be ready to break the bank.
The KTB Chief Executive Officer (CEO) Betty Radier disclosed to The Nairobian that the government did not pay Kipchoge a cent in exchange for his ambassadorial role of selling the country as an ideal tourism destination. He's doing it Pro bono.
According to Radier, Kipchoge is "too expensive to afford."
"We have to appreciate the fact that the equity Eliud (Kipchoge) has, as an athlete and as a human being, surpasses any amount in monetary value," Radier told the Nairobian in an exclusive interview.
Before she became the face of a body charged with marketing Kenya as an ideal tourism destination or the Managing Director of Scanad Group for Kenya and Tanzania, Radier was a sportsperson.
Though she was an accomplished swimmer in her school days, at some point representing the country at the national level – winning a silver in the process, Radier holds a PhD in Entrepreneurship and Small Business Development from the University of Cape Town.
She has now turned to local sportsmen and women to sell the image of the country to the international community.
"We are lucky because we have the world's most amazing athletes," added Radier.
Apart from Kpchoge, KTB also organised for a fully-paid trip for 2020 London Marathon Winner Brigid Kosgei, Ruth Chepngetich and Geoffrey Kamworor who were awarded a five-day treat at the Laikipia Game Reserve and Lamu wildlife sanctuaries.
The partnership, now in its second year, would allow Kipchoge to market Kenya as an ideal tourism hub using his resources. This was evident in Berlin, Germany during the 2021 NN Mission Marathon; and the famous run at the Masai Mara National Park.
"Our partnership with him (Kipchoge) is one of those that most people wish they'd have. We could never have afforded Eliud but because he's patriotic, he just made a concession and agreed to help us market the destination on his own steam and equity," added Radier.
This rare breed of marketing, Radier says, is paying off as Kenya taps into sports tourism.
"Just think about it, there are people who follow Eliud (Kipchoge) just because they can and for the interest of how great an athlete he is."
"The currency (value) we put on what Eliud does is the global audience that he commands," added Radier.
For an executive who understands the value of sports, why is KTB not tapping into Kenyan football, a sport with supposedly mass following, to market local tourism?
"Sports tourism is driven mainly by consumers. Globally, two fields pull the crowd - sports and music. In sports, it used to be football but with time, we found out that other sports have drawn a big enough interest that any marketer would consider."
"Sports can get you the level of awareness that mainstream communication can't."
"Unfortunately, the following of local football, amongst Kenyans is very minimal. As a marketer, we are always looking for audiences that can consume our products and convert that into cash. Unfortunately, our football is not designed that way."
Apart from athletics, golf is another area the government has recently tapped to market the country as an ideal sports tourism destination.
"We hadn't realised the opportunity until we got the European Tour status. What that does is that it immediately lifts your audiences from just an elite sport that golf is perceived to be and takes you into over 420 million homes globally. That alone brings you to the league of the likes of Eliud."
"Any activity of field that gives enough association to be able to put forward the message about the destination, is of interest to us," said Radier.