Golfers raise Sh50,000 to support needy students
SPORTS
By Mike Kihaki | February 24th 2022 | 1 min read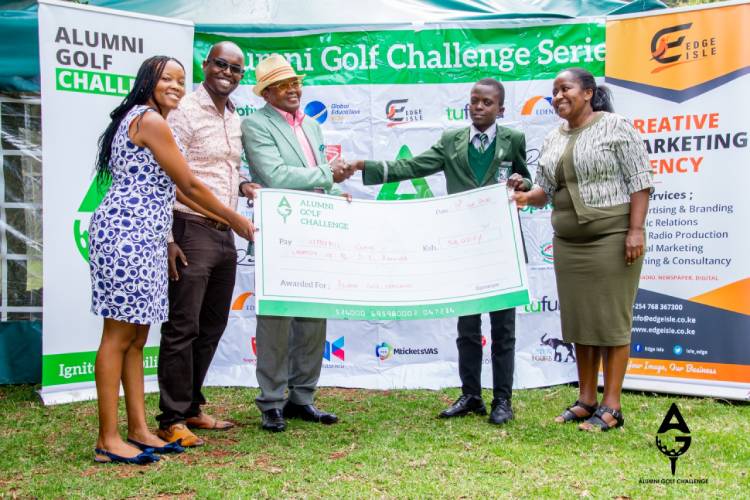 Mzee David Karanja, 72, walked away with Sh50,000 after emerging winner of the Alumni Golf Challenge held at Sigona Golf Club last week.
The cash will be donated to a needy student. Other giveaways include a voucher for two for two nights at Lake Naivasha Resort which will be given to the best 2020 KCSE exam teacher at Upper Hill School, Nairobi, where Karanja sat his form four exam in 1963.
Karanja, a businessman, said the Alumni Golf Challenge is an excellent opportunity to help learners remain in school, even when resources become a challenge.
"I would like to encourage professionals to come and learn to play golf so that they can make a contribution to their former schools through this platform," said Karanja.
The Challenge was organized by Edge Isle and several partnering institutions to help learners in school, following the disruptions occasioned by the Covid-19 pandemic.
"Pressing economic challenges have made many parents unable to raise school fees, meaning secondary schools are owed millions in arrears. The reality is that thousands of children are today dependent on well-wishers, including alumni," said Mark Macharia of Edge Isle.
Elizabeth Mbuthia emerged top lady golfer while the most represented school at the Challenge was Kenya High School. The Alumni Golf Challenge will be held four times a year.
Doctor or politician: Who is smarter?
The MCA brought our unit to an abrupt standstill. Even the patient with a thigh fracture stopped groaning a little to catch a glimpse of the drama.