Arnold Origi: Miss Katiwa is my sweetheart and I am not embarrassed to say so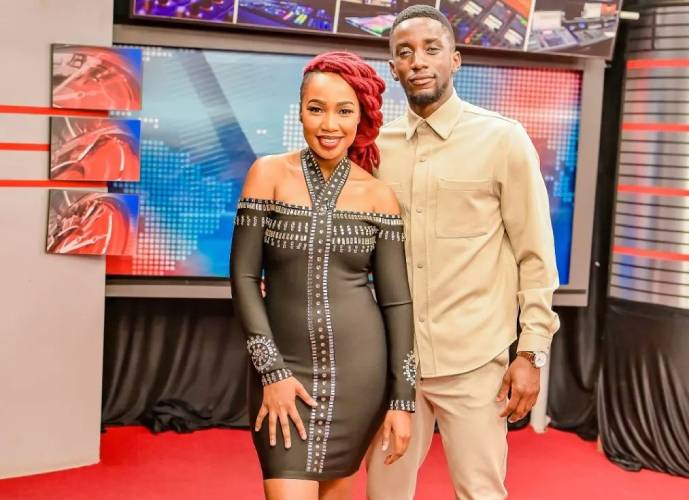 Harambee Stars gollie is perhaps the only Kenya Number One to ply trade in Europe for more than a decade. To this end, the former Mathare United player, who took his first flight to Norway at the age of 12, and came back with his first cup with MYSA Under 12 team, has fallen in love before, bottled out of love, then fallen in love again.
In Norway, his second home, he is loved, just as much as here in Kenya, especially in the Dandora slums. This is where he grew up before his family moved to Pangani.
But across the border- in Uganda, he's hated. This is the man who in 2011 denied the matoke nation a chance to feature at the 2012 AFCON in South Africa with a man-of-the-match performance at Namboole Stadium.
Uganda Cranes needed three points to book their maiden AFCON finals. But Origi, who was by then attached to Norwegian side Moss FK, had some evil plans for Kenya's western neighbours - he pulled point-blank saves to force a 0-0 draw at a packed Namboole.
That fateful result is still fresh in the mind of most Cranes' supporters. "I hate him. He denied us a golden chance," Dannie Okwe, a Ugandan Sports journalist told The Nairobian.
But Origi, who acquired the Norwegian passport in 2017, doesn't care about the hate because he has found love, back at home.
"We went into the game after going through some rough path (2007/8 post-election violence) as a country and we (Harambee Stars) just wanted to give Kenyans something to celebrate about. I know that some Ugandans might hate me for that but I have no apologies because I was representing the flag which I have a civic duty to protect."
And he shouldn't care since he enjoys the warmth of his sweetheart, Radio and TV personality Stella Katiwa, popularly known as Miss Katiwa.
"I am dating Miss Katiwa. She is my sweetheart now and I am not embarrassed to say so. "Love is a good thing. I love her," says Origi.
But what does it take a man to win the heart of a beautiful lass and remain at the top of his game for that long?
For Origi to continue shining and denying other handsome men the opportunity to score goals, the custodian who also confesses his love for fish and madondo, knows he needs a good diet. While most professional players stick to a strict diet, Origi says he does not like the textbook dieting proposed by most nutritionists.
"I tried doing the normal routine of 40 per cent proteins, 40 per cent carbohydrates and 20 per cent vitamins and I kept putting on weight. As a goalkeeper, you are not burning as many calories as an outfield player because there are not so many physical demands. Mine is a low carbohydrate diet. So, I take a lot of vitamins and proteins during the season. But take a lot of carbohydrates during off season because I love chapati," reveals Origi.
"Napenda vitu tamu tamu kama pilau, madondo na ugali na nyama. I do a lot of that during the off season when I am trying to bulk up. Sometimes, if I want to do it the Kenyan way, then I take Kikuyu's favourite dish - mkorogo. I usually throw in madondo (chapati and beans), cabbage, carrots all in one plate. There are so many vitamins in that mkorogo," he adds.
While growing up, Origi was made to believe that eating fish head makes him smarter. For that reason, Origi confesses his love for fish and that he will pick a plate of tilapia over chicken or mukimo.
"I love fish, dry fry and brown ugali. I love the head too. Tuliambiwa ukikula kichwa unakuwa smart, so napenda kukula (samaki) hadi kichwa. If you serve me wet fry then I will not eat the head," he says.
Origi and Miss Katiwa have dated for some time now and even visited his rural home last December for an introduction session. Miss Katiwa recently resigned from her job with a local station, raising speculations that she might soon join Origi in Norway.
According to sources, the couple are already living together and it is just a matter of time before the wedding bells start ringing. Origi, son of former Kenyan International Austin Oduor, made his national team debut in 2005 during Africa Cup of Nations (Afcon) qualifier against Ghana.
His first club was Mathare United, which he joined in 2001. Now 21 years have since elapsed but Origi, 38, is still going strong. But his long stay at the top of his form has not been without flaws.
In 2006, Origi's hard-to-forget blunder gifted Eritrea a 2-1 win at Kasarani Stadium during a must-win African Nations Cup tie.
He has never forgotten the miss up. "I was trying to be over ambitious. I wanted to impress the coach because I was always known to be a good player."
Origi recalls: "I wanted to play one pass for coach (Bernard) Lama to see what I am capable of with hopes that he would get me a deal in Europe.
"The ball took a bubble. I then had a slice which gave it momentum and it was in the net. At that moment, I felt bad.
"When you are young and you are doing well, you always think that you are flawless but I leant a tough lesson to live the moment," says the talented custodian who at the age of 21, had already earned four caps with the national team.
The disappointing show at Kasarani Stadium came at the back of a good run for the then youthful Origi. He had just had a man-of-the-match performance against Guinea, Tunisia, Morocco and Libya. Impressing Lama, he thought, could earn him a good deal of his football life – enough cash to sustain the life of a Kenyan celebrity girlfriend.
Lama is a former French goalkeeper cum coach – who coached Stars for just three months in 2006.? But that's not the only mistake he has made on the pitch. His worst moment with Harambee Stars was in Calabar, Nigeria.
Francis Kahata had put the national team on the lead with a superb free kick that they held onto until 92nd minute when Origi conceded with the last kick of the game.
"That was the worst experience in my career," Origi, who still holds to the opinion that bad game management was to blame for the draw, states.
"We made a substitution in the 86th minute and brought in a striker for a striker. We really didn't need that. We were leading 1-0 against Nigeria. We didn't need to score another goal. We were just too ambitious.
"But that goal bruised my morale. We were at the brink of writing history because Super Eagles always beat us. We were just about to beat them; before their fans, only to concede in the last minute of the game. That still remains my lowest moment with the national team."
But even though he sometimes wishes that the two blunders never happened, now, he is enjoying love and warmth from a woman he calls the "love of my life."