Drivers spend up to Sh30 Million to prepare classic cars ahead of Safari Classic Rally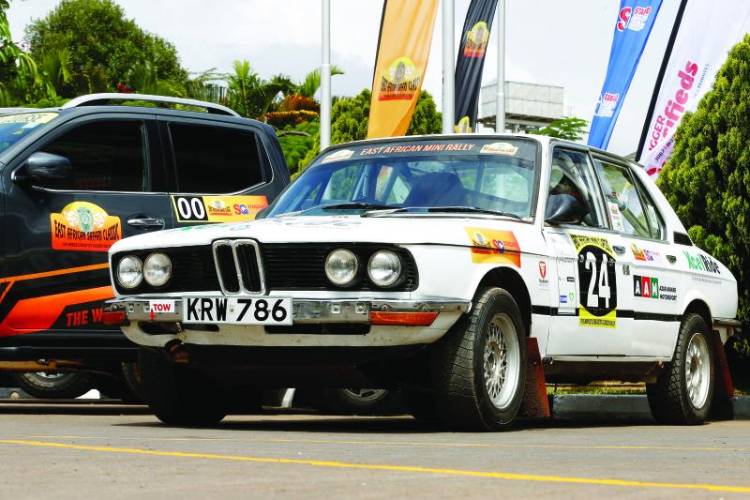 A rusty shell of a 1978 BMW e28 535i Classic car has consumed Sh6 million on servicing ahead of the East African Safari Classic Rally.
A 52-year-old Porsche is estimated to have taken between Sh30-60 million on its overhaul, aimed at restoring the once high-performance rallying car to tackle the rusty and meandering terrains once again.
The two German cars, manufactured nine years apart, with the 3000cc Porsche first to hit the road in 1969 as well as a 48-year-old Datsun 180 B, which will be among the 60 classic cars at the East Africa Safari Classic Rally this year.
The Classic Rally christened "The rally for the Legends" is expected to cover some of Kenya's most treacherous but scenic landscapes traversing 5,000 km spread across 12 counties.
The legendary Safari Classic Rally, an endurance motorsport competition, used to take place during Easter holidays and is known for passing through some of the muddiest and dustiest roads – a classical battle of man and machine.
The Classic Rally was born out of a conversation between Eric Cecil and his cousin, Neil Vincent, a motorsport thrill seeker, who refused to compete at the newly built Langa Langa circuit near Nakuru.
"I can imagine nothing more boring than driving round and round the same piece of track. But if you will organise an event where we get into our cars, slam the door, go halfway across Africa and back and the first car home is a winner, I'll be in it," Neil is quoted on the official EASCR website.
In 1960, the event name was changed to the East African Safari Rally. Following the independence of Kenya, Uganda and Tanzania, the rally continued to cross between borders, with event start and finish points regularly rotated. Despite growing international interest and entries, the event has been dominated by local drivers who have mastered the terrain.
The Safari Classic Rally has outlived numerous challenges that include droughts and flooding in Kenya's history.
The 2022 edition that was postponed last year, which will mark its 10th edition since its reintroduction, will once again take place in a different route that starts in Naivasha with the finish point in Watamu, Kilifi County.
In between, there will be stages in Nakuru, Nanyuki, Amboseli National Park, Taveta and finally at the Ocean Front in Watamu in the last section of the race.
The drivers will pass through the scenic Kerio Valley, then to Laikipia North right into Mwingi National Reserve. They will then enter the Amboseli ecosystem into Chully Hills to Taita Hill in Voi with the final stop at the Ocean Sports in Watamu on the north coast.
The rally that will take place over a period of 10 days, starting February 10 to 18, has since attracted 60 drivers from 60 different countries.
Among them are 23 locals that included legendary Ian Duncan, Baldev Charger, Carl Flash Tundo and his father Frank Tundo and Aslam Khan a Aslma, a two-time former Classic Cup champion will be navigated by his brother Asha Khan in a 3000cc, 3-litre Porsche 911 that was manufactured in 1969.
Aslam, who is the chairman of an aviation company based in Nairobi, will be marking a 10th consecutive appearance at the Classic.
Aslam will pay homage to legendary rally driver Jayanti Shah, who died on January 10 2021. Until his death, only Jayanti and Aslam had participated in all the nine editions of the East Africa Classic Rally.
Aslam Khan, who will be taking part in his 10th Safari Classic Rally, has been maintaining the Porsche 911 for the last decade.
According to Ben Musomba, the official mechanic for the Porsche 911, which was bought from Tuthill, a UK based official Porsche Classic racing dealership car, the machine is expected to consume 600 litres of petrol during the entire racing period.
"I will use about three tanks of fuel for the entire 5000 km," said Musomba, adding that a full tank is about 200 litres.
"This car alone can buy you a decent house in Nairobi and you will live comfortably, thereafter. This is a sport for the rich," another mechanic noted.
According to Tuthill website, a refurbished FIA-compliant Porsche 911 (3.0) RS built at the Tuthill Porsche would cost upwards of £150,000 (Sh15 million)
Azar Anwar's BMW 535i will not be ready for the Classic yet ??despite gulping about Sh6 million so far. According to Anwar, the car was once a scrap metal that once housed all sorts of rodents.
This car was pulled from the garage where it spent 15 years lying under a cloud of dust.
"It was sold in Kenya as a brand new, but it was later dumped somewhere for 15 years and when I got it there the gearbox was missing and the floor of the car had rusts and holes.
"My car is built to a budget. I would estimate the price of this car to be six million," added Anwar.
Also on the list of classic cars for this year's rally will be the Datsun 180 B, manufactured in 1974. Interestingly, Eric Bengi who will be driving this classic piece of an automobile was born 48 years ago, the same year that his car was manufactured.
Bengi will be navigated by Gatimu Mwindo on the rear-wheel drive, standard 1800cc carburettor car. But the driving prowess of all these drivers will be subjected to tests in a secretive route, known only thus far to the organisers as some of the oldest yet very expensive to maintain car battle one another on the scenic landscapes and a world to behold.
"The route is supposed to remain a secret until a day to the rally so that we don't give any driver an advantage over the other," Raju Chaggar, Clerk of the Course, told The Nairobian.