How plastic fans play football on social media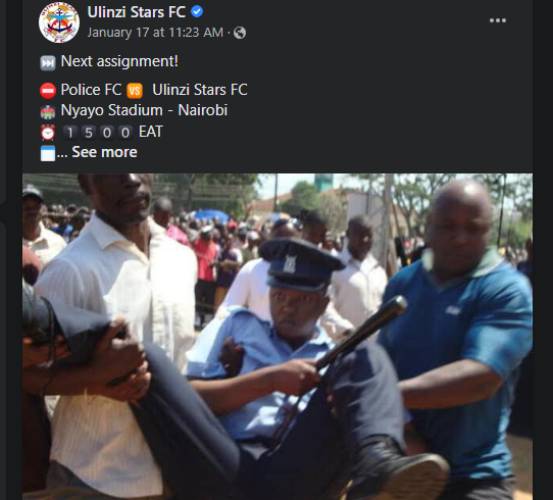 Former Council for East and Central Africa Football Associations (CECAFA) Secretary-General Nicholas Musonye once said that Kenyans love drinking alcohol and would rather go to the bars than attend a football match in the stadium. According to Musonye, Kenyans are pretentious-plastic football fans who would rather watch a mid-table English Premier League match while sitting on the counters of a dingy bar, somewhere in Kariobangi than follow the local game.
"Kenyans are always pretending to be football fans, but they are not. They want to watch matches in a bar and if they come, no one wants to pay," Musonye, a former journalist cum sports administrator once observed.
Going by the low attendance at the local stadia, Musonye could have been right even though his sentiments, at the time, did not augur well with a section of local fans.
Poor match attendance is the second name of local football. It was at its lowest ebb in the second term of Nick Mwendwa, the now-deposed Football Kenya Federation president who would not hesitate to pass a blanket ban on any fan and journalist whom he perceived to be against his leadership style.
But while football fans have been a bit reluctant to return to the stands, social media admins managing some accounts associated with local clubs have taken the game right where Kenyan plastic football fans are – social media, with drenching banters, the new source spicing up the local game.
Notorious clubs are Bandari, Ulinzi and Police FC. Ahead of the mid-week clash between the Kenya Defence Forces (KDF) soldiers, otherwise known as Ulinzi, and their law enforcement counterparts – Kenya Police, the two clubs rallied their fans back to the stadium with a hysteric online battle that ended in a stalemate, online, just as it was offline – at Nyayo stadium on Wednesday.
The 0-0 draw was attended by KDF and Kenya Police officers of different ranks and was marked by dance and jubilation, the side shows synonymous with local derbies.
In the build-up to the clash of the 'disciplined forces', Ulinzi fired the fire shot by posting a photo of a police officer being manhandled by members of the public. This message was, perhaps, meant to portray the law enforcers as a weaker unit.
But the men in blue returned fire with a picture of three pieces of mandazi, commonly known as 'KDF', resting on their jersey. Two of the three KDF Mandazi were partially bitten. The message could have been construed to mean that the soldiers should expect some mauling. But in a quick rejoinder, the soldiers reminded police of their "appetite" for chai.
"Appetite nayo hamjawai kosa; Tutawafunga na tuwapatie chai ya kuteremsha nayo hiyo kdf," tweeted Ulinzi.
Police have also fallen prey to Bandari banters when the coastal side posted a photo of a member of the public snatching a phone from a traffic police officer.
"Kabla ulale, mkumbushe afande umpendae kwamba kesho, hatuna huruma . Mida ni ile ile saa tisa. Watapata taabu saana."