Biggest controversies that dominated Kenyan sports in 2021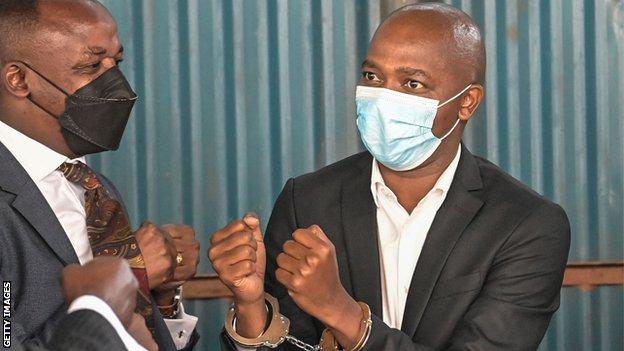 What a year it has been for sport!
From a postponed Tokyo Olympics to Lionel Messi finally winning an international trophy with Argentina, 2021 has been a year of nothing but exhilarating sporting action.
Nothing beats the fact that while the world is still struggling to eradicate the Covid-19 pandemic, sports has been key in leading the way in restoration of normalcy.
However, not all sports fans would say the same. There have been big controversial moments in 2021, which will be talked about for years to come.
The Nairobian samples some of the most controversial moments in Kenyan sports as far as 2021 is concerned:
Zoo FC expulsion from Premier League
In May, Kericho-based Zoo FC's worst fears manifested after global football regulator, FIFA ordered their expulsion from the 2020/21 Kenya Premier League season after finding them responsible for what they referred to as "match manipulation".
According to a statement seen by newsrooms, FIFA also ordered the club be relegated to the FKF Division One league for the next season.
"The FIFA Disciplinary Committee finds the club Zoo FC responsible for activities related to manipulation of football matches and competitions."
FIFA also asked the club to contact them in 30 days and implement a 'prevention plan' as an educational directive created to combat and prevent match manipulation.
Fatuma Zarika – Mercado delayed fight
The same month saw former World Boxing Council super-bantamweight champion Fatuma Zarika fume over the delay of her rematch against the reigning world champion Yamileth Mercado of Mexico. This is after the World Boxing Council approved Mercado's title defence against compatriot Campeonato Mundial in Mexico City on June 26.
Zarika said it was disheartening to be denied a chance to prove her worth against the Mexican whom she had beaten in the past without a defence from Kenya Professional Boxing Commission (KPBC) at a time she was in good shape to do so.
However, in a rejoinder, KPBC chairman Reuben Ndolo said Zarika's main predicament lies with her promoters who are the ones mandated to liaise with WBC for the rematch to be fixed.
Mark Otieno doping
In August, sprinter Mark Otieno failed to take part in the Tokyo Olympics after allegedly breaching anti-doping rules following testing by the International Testing Agency (ITA).
The 28-year-old returned an adverse analytical finding for anabolic androgenic steroid. The Athletics Integrity Unit (AIU) said the test established the presence and use of a prohibited substance 'methasterone'.
"The ITA, who are responsible for testing at the Olympic Games on behalf of the International Olympic Committee (IOC), had asserted anti-doping rule violations and provisionally suspended Otieno alongside four other athletes," said AIU.
Stephen Soi and Hassan Wario guilty
In September, former Sports Cabinet Secretary Hassan Wario and a former National Olympic Committee of Kenya (NOCK) deputy treasurer Stephen Soi were handed a combined fine of Sh119 million (or a combined jail sentence of 18 years) for their involvement in the 2016 Rio Olympics Scandal.
Wario was sentenced to a six-year jail term, with the option of paying a fine of Sh3.6 million while his co-accused Soi was sentenced to a 10-year jail term with the option of paying a fine of Sh103 million over misuse of public funds.
Wario was released after paying the fine while Soi is still cooling his feet behind bars.
Nyayo and Kasarani stadiums declared unfit by CAF
In October, the Confederation of African Football (CAF) banned Nyayo and Kasarani stadiums from hosting international competitions.
The CAF Inspection Committee said the two facilities did not meet the required standard to stage FIFA/CAF related matches; World Cup/CAF qualifiers and Club competitions.
Even though Harambee Stars was allowed to play a 2022 World Cup Qualifier against Rwanda, other clubs in international competitions were left with no choice but to seek other venues.
"Kasarani Stadium should undergo general rehabilitation work. The pitch is in poor conditions. Overall pitch condition must be improved, and the surface must be levelled, green and marked clearly in white," read part of the CAF report.
FKF Media Blackout and Mwendwa arrest
2021 is, perhaps, one year that Kenyan football fans would love to forget.
What culminated in the arraignment in court over alleged misuse of public funds to the resignation of FKF President Nick Mwendwa started out with his suspension in what can be best described as the most dramatic resignation in football.
From a media boycott to the eventual installment of a caretaker committee, Kenyan football was brought to its knees in a year the world was trying to recover from the ever evolving Covid-19 pandemic.
It all began in the beginning of the 2020/21 FKF Premier League season when leading media houses boycotted the coverage of all Kenyan football leagues.
This was after journalists were barred by FKF officials from covering a league match between Gor Mahia and Ulinzi Stars at Nyayo Stadium on December 12 last year. It lasted until January 16 when it was lifted after talks between the Sports Journalist Association (SJAK) and the federation.
In July, FKF President Nick Mwendwa raised eyebrows among fans and stakeholders when he unveiled a new league trophy which he said cost Sh5 million.
In October, Sports Cabinet Secretary Amina Mohamed ordered an audit of FKF books. She then followed it with the disbandment of FKF and appointment of a Caretaker Committee headed by retired Justice Aaron Ringera.