Meet Kenya's women happily married to their sports coaches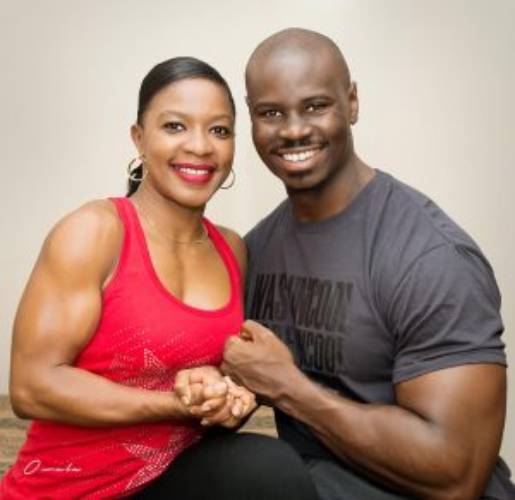 Husbands coaching their wives has featured prominently in Kenya's sporting scene for decades. From weightlifting to volleyball to athletics; sports remain the fulcrum upon which valves of love and talent are stirred to perfection.
Charles Owala and Evelyn Owala in weightlifting, David Lung'aho and Salome Wanjala in volleyball are some of the sports personalities who have found love on the field of play. Some of them have been scorned by sports authorities over conflict of interest.
After naming a national marathon team, former Athletics Kenya President the late Isaiah Kiplagat set a firestorm against female marathoners' husbands, who he felt interfered with coaches' training programmes.
"Now, we have a strong team for the championship. Our team will report for a residential camp in Iten. We have competent coaches and I have a message for those who married these beautiful stars of ours - please, allow me to say this. I think all of us are above 18 years here and you all know the duties that a husband performs to his wife in the bedroom - please allow coaches to do their jobs on the tracks," Kiplagat said amid laughter.
The Nairobian takes a closer look at their sporting prowess from local to the global stage.
Vivian and Moses (Athletics)
Vivian Cheruiyot is no doubt a household name in the athletics world. She has won nearly everything –cross country, track and marathon – at the continental, world and the Olympic Games .
The diminutive athlete is the only sports lover in athletics: "I love athletics only. I have no other sport in sight….I like watching wild animals and above all, serving in the Kenya Police."
"I love this sport so much but I will not encourage my children to take up athletics. It's an individual choice. It's sad that doping is gaining ground in Kenya. But I still encourage a clean sport," she says.
Vivian said: "I love my police job. Some people may doubt if I understand the job well since I spend much time in athletics, but let me tell you I am trained. I know how to use a gun."
What has kept her consistency? It is simple, the cordial relationship she has with her husband Moses Kiplagat, who has been her strength as their marriage vows say: "In sickness and in health."
Vivian says there is a need for a deeply connecting relationship between female athletes with their spouses as the contrary adversely affects performances.
"Running involves a lot of psychological stability. And there is nowhere you can be more stable than being on good terms with your family and your coach," says Vivian.
Kiplagat said: "I normally share this with my friends who married athletes to ensure their running spouses are psychologically stable if they expect to reap from athletics. Many factors contribute to the success of a female athlete but nothing beats a stable mind."
"As a coach, I always pray to God that she performs well in races. At times, our families question if she fails to perform well."
Evelyn Owala and Charles (weightlifting)
Her story is quite exciting. Evelyn quit her job in the banking sector and made headway to the gym. Evelyn Owala is a health and fitness enthusiast who followed her passion –the love for heavy metals.
And she never disappointed. After lifting the 2016 Ms Kenya Figure title, Evelyn scooped the Women Bodybuilding Championship title in Angola in 2019. In the same year, she also won two trophies at the annual Arnold Schwarzenegger Sports Festival in South Africa.
Evelyn is married to fitness freak Charles Owala. While Evelyn usually trains under a Brazilian coach ahead of major championships, the couple occasionally pumps weight together in the local gyms.
"He just trains for fitness. He doesn't do it competitively," Evelyn clarified amidst when asked how it feels to be trained by husband.
On why she left her banking career, she added: "There is nothing as good as doing what you love," Evelyn, a former Service Manager-Asset finance told Nairobian.
Esther Mutinda and Justine Kigwari (volleyball)
Malkia Strikers setter Esther Mutinda was coached by her husband Justis Kigwari while in secondary school. Kigwari, who won five East Africa Secondary Schools Sports Association (EASSSA) volleyball titles with Kwanthanze Secondary School, was Mutinda's coach throughout high school.
Though currently attached to former Kenyan Volleyball Federation League champions Kenya Pipeline, Kigwari rarely misses the training when her wife is on the pitch. Mutinda is poised to take over the setting mantle from retired Jane Wacu.
David Lung'aho - Salome Wanjala
David lung'aho needs no introduction in Kenyan sports especially in volleyball courts. The former Kenyan international is the current technical director of Kenya Volleyball Federation.
Lung'aho, popularly known as 'Dimosh' coached the national team at the 2004 Athens Olympic Games as well as at the 2007 World Cup and the 2006 and 2010 World Championships. In 2015, he guided Kenya to her only international trophy – the World Grand Prix in Australia.
A former player (setter) with the Kenyan Commercial Bank, Lung'aho won seven continental titles; two with Kenya Pipeline and five with Kenya Prisons. He also won the Africa Cup of Nations title with the national team in 2005, 2007 and 2011.
'Dimosh' coached Salome Wanjala, his ex-wife who also played for Kenya Prisons and the national team. The two, who are also serving Kenya Prisons, have three children.
Mary and Charles (Athletics)
Mary Keitany surprised the athletics world by making a podium finish on her full marathon debut in 2010. Although she finished third in the New York City Marathon, one of the Big Five races that count towards the World Marathon Majors series in 2010, Mary Jepkosgei Keitany did just about enough for the world to notice her.
Keitany has struggled to go one better to even break the women's 21km record.
Keitany started running while in Standard Four in 1996 at Kanjulul Primary School before moving to Kisok Primary School in Koibatek.
She was trained and coached by her husband, Charles Koech, also a half-marathon runner. She retired from athletics in May.
She says training with him earned her the required strength to overcome the strong challenge in the American race.
Keitany was born in Kisok village in Koibatek. Although she had a burgeoning career in athletics, Keitany participated in school competitions for fun, reaching district level at 5000m while in Standard Seven.
Her running talent bulged out in 2002 when she joined Nairobi's Hidden Talent Academy for her secondary school education, specialising in 1,500 and 5,000m. She posted brilliant shows all along to the nationals for three years running in 5,000m and had turned out a star to beat at the national secondary schools' competitions.
After identifying her potential upon completing Form Four, Keitany went to Iten for full-time training.
Wesley Korir and Tarah McKay
Wesley Korir, the former Cherangany MP and 2012 Boston Marathon winner, married Canadian athlete Tarah McKay, his former teammate on the Louisville track and field team, in March 2010. They have a daughter named McKayla.
While a young boy, Korir could run five miles (8km) each way to Bilbilbei Primary School and then back for lunch.
He performed well in his Kenya Certificate of Secondary School Examinations (KCSE) and secured admission at the University of Nairobi to pursue a bachelor of arts in anthropology but opted for a US track scholarship. He landed on a Canadian track scholarship at the University of Louisville where he met McKay.
Edna and Gilbert
Two-time world marathon champion Edna Kiplagat and Gilbert Koech's athletics scripts are identical as they were born and brought up in similar geographical settings, although they say athletics blood runs deep within them.
The husband-and-wife pair credit their tremendous showing in energy-sapping courses to their rural homes' undulating terrains. And, unlike many high-achieving athletes, the two chose to stick to their rural lifestyles.
Edna, a former cross-country specialist, is another typical Kenyan runner that takes your breath away as she easily crushes opposition while looking at ease. Gilbert has since taken over the coaching duties.