Spinal disease not slowing me down, I still dream of playing for Liverpool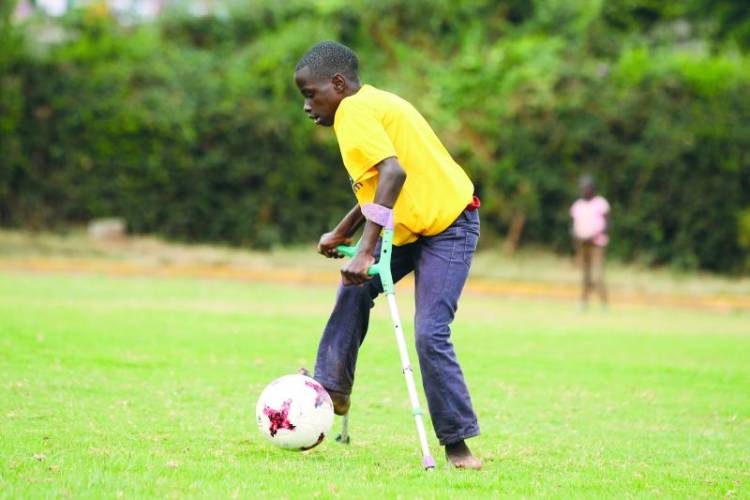 Stella Nelima was ecstatic when she learnt that she had conceived for the second time. The news that she would be welcoming a second-born in her single-room house in Mathare, Nairobi, in a couple of months was the best in a year that was characterised by post-election violence.
So, on June 9, 2008, she got a baby boy, and named him Felix Wanjala Emmanuel.
Wanjala is a Bukusu name given to children born during a famine. Emmanuel is a Hebrew word for "God with Us'.
While Nelima didn't experience any problem with the pregnancy, she realised something was amiss with the newborn.
"My baby had a swelling on his spine," she says. "Doctors told me that the problem could be corrected with a simple surgery."
However, there was one big problem. Nelima, a waitress who earns less than Sh500 a day, could not raise the Sh40,000 needed for the "urgent" surgery fast enough. And the more time she waited, the more her son's condition deteriorated.
When she finally got the money and an appointment at Kijabe Hospital, the damage had already been done.
"The surgery was successful, but by the time we got the money, the disease had eaten into his nerves which affected his legs," Nelima says.
"Had we done the operation a day or two after birth, doctors said, maybe it wouldn't have been this bad. His spine had already been affected so much that it had interfered with his lower limbs."
Wanjala's condition is called 'spina bifida' – a birth defect that occurs when the spine and spinal cord don't form properly.
While doctors are yet to clearly establish the real cause of spina bifida, it is thought to result from a combination of genetic, nutritional and environmental risk factors, such as a family history of neural tube defects and folate deficiency.
Spina bifida is a type of neural tube defect. The neural tube is the structure in a developing embryo that eventually becomes the baby's brain, spinal cord and the tissues that enclose them.
According to Dr John Amullo, a paediatrician, lack of folic acid before and in the early stages of pregnancy is a significant risk factor.
Amullo says spina bifida occurs when part of the neural tube does not develop or close properly, leading to defects in the spinal cord and bones of the vertebrae (spine).
Ordinarily, a normal child takes between nine and 15 months to have their first step. But according to Nelima, Wanjala took his first step after his fourth birthday.
"I would give him some sticks to walk with, and within no time he started getting up by himself."
Wanjala turned 13 in June. His younger brother, Sammy Fidel, dreams of becoming a professional rugby player.
Next to the door, directly opposite where the two brothers are seated is a broken, wooden wheelchair chained to an electricity post.
From a distance, Wanjala looks like a normal child. He is normal, his mother insists.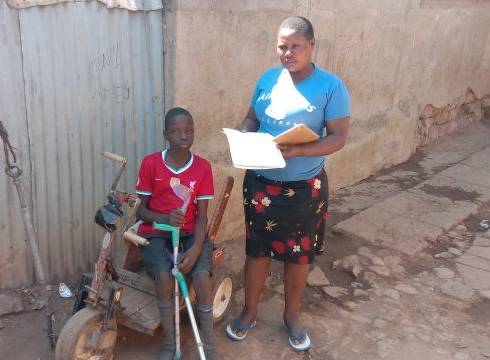 But he can't walk like a normal child. His legs are weak, toes chopped off. "I don't want a wheelchair. I want to walk using these," he points at his crutches.
Before he got the crutches, he used to crawl on the ground, and that's how he lost his toes.
Now a Grade Five pupil at Hunchors Educational Centre, Wanjala still depends on crutches to support his weak legs.
Although he is still on therapy and depends on drugs to pass stool and urine, he doesn't see himself as a special child. His love for football transcends his disability.
"I want to be like Mane (Sadio)," he says of the Senegalese superstar who plays for Liverpool FC.
Nelima's house might be ??small, but it is filled with hope.
With a jobless husband who lives upcountry, Nelima is left with the responsibility of taking care of her three children, all of who want to be superstars.
Wanjala, an ardent fan of English Premier League club Liverpool, insists that he wants to be a footballer.
Fidel, his younger brother, wants to be the next Humphrey Kayange while their eldest sister, Samantha Akinyi, a Standard Seven pupil at Mathare Light Academy, aspires to be a musician.
I ask Wanjala how he felt when Liverpool lost to West Ham last weekend. Without answering, he coils in his seat, stares at the roof as he fights back tears.
"I want to be a footballer. I want to play for Liverpool," he says when I asked him what he wants to be when he grows up.
Wanjala still uses diapers. But the fact that he can take a bath by himself is a great relief for his mother who must raise Sh25,000 every month for his medication.
"He will have to use the medicine for the rest of his life because he can't control some aspects of his life, like going to the toilet," the mother says.
"I can't afford the full dose. So I just buy a quarter that lasts him about two weeks," says Nelima.
We first met Wanjala three months ago. He was playing with South Sudan's national women's football team.
The South Sudanese had pitched camp in Kenya ahead of their Africa Cup of Nations Qualifiers.
After striking a rapport with the visitors, a jovial Wanjala would earn a place in their hearts. He was later drafted as an unofficial ball boy.
With his walking aid, he would jovially and religiously gather the balls, kicked in all directions, during the training sessions.
Nelima admits that even though her firstborn son is an obedient child, she has lost the battle of stopping him from playing football.
"He loves football. You will always find him in the field kicking the ball with other kids. I've even grown tired of trying to stop him from playing. You can't find him in the house.
"Right now I see him like any other kid because he doesn't want to be treated differently," she says.
According to Nelima, Wanjala took after his grandfather, Andrew Ouma, an octogenarian who lives with the scars of her boyhood passion – football.