Ex-Harambee Stars player Taiwo Atieno back home after retirement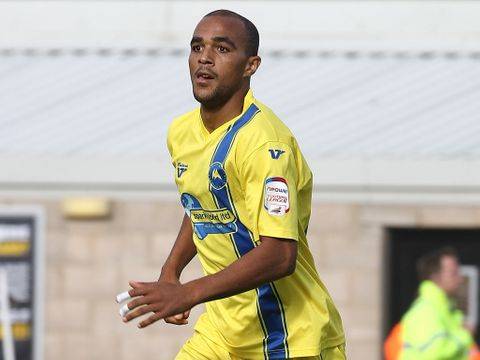 He was born in Brixton, London to a Kenyan father and a British mother, played football in England and the US and had a short stint with Harambee Stars before hanging his boots at the age of 29.
That's the story of Taiwo Atieno, the former Walsall and Puerto Rico Islanders forward. To some millennials, Taiwo may need some introduction. But in truth, has was there; played for Harambee Stars, vanished from our memories, for some time - then resurfaced. Taiwo, son of a former journalist, is now back home, to the land of his father, with goodies for his people.
Though born in London, Taiwo waded through life challenges while growing up, just like any ordinary Kenyan youth. From police brutality to the search for opportunities, Taiwo fought his own battles.
"Many people may or may not know about Brixton, but it was a tough place to grow up in, back in the 80s. It had violence, bombings and police brutality.
"It wasn't easy growing up there as a young mixed-race boy," the 35-year-old tells of his childhood.
"I learnt more about life very early from my experience. It taught me that no matter what environment you are in - your attitude determines your future. My mum always advised me not to be involved in gangs and violence."
But why would a boy born in London choose to play for Harambee Stars and not the Three Lions, England's national team, and what was that journey like?
Taiwo had to knock on many doors in his push to represent Kenya on the international stage. Had it not been for former Prime Minister Raila Odinga, maybe he would have joined other sports personalities with Kenyan roots, who opted to play for other countries.
"I had declared my intention to play for the national team (Harambee Stars) in 2003. But a lot of things had to happen before I could come.
"I first made contact with KFF in 2003 but they told me that Kenya was serving a FIFA ban. Three to four years went by and then we had the post-election violence (2007). We began correspondences again in 2008 and I arrived at the beginning of 2009," says Taiwo, who retired from football in 2014 before venturing into business.
"But there was another challenge. The Kenyan Constitution then had no provision for dual citizenship. So they wanted me to renounce my British citizenship and I wasn't able to do that because I was playing abroad (Puerto Rico).
"That's when I went to see former Prime Minister (Raila Odinga) who gave me special designation under the new Constitution (2010)," Taiwo reflects on his long push to wear the national colours.
He eventually made his debut as a late substitute in a June 2009 qualifier against Mozambique.
But after waiting close to seven years to play for Stars, Taiwo, who won the USL Commissioner's Cup (First Division) with Puerto Rico Islanders in 2008, would only last for four years with the national team.
After playing both home and away against Mozambique, Taiwo would take a three-year absence from the national team after his appearance with Stars in a 1–0 qualifying loss to Tunisia.
His final game for Stars was an 85th-minute substitute appearance in a 2–1 win over Togo in 2013 the AFCON qualifiers. Some people have never forgiven him for not meeting their expectations when he eventually made his national team debut against Mozambique in 2010.
"It was unfortunate because had I come earlier, I could have given much. But my commitment was never strained by those challenges."
Having spent his first Christmas in Kenya, in Migori, in 1995, Taiwo has indeed fallen in love with the country of his father, Moussa Awuonda.
The former player, who has interests in mining, technology and sports, plans to set up a football academy in the Nyatike (Migori County) to nurture future stars who will fill his shoes in the Harambee Stars.
"I first came to Kenya when I was 10 and my father took me to Kibra, where my grandmother was living. Conditions there weren't so good, so he took her to Migori and built her a house there."
"That was a good experience for me because it made me fall in love with Kenya at a young age. So when I was older, it was always easier to come back."
Taiwo joins the likes of Victor Wanyama in investing back home. Wanyama, a former Tottenham Hotspur midfielder, is currently putting up a football academy in Busia.
"My main interest, after football, I guess is investing private equity into companies and getting people with entrepreneurial skills or talents into a position where they can realise some potential in them," says Taiwo.
Taiwo, who still harbours dreams of playing for Gor Mahia, wants to buy a local football club and turn it professional, perhaps, with its own state-of-the-art stadium with complete with a gym and a hotel.
"I never wanted to be a player who stays in the club to earn money. I decided to retire I guess because I wanted to focus on my education in sports and business law.
"When you start playing football, you love the game and you want to win, but when you get to a certain level when your desires and passion are not at the same level, that's an indicator that you need to move on," he says.