Why Kenyan boxing and other sports need urgent attention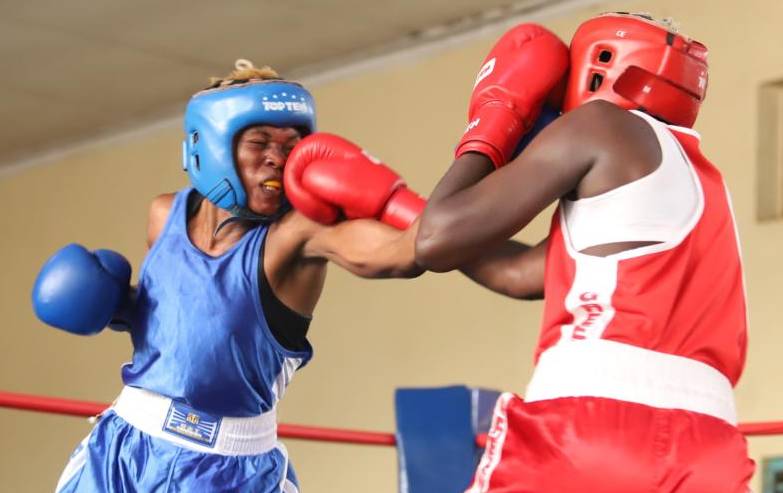 It's sad and disheartening that Kenyan boxing is in the doldrums. This is evident in the performance of Kenya's "Hit Squad" in the ongoing 2021 World Boxing Championships in Belgrade, Serbia.
The 13 men Kenya paraded in Serbia were Martin Maina (minimum weight), David Karanja (fly), Martin Oduori (feather), Victor Odhiambo (light welter), Joseph Shighali (welter), Boniface Mogunde (light middle), Edwin Okong'o (middle), George "Cosby" Ouma (light heavy), Hezron Maganga (cruiserweight), Joshua Wasike (heavy), Elly Ajowi (super heavy) and team captain Nick Okoth (lightweight).
The Belgrade championships is another frightening outing by the national team, following the dismal performance in the 2020 Tokyo Olympics, where the four pugilists who represented the country were shunted out in the preliminaries.
The quartet in Tokyo was led by captain featherweight Nick Okoth, heavyweight Elly Ajowi, flyweight Christine Ongare and welter Elizabeth Akinyi.
From the performance in the two championships and others in the past that Kenya has participated in, it is clear that Kenyan boxing is in a sorry state. This has attracted a lot of criticism from mashabiki who are demanding to know what has gone wrong with "Hit Squad".
The glorious days of Kenyan boxing ended in early 1990s with mismanagement, wrangles and other controversies in the once dreaded "Hit Squad", which is now a shadow of its former self.
The question many people have kept asking in Siaya "Kababa" is, what is the problem in boxing? Should we look for the guru, Dr Alcides Saggara, the once-great Cuban coach, or the late Muhammad Ali's trainers, Bundini Brown and Angelo Dundee, to come and resurrect our boxing from the grave?
We have had many, tough-talking Sports Cabinet secretaries coming up with big proposals to bring about changes in boxing and other sports that have been crippled by wrangles, mistrust and mismanagement. However, no action would be taken against the culprits.
What is the remedy of Kenya boxing in the doldrums? Now another debacle and hopeless outing by 13 boxers in the World Boxing Championships in Belgrade, Serbia was a big letdown to Kenya once Africa and Commonwealth Games Boxing champion.
Belgrade, now hosting the 2021 World Boxing Championships, is fondly remembered by any Kenyan who loves boxing and witnessed the 1978 championships. Belgrade, (then under Yugoslavia) hosted the second edition of the championship. It is here that diminutive Stephen Muchoki fought like a Spartan soldier, bringing home the first and only gold medal after dethroning defending champion Jorge Garcia Hernandez of Cuba in the light flyweight final.
A decade later (1988), welterweight, the late Robert Wangila, made history becoming the first Kenyan and African pugilist to win an Olympic gold medal in Seoul, South Korea, when he destroyed Frenchman Laurent Boudouni in just two rounds. Since then, several Kenyan and African fighters have tried to emulate both Muchoki and Wangila's achievement with no success.
There are several questions about Kenya's participation in the Belgrade Championships. How was an ill-prepared team allowed to participate in an event of such magnitude?
A friendly contest against Uganda's "The Bombers", Tanzania or Zambia would have been the most appropriate for "Hit Squad" before venturing into such championships.
In the past decades, international events and friendly contests were in abundances, such as the two-leg Brunner/Urafiki contest between Kenya and Uganda, the dormant Federation of East, Southern and Central Africa Boxing Association (Fescaaba), and local tournaments – Kenya Open, national trials, Mashujaa tournament, Kenya League and Jamhuri tournament. These were properly managed and kept national team boxers busy throughout the season.
For Kenya to return to its former place it requires a lot of sacrifice, dedication, commitment and full support of the government so that the country can restore its lost glory in boxing.
Sports Cabinet Secretary Amina Mohamed should help the national boxing team to acquire a foreign tactician. This would enable boxers to focus more on future major assignments like All Africa Games in Mali and 2022 Commonwealth Games in Birmingham, England.