Mothers who stood firm when footballer sons were in a fix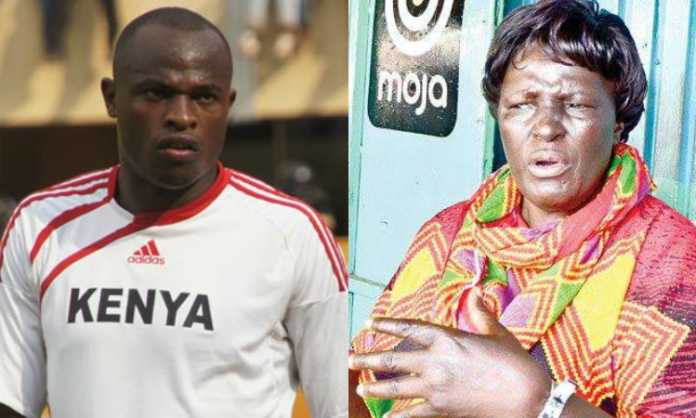 When Dennis OIiech harboured interests in European club football, he went for a trial with Marseille in the French League 1.
But a local club was not keen to let him go. There were dramatic moments when the player's mother, Mary Oliech (may her soul rest in peace), forcefully confronted the club and blamed them for blocking her son's move majuu. She believed there were powerful forces out to sabotage her son's move to a lucrative professional career overseas. Knowing her son's inability to defend himself, she literally became the official spokesperson of her shy son.
Kenyans also remember the story of Timona Wanyonyi, the diminutive player who crossed from Gor Mahia to AFC Leopards in 2014. He played very well under Kogalo's coach Bobby Williamson but due to pressure from his parents he defected to Ingwe. In an exclusive interview with a local media house, Wanyonyi said he regretted the move and laid the blame squarely on his father's doorstep. His career ended after his form dipped and he was unable to revive it even after joining the struggling Nakumatt FC.
The transfer of Edwin Lavatsa to Gor Mahia straight from Upper Hill School was not good news to their arch-rivals AFC Leopards. The fact that he scored some goals against them was even more annoying. Agents were dispatched to convince his parents to influence him to defect to Ingwe because they believed he was one of their own.
It is said whoever was sent was met by a cold reception from the player's mother who did not mince her words. She believed her son was in the right club and had no intentions of leaving soon, not under her influence. Lavatsa stayed put in K'Ogalo for the next three years before leaving for FC Algers in the Maghreb.
The most dramatic case of parents coming out in defence of their footballing sons happened way back in 1979 and early '80s. The mighty K'Ogalo was on cloud nine after whitewashing local clubs in their wake to continental glory.
Quoting one of Kenya's famous football historians Philip Oyoo, Gor Mahia fans and officials were surprised when the club was hammered 8-0 in aggregate by Cameroun's Cannon Yaounde. This came after they made mince meat of other opponents on their way to an embarrassing final. Nobody suspected that allegations of match-fixing would follow. Allan Thigo was flashed as the mastermind of the sabotage where it was believed loads of money changed hands.
Although the club won the regional CECAFA trophy after whipping AFC Leopards in Malawi, there was more drama in store. The next platform for blame presented itself when, while at home, they were unable to defend a 2-1 away win against Bendel Insurance of Nigeria. Flamboyant goalkeeper Dan Odhiambo was the fall guy and was accused of accepting a hefty bribe from Nigerian officials. There was no proof of these allegations.
Few days later in early 1982, Gor Mahia lost to an unknown Magascan club Dynamo De Fimia. According to Philip Oyoo, those perceived by fans and officials to be ringleaders or saboteurs were Mike 'Machine' Ogolla, Allan '90 Minutes Man' Thigo, George Ayuka and Andrew 'Singh' Obunga.
According to Oyoo, his friend Francis Ayuka, brother to George Ayuka, gave a clearer version of what transpired; that Gor Mahia players were not happy after they were not accommodated at their known luxurious Mayfair Hotel to Lenana School.
They voiced their displeasure, which was not accepted by the no-nonsense chairman, Zack Mbori. He was not amused by the sit-in occasioned by players while at Lenana School situated at the edge of Ngong Forest. Mbori drew his list of ringleaders and showed them the door. Many were expelled and some had their carers come to an end.
The expulsion of Gor Mahia players brought out another angle where mothers came out in defence of their sons. Although players like George Ayuka later joined other clubs, their mothers came together and issued a collective statement to the club. They visited Kisumu's media bureaus and expressed their dismay around the club's decision to expel their sons who they believed had done a lot for the community. The ladies believed their sons loved football (read Gor Mahia) but were now being seen and treated as pariahs in the community.
Led by Mama Ludia Obunga and Mrs Alice Ayuka Owuor, aka Mama George, they were ready to apologise on behalf of their sons and indeed they strongly pleaded their case. Their commitment to intervene on behalf of their sons was a clear indication of how parents can go out of their way to defend football stars.
The legendary narrative around Daniel Nicodemus Arudhi easily comes to mind. Famous as a footballer and infamous as a known Nairobi night robber, Arudhi became an easy target for police reservist Patrick Shaw. The burly cop and crime buster would occasionally arrest the footballer and frog match him to Salome's nyama choma joint at Kariokor Market.
With his heavy down south Australian accented English, he would burst out "if you don't warn your son to stop stealing, I will shoot him. I know he plays football for Kenya but I do not care, I will shoot him, tell him to stop".
He would then demonstrate his anger by shoving poor Arudhi to the ground in front of his mother.
The poor woman would beg Shaw not to kill her only son. She spent many hours pleading with the son to stop robbing people in vain. As fate would have it, Arudhi was shot dead by Shaw after a robbery incident in Pangani.
It is interesting how women become more emotional with the activities of their sons. Their intervention is more spontaneous compared to men.