Most men who marry athletes are opportunists- Ndereba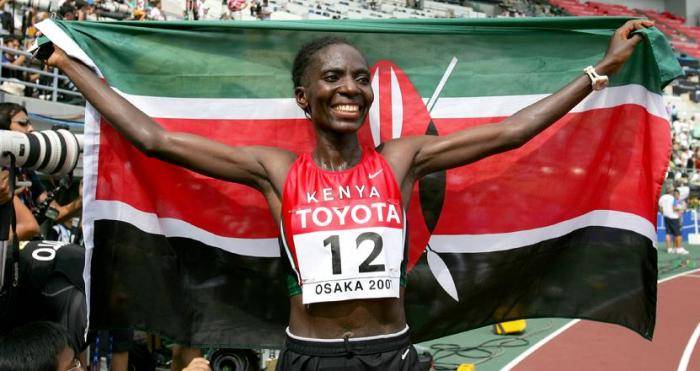 Kenyan athletics is in the spotlight following a surge of domestic violence cases, a new scourge eating the raw nerves of a discipline that has brought global recognition to a country grappling with corruption and a struggling economy.
Greed, alcohol, drug abuse and dearth of financial literacy are some of the forces that have emerged as the nation loses talents at the hands of opportunistic lovers too afraid to let go.
In the last three weeks alone, three athletes lost their lives – two to murder and one to suicide.
The most recent one that stunned even President Uhuru Kenyatta was the gruesome murder of Agnes Jebet Tirop, an Olympian, in her house, about a fortnight ago.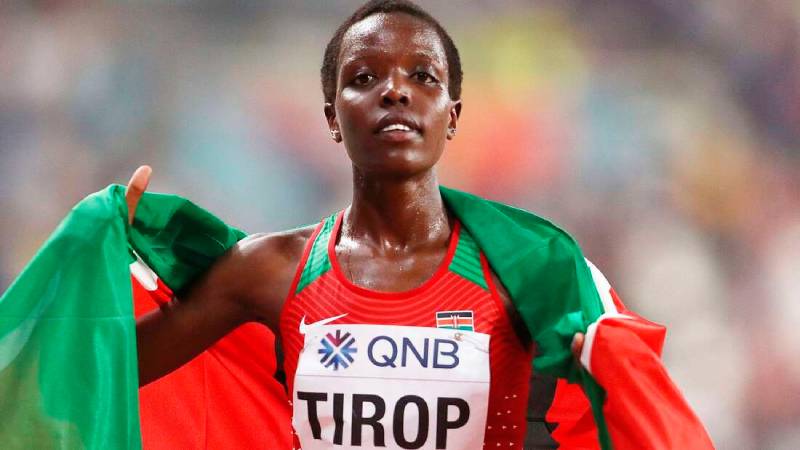 According to the Directorate of Criminal Investigations (DCI), Tirop, who represented the country at the 2020 Tokyo Olympics, is suspected to have been killed by her lover, Ibrahim Rotich.
Rotich has since been arrested and arraigned.
Just a day before Tirop's death, Edith Muthoni, an amateur athlete from Kirinyaga, was hacked to death, allegedly by her lover Kennedy Nyamu in another suspected love-gone-sour incident.
That's not all. Hosea Macharinyang was laid to rest on Thursday, October 12. The athlete who represented Kenya in five world cross country championships allegedly committed suicide.
But while these athletes push their bodies beyond the limit in their attempts to put a smile on the faces of fellow Kenyans whenever they line up to compete, it is now emerging that some of them live a solitary life once they vanish from the public eye to their homes.
Catherine Ndereba, a four-time Boston Marathon winner, claims most women athletes have been thrown into depression as a result of toxic relationships with "opportunistic" lovers.
"So many athletes are ailing from the inside. The recent cases are just the tip of the iceberg. People are hurting from mental health-related issues.
"Some of them get into marriages very early to people who purport to be coaches but in reality, they are just opportunists," says Ndereba, a two-time former world champion (2003 and 2007).
She called for financial literacy among sportsmen and women.
The problem, according to Ndereba, is a plan by some greedy coaches who get married to some of these athletes to "secure their future".
"In some parts of this country, they say that when you marry a female athlete you are married to a Prado. The majority of men are opportunists," she says.
"Some of the men are very smart. They can tell an athlete with a bright future. So they will marry these girls at an early age knowing well that this is a future gold mine." Once they start living together, Ndereba says, these husbands take full control of the athletes, including registering her property in his name.
The two-time Olympic silver medallist says most of these athletes plunge into marital problems when the money starts trickling in.
She, however, says such deaths can only be arrested by tackling mental health-related challenges and early marriage among athletes.
So common is domestic abuse among athlete couples that in the last two months alone, three senior (female) athletes have lodged complaints with the police (two reported in Eldoret and another in Nakuru), saying they feared for their lives.
According to a senior police officer in Eldoret, the athletes reported that their lives were in danger following family squabbles over wealth and inheritance.
When contacted, one of the athletes admitted that she once had a troublesome marriage, "but we sorted out the issue and I don't want to talk to the press about it."
"We have several such cases but they don't go anywhere because most of the time the complainants don't want us to make arrests," said the officer who spoke to us in confidence.
These deaths came slightly over three months after Sports Cabinet Secretary Amina Mohamed constituted a nine-member committee to look into the welfare of female athletes.
The committee chaired by Ndereba and Sports Registrar Rose Wasike, as an administrator, was formed after a female basketballer accused a coach of sexual harassment.
The case was later dropped for lack of evidence.
Ndereba's committee that was given 30 days to hand in the report, on July 10, is expected to table the same before the end of this month.
To protect female athletes, Amina ordered that no team will be allowed to travel outside the country without a female representative.
"No women's teams will leave the country for any competition without being accompanied by at least two women officials, a doctor and a team welfare officer.
"All sports organisations or federations registered with the ministry shall ensure women are represented in management and that the constitutional threshold of two-thirds gender representation is upheld," said Amina.
Athletics Kenya (AK) admits that wrangles, alcoholism and illegal drug use are some of the leading causes of these deaths.
"It pains us because Tirop's death is the latest in a series of misfortunes that have befallen athletes in the recent past, including suicide, family wrangles, alcoholism and illegal drug use," AK said in a statement.
Barnabas Korir, AK Nairobi Branch chairman, says the situation is complex and only the family of these athletes can help.
"These young athletes are coming up very fast and someone will spot the talent. These can be coaches, physiotherapists or even an ordinary boy from the village. They then settle with them and give some financial support when these athletes are still struggling even though the main goal is the money that they will make in future," says Korir.
"So once the money starts coming in, the woman then realises that she made a mistake of settling down too early and maybe with the wrong guy. Sadly, though, this 'wrong guy' wouldn't want to let go. They would go to the point of killing the woman."
Willy Paul postpones album release
The award-winning artist had previously announced that he would quit the music scene if his album disappointed him. having spent so much time and ener