Bar and Ball: Story of Sirkal boss, Ambrose dickens Otieno Rachier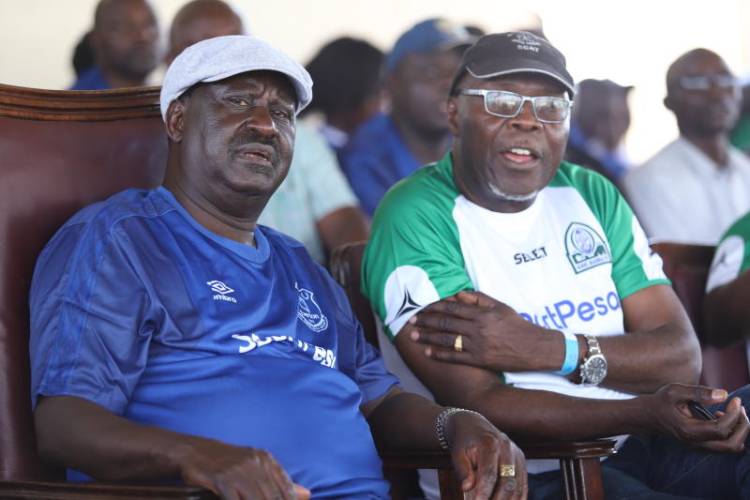 In August last year, city lawyer Ambrose Rachier was elected, unopposed, for the fourth time as Gor Mahia chairman.
Having been at the helm of the club for a turbulent 13 years, Rachier says this is his last term and he won't seek reelection when his term expires.
"I didn't want to run but no one was willing to run for the chairman's position because Corona had just happened, sponsors had cut ties, fans couldn't come to stadiums but players had contracts, and they had to be paid even though nothing was going on. I saw it was wrong to leave the club when it was in the height of such a crisis," says Rachier from his law firm's boardroom in Nairobi where the interview was taking place.
"Corona really hit us hard. Today morning, the first people who came into my office were five players. They needed help. Right now, the gentleman who just left is the team manager," says Rachier as he shows us his last M-Pesa transaction.
It's Sh100,000 sent to the team manager. "The money is not from the Gor Mahia account. It is from my pocket. The team needs to train, eat and go to the gym. The club has no money, so many of the times, we have to use our personal funds to keep the team going," he says. Rachier refuses to divulge how much of his personal funds he has spent on Gor over the past decades but admits it runs in millions.
"A few months ago we were to honour an international match in Zambia. If the team didn't go, it would be fined a minimum of Sh10 million, asked to foot the other team's travel expenses, and banned for three years. The club had no money. The government promised tickets but backed out at the last minute. The tickets were going to cost Sh7 million but we shopped around and chartered a plane for Sh5 million. The secretary-general gave Sh2 million, I gave Sh1 million and we were given the plane. Now KQ is after me for the balance, and yet you still hear people abuse you and speak ill of you yet we make so many sacrifices for the club."
As one of Kenya's top lawyers, Rachier doesn't regret wading into the murky waters of football administration.
"I had just lost the Gem parliamentary seat and one morning, while in the office, I heard a commotion outside. Upon inquiry, I found a huge group of Gor fans who demanded to see me. They took me to City Stadium and declared I am the chairman. I called the then chairman who was so happy to relinquish the title. That's how I became Gor chairman."
Rachier says upon taking over the club, he realised the highest-earning player was taking home Sh3,000 per month.
Before Corona hit, the highest-paid player at Gor was earning Sh250,000.
"It's been a long hard journey. The club was nearly being relegated. But in the past decade, we have always been number one or two, apart from last year when we finished sixth, and fans really abused me, some specialise in hurling the best abuse they can" says Rachier who admits growing a thick skin is one requirement for the job.
"The first Gor Mahia match with me as chairman cost us Sh22,800. The gate collection was Sh8,000. I had to dip into my pocket and start paying players. I realised I had started the job with a club that was already in debt," laughs Rachier, who says fans call him 'Mugabe' because he is old and has served Gor for a long time. "I am 72 years old," he adds.
His love for football started when he was a young boy, playing naked in the rain. "I played football in primary and then Alliance School as a right back in the 1970s where we won the provincial title. I joined a university in Madagascar where we won the tertiary institutions title. When I came back to Kenya, I joined Dar es Salaam university where we played just for fun."
He says his inspiration to join football administration was the late Kenneth Matiba, Job Omino, and his close friend Peter Kenneth.
"Unlike what people think, I am not using football to launch a political career. I am done with politics and I will never run for office again."
Rachier admits most Kenyan clubs, upon getting sponsorship, go for foreign coaches but when things get worse, financially, they hire local coaches.
"Some of the local coaches are the best. But the reason we hire foreign coaches is that they are trained in coaching. They go to school to learn coaching. In Kenya, the government has no training at all for coaches.
Most local coaches are self-trained. So when we hire foreigners, we urge our local coaches to understudy them and learn. Sadly, fans also don't believe in local coaches. We have good local coaches; there are so many. Matano and Zedekah Otieno are some of the best Kenyan coaches"
He says Kenyans excel in individual sports, but not group sports. "Look at athletes or swimmers, their coaches are all foreigners. They take care of the athlete be it nutrition, medical, and even personal finance and wellbeing, in turn, the athlete wins and they all earn money.