Slum boy, boxing champ John Gicharu now owns a club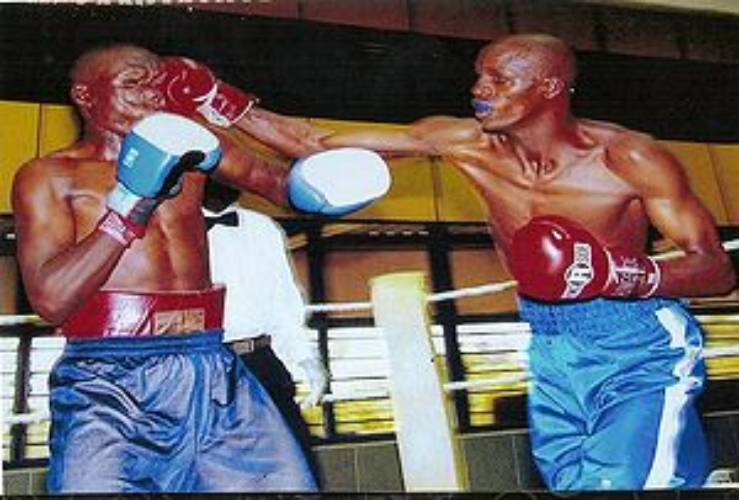 Every evening on the outskirts of Mwiki, Kasarani, John Gicharu huffs and puffs with upcoming boxers at his Ruaraka Boxing Club (RBC), which he founded in 2015 after quitting professional boxing with a record of 15 wins (7 KOs), 10 losses and two draws.
So, why did he decide to start his own club, taking into account that not many boxers give back to the community after calling it quits from the ring?
Healthy distraction
"I started RBC to tap the talent of youth in Korogocho slums where I went through a lot of hardships growing up. I realised most of the youth are idle, and so the best way to keep them busy to avoid abusing drugs and getting involved with criminal gangs, was to start the club," he says.
Gicharu, the fifth born in a family of 10, moved to Korogocho slums from Machakos with his parents when he was five years old. He attended St Johns Nursery School and then joined Ngunyumu Primary School where he sat his KCPE exams in 1996 at 16 years.
Tired of the hard life at home, Gicharu dropped out of school and ran away from his parents.
"I just wanted to make my own money. Life then was just too tough and getting food at times was difficult. That's why I decided to move out and started working at Evabo Enterprise which was dealing with garbage collection," he says, adding that they spent most of their time at the Dandora dumping site.
Steady rise
Gicharu's interest in boxing was ignited in 1998 by Moses Kinyua's success at the Commonwealth Games in Kuala Lumpur, Malaysia, where he punched his way to the final and brought home a silver medal as a light-flyweight together with light-welter Absalom Okinyi.
Coincidentally, Kinyua was also a resident of Korogocho slums, and this further encouraged Gicharu to take up the sport to emulate Kinyua.
He says, "Kinyua not only inspired me but many other boys of my age. I remember one Sunday people flocked to church to view Kinyua's medal and touch it; it was the first time we were seeing such a medal in the slums.''
The following year in 1999, Gicharu decided to join Bangladesh Boxing Club in Kariobangi under coach Ben Addoh, a former boxer himself.
"After three months, I had my first fight against Muraya Kariuki who later joined KTN as a sports presenter. I won on points," he says. In 2001, Gicharu was working as a cash collector with the garbage firm.
At the time he was 21 years old and the only breadwinner in his family as both parents had died, so he had to take over providing for his siblings.
"Due to violence and rape cases in Korogocho, I shifted to Baba Dogo in 2001 with my brother Francis Kimani and sister Emma Njeri. She was just 12 years and I feared she would be defiled," he says of the move.
Gicharu turned pro boxer in 2005 because, as he says, "that's where nobody would ask me for my education papers."
In his first fight as a pro boxer, Gicharu knocked out Peter Kamau and went on to defeat Geoffrey Gaya and Robert Semboze. He then drew with Morris Chule in his fourth fight. Gicharu's turning point came in 2007 when he outpointed Musa Njue to clinch the national featherweight title at the Charter Hall.
"That was the first time I was doing 10 rounds. I thank my coach Kevin Mulama whom I remained with till I retired from pro boxing," he says, adding that afterwards he went down to super-bantamweight in Ukraine, Russia and South Africa.
In 2010 while visiting his friend George Songo in Baba Dogo Estate, Gicharu met with Eivind Dahl Ringard from Norway. Dahl had come all the way from Norway to visit Songo, who he had been supporting financially ever since they met in a football tournament in Oslo in 2004.
Little did Gicharu know the impact Dahl would have in his life later on. The two maintained contact and when Gicharu quit pro boxing in 2015 and embarked on establishing RBC, Dahl went on to become its biggest supporter.
"I put a lot of emphasis on education of my boxers because if I had completed form four I would have been employed in the forces. I also want my boxers to be computer literate.
Boxing changed my life
"As I speak today, I'm happy my club has produced several good boxers such as Brian Omondi, Chrispine Ochanda, Rohit Muluku, Cavel Kusimba and my promising light-welter Ineah Mukhwana who sat for his KCSE last year," he says.
Besides Dahl, another close Canadian friend, Vicky Lynn Shanoss, also supports the club. Dahl, the CEO of Functional Fitness Group with six gymnasiums and over 40 trainers in Norway, says he's happy to be associated with RBC and has big plans for the club in keeping up with his slogan 'Kuwa Badiliko' (Be the change), which he coined when he visited Nairobi in 2010.
"Depression in the slums is real, and it's difficult to tell the youth to avoid drugs which they use to fight depression. I'm lucky I kept off drug abuse and any mischief in the slums," he says.
Gicharu says he also suffered depression on quitting boxing because he was broke and with nothing much to do. But he avoided drugs and went on to start his club.
"Boxing changed my life, so I also wanted to change the lives of others through the club, and I'm glad that my dream has become reality," he says.