Sports and boobs: What's ball got to do with it, Madam President?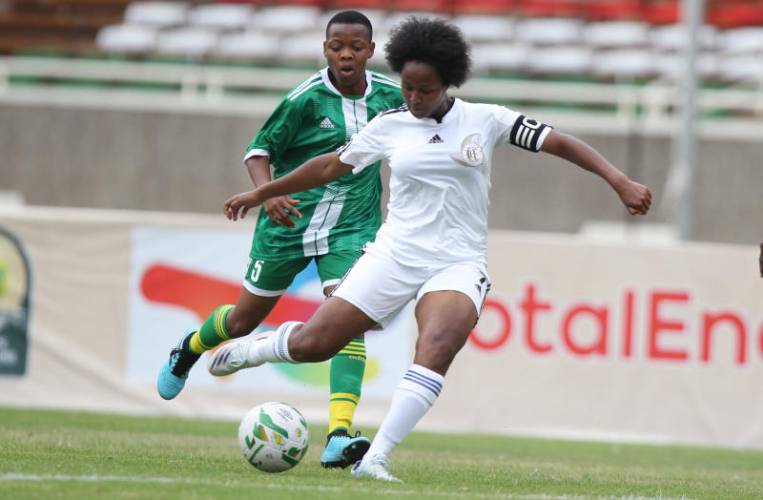 Tanzian leader Samia Suluhu was quoted out of context. The thrust of her speech, which was shared widely on social media, dwelt on the importance of adequately compensating sportswomen in their prime, so that they can take care of themselves in retirement.
Sports, she said, is a short term career, and unlike other woman who may look for a husband to care for them, most female footballers do not have that option because of their physique. "They don't have breasts, so men won't find them attractive," she said.
Not surprisingly, the gist of her speech got lost in the wind. Female footballers are not attractive, they don't have breasts, is all social media recorded. And this coming from a female head of state?
Winnie Kanyotu, a mid fielder at Gaspo Youth Sports, agrees with the Tanzanian President. The girls, she says, deserve better pay but believes Suluhu was offside in regard to the attractiveness of female footballers.
"We are fearfully and wonderfully made, but in any case, we have no control over our appearance. That comment was, therefore, uncalled for," she told this writer .
Winnie says that in any case, not all footballers have flat busts, and points at her firm bust which she says is a reward from tough physical exercises she and her team mates are subjected to.
On average, however, female footballers tend to have smaller breasts compared to the woman on the street. Could it because of the tight sports bras they wear on the pitch?
Kanyotu doesn't think so. The sports bra's sole purpose, in her view, is to keep the burst firm and comfortable on the pitch, but the breasts return to normal when they wear regular bras.
''The size of your breasts has nothing to do with sports," she says.
Lydia Kaparo, a cricket, hockey, tennis, netball, and football player, also rubbishes the sports and flat chest theory, saying athletes, like everyone else, receive their DNA from their parents and would not have larger breasts if their parents didn't.
''While some sports demand bras that flatten their busts during competition, the goal is to keep women comfortable. It is inconvenient to run or play with a loose bra since the boobs would bob up and down which can be uncomfortable and distracting," she says.
The challenge for Kenyan female footballers is that a good new sports bra costs Sh2,500. Unfortunately, most of the players can't afford them, forcing them to settle for secondhand bras that go for about Sh500 which are often not of the correct size.
This is compounded by the fact that in most cases, the girls don't know their correct cap size due to a lack of guidance on the importance of wearing the correct bra size.
"If you wear excessively tight sports bras, they prevent the breast from expanding, resulting in less prominent busts," Kaparo explains.
"You can have athletes who have a D-type bra or shape, but you're wearing a c-type C-cap, so you're putting on a different bra cap, which impacts the shape.
"I prefer a tight bra because it gives me confidence while I'm playing and racing up and down the stairs," she says, adding that when you're out in the field, you don't want to be wearing an uncomfortable bra because the more your breasts move up and down, the more your skin stretches.
Sports doctor Evelyne Otula also avers that having a tiny burst is genetic.
"We have people who are tall and short, and based on this comparison, no amount of workout can cause an athlete's original height to change. The same may be said for the size of a player's bust. It's difficult to make a player's bust bigger or smaller with workout if he or she was born with a modest bust. As a result, you either have a large bust or you don't.
"Even if we burned the calories, it would not make the breasts bigger or more pronounced; rather, it would help them get in shape by firming them," says Otula.