Rewarded: Full list of afandes promoted for running like bullets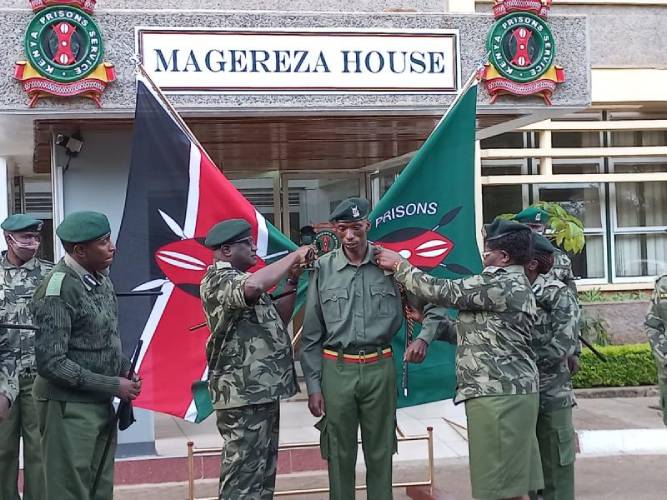 That Kenyan athletes' rise in promotions at the police and prisons is no news. In 2009, two-time world marathon champion Abel Kirui of Administration Police was promoted from rank of Constable to Sergeant after winning gold at the World Championships in Berlin. In 2011, he struck another and he was elevated to the rank of Assistant Superintendent of Police.
The National Police Service boast of a sizeable number of senior officers of gazetted rank who are of or above the rank of Superintendent of Police (SP).
At the moment, there are at least four former track stars holding the rank of Commissioner of Police (CP), the fifth-highest rank in the National Police Service.
Former superstars in Marius Tum (400m), Tabitha Ranga (1500m), William Yampoyi (800m) and Karisa Mwaringa (100m) hold the rank of Commissioner of Police.
Tum is currently an officer in charge of Disaster Management at Nyayo House while Yampoyi and Ranga are attached to Presidential Escort Unit. Mwaringa works at the traffic police headquarters.
On the immediate junior position is David Ng'etich, the former 5000m sensation, who holds the rank of Assistant Superintendent of Police (SSP) in charge of Administration Police attached to the sports department at Jogoo House and Catherine Cherop (shot put and long jump), who leads the Kenya Police Sports department.
There are quite a number of track stars holding the rank of Chief Inspector. They include 2010 Africa 3000 steeplechase champion Richard Mateelong, Rere Sang, world 800m record holder David Rudisha, 2013 world 3000m steeplechase champion Milcah Chemos, four-time world 3000m steeplechase champion Ezekiel Kemboi, Olympic 10,000m champion Vivian Cheruiyot and three-time world 1,500m champion Asbel Kiprop.
Mateelong is now an Officer Commanding Police Station (OCS) at Kirengero Police station in Subukia, Nakuru County while Rudisha is a traffic police officer based in Eldoret.
Vivian is attached to Directorate of Criminal Investigations. She won 2018 London Marathon, having dominated both track and cross country championships since she stormed onto the limelight at a tender age of 17 years.
She won her first medal at the 1999 World Youth Championships, winning bronze before scooping world cross country junior medal the following year. She added another bronze at the 2002 World Junior Championships.
Kemboi is attached to the Presidential Escort Unit. Chemos, who holds the position of Chief Inspector, is based at Kiganjo as an instructor. While serving in Kibwezi County, Chemos is best remembered for arresting a senior politician in the region.
She also won bronze at the 2012 Olympic Games then followed that up with gold in 2010 gold at the Commonwealth Games before scooping silver in 2014.
Asbel is attached to Industrial Area Police Division in-charge of quota master. He won three titles at the world championships in 1,500m in 2011, 2013 and 2015 and added Olympic Games title in 2008.
Two-time world marathon champion Edna Kiplagat and 2017 world 1500m Elijah Manangoi are just a rank below them. They hold the rank of Inspector of Police (IP). Kiplagat is attached to a police station in Migori County while Manangoi works at the Presidential Escort Unit.
Former Commonwealth Games javelin champion Julius Yego and police head coach Isaac Kirwa hold the rank of Sergeant. Yego works at the Directorate of Criminal Investigations at DCI headquarters while Kirwa is based at Nyanza Police headquarters.
Olympic 3000m steeplechase bronze medalist Hyvin Kiyeng is another top athlete based at Kiganjo as a sergeant.
Former 400m runner Ezra Sambu is an Inspector of police manning a police station in Mutito Andei while Japheth Okumba, the 800m runner is based in Nakuru.
Others include Inspector Esther Maina, a 10,000m runner, attached to DCI, Catherine Kagwiria, an Inspector in Kirinyaga, Former world 10,000m silver medallist Isabella Ochichi, a Senior Surgent at Kenya Airports Police Unit and former world 800m champion Janeth Jepkosgei, an inspector in Eastern.
Discuss thrower Joel Kirui is the SSP while former 800m world champion Alfred Kirwa Yego is a police constable.
However, athletes in Kenya Defence Forces (KDF) have also earned promotions. Top among them is former world marathon record holder Paul Tergat, who holds the rank of Major.
And thanks to her exploits in Tokyo where she won silver in 5,000m, Hellen Obiri was on Tuesday promoted to Senior Sergeant.
A majority of athletes in KDF wear the rank of Private, Lance corporal, Corporal, Sergeant and Senior Sergeant while a few have crossed over to Warrant Officer Two, Warrant Officer One, Second Lieuitenant, Lieutenant, Captain and Major.
So far, there is no former athlete who has ascended to the rank of Lieutenant Colonnel and Colonnel (wenye pilipili in soldiers jargon), which means it is a long shot have an athlete as Brigadier, Major General, Lieutenant General (three-star General), Deputy Chief of Defence Forces and Chief of Defence Forces. From the rank of Colonnel, there is pepper-like decorations on the left side of the chest.