'Mont' Waweru: Boxing legend lives a quiet, simple life tending to his fowls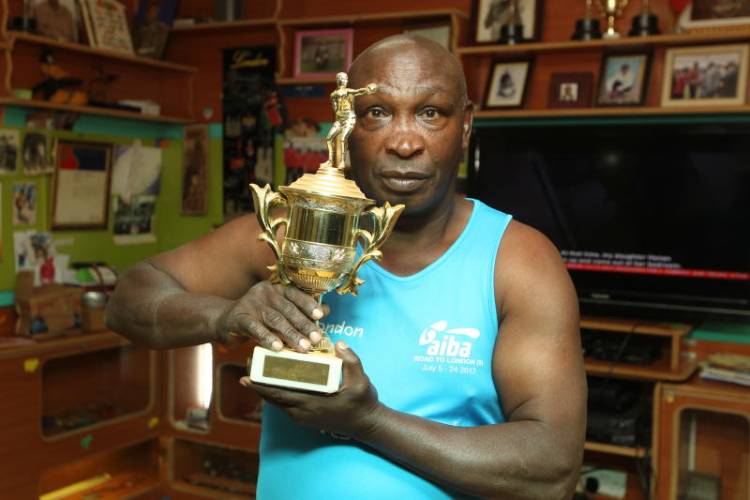 Patrick 'Mont' Waweru opens the black metal gate as he ushers us into his home in Kahawa West with a big smile. The four-bedroom house is where Mont, 68, now spends his time several years after retiring from the boxing ring.
After serving the country for close to four decades, both as a boxer and senior General Service Unit (GSU) officer, Mont lives the life that most former Kenyan athletes just dream of.
?? On the far corner of this quarter-acre piece of land is a poultry structure that houses a dozen chicken and five guinea fowls. In the front is an iron structure that supports a well-maintained punching bag, which he uses to train young children. It reminds Mont of his teenage years when he would take opponents head on.
Even though he lives alone, the house is well furnished and neat. The entire two walls of the sitting room are dotted with mementos of his exploits in the ring. They include his 1978 Commonwealth silver medal and the All Africa Games gold that came 10 years later. There are also photos of his wife and three children, who all live abroad.
"I live here alone," Mont says as he takes us through his boxing journey, which started at Starehe Boys Centre where his talent was discovered and nurtured.
But first, where did he get his alias, which still rings a bell on the streets of Nairobi?
"I used to have a Muhindi (Asian) colleague (in the police) called Montero. We shared a striking resemblance because he was short and soft-spoken, just as I am. When I came back from the Commonwealth Games in Edmonton, Canada, my colleagues said I speak like Montero and nicknamed me 'Mont'," Waweru reveals.
Mont never planned to be a boxer but landed in the sport and later the police force by coincidence. When he got the chance to join Starehe Boys in 1968, it so happened that the late Dr Geoffrey Griffin, the director, had employed a boxing tutor. Waweru would be among the pioneer cohorts who were recruited.
Here, he teamed up with the likes of Francis Peter Kinuthia, who later joined Kenya Airforce but was dismissed on disciplinary grounds.
"I started boxing very early in life. Dr Griffin had employed a boxing coach and he had to teach us from that young age," he added.
At an intermediate tournament at Pumwani in 1970, his craft was spotted by senior officers from the GSU who asked if he was interested in joining the police to which he agreed.
"A senior (officer) approached me after the tournament and asked if I would like to join the police. I later proceeded straight to the GSU Training College in Embakasi in 1973."
Waweru's first major international tournament was a poor outing he would rather forget.
This was the East and Central Africa tournament where he almost threw in the towel on the sport that had given him a job.
He, however, blames lack of adequate training for the debacle.
"Immediately after graduating, I was posted to do police duties for two years without training. My bosses only remembered that I was employed as a boxer a few weeks before the tournament.
"I protested the decision because I had not trained for close to two years. But one old man called Hamisi Abdalla firmly reminded me that I was employed as a boxer and that I must represent the unit. He said that they would only rescue me if I was about to die in the ring. I had no option but to follow orders.
"I went to the tournament and I was almost beaten to death. I even thought that he (Hamisi) wanted me dead!" he recalls.
After soaking in several punches in his body and head, Waweru had to make a decision.
"I told myself that I'm not going to be anyone's punching bag anymore. That I had to train if I was to avoid such a beating in future."
After putting some work in the gym, Waweru would lift his maiden medal at an inter-services tournament and "from there, people started to recognise me even though I was tiny in size."
Just two years after taking boxing seriously, Waweru made the cut and was part of Team Kenya to the Commonwealth Games to Edmonton.
He came back from Canada not only with a silver medal, but also a new "name" –Mont, which has stuck to date.
Something interesting about Mont is that he took part in just one weight category-lightweight throughout his boxing career.
"I tried changing my category just once when I was still a recruit and I was beaten badly. After that, I decided that I'll stick to one category — lightweight (60kg) — and I was equally surprised that I would play at that level.
"I knew I could lose weight and to strike a balance, I used to train hard so that I eat more. My weight would hardly change. This discipline enabled me to play in one weight category until retirement," he says.
But while he enjoyed his time in the ring, Mont is not a happy with the current boxing situation in the country. Kenya's recent show at the Olympics didn't make things better for the living boxing legend.
"During our time, we used to have many boxing clubs like KCC, KPA and Breweries. The completion was high. Right now, boxing is left to the forces and we all know that these forces can't absorb everyone," he says.
With the death of private clubs and social halls, there are only three major boxing clubs left in the country - Kenya Prisons, Kenya Police and Kenya Army.
"If we had more clubs, the selection process would be tight and only the best would be picked and that's why we are doing badly at major events like the Olympics. The chairman should wake up and build boxing from grassroots," advises Mont.