Volleyball poster girl Wacu postpones decision to retire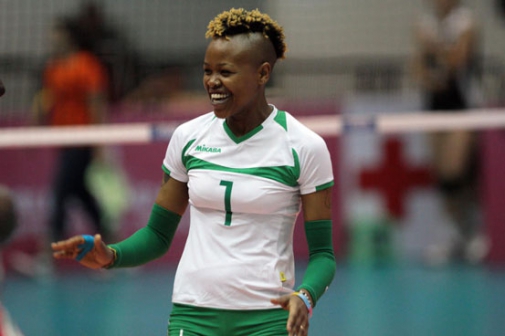 Malkia Strikers setter Jane Wacu has hinted that she might not retire from volleyball anytime soon.
The Kenyan volleyball lass, who is based in Seychelles, had earlier announced that she will consider hanging her sneakers after the Tokyo Olympics. Wacu has been a permanent figure at the national team since her maiden call-up in 2006, a period over which she has won four African Championship titles, one FIVB World Grand Prix and one All-African Games trophy with the Malkia Strikers.
Speaking early this week ahead of the team's departure to Japan, the hosts of the 2020 Summer Olympics Games, Wacu alluded that she might not call it quits immediately after the Olympics.
"My retirement will depend on the coaches. If they (coaches) will still feel that I have something to offer beyond the Olympics, then I will carry on and help the team.
"But if they will have a contrary opinion, then I will have no otherwise, but to leave," said Wacu, who is currently playing professional volleyball with Seychelles' club Anse Royale.
The 36-year-old beauty was rewarded with the Team assistant captain role. She took over the mantle from Kenya Commercial Bank left attacker Noel Murambi, the long-serving assistant to Mercy Moim.
Early last year, Wacu had indicated that he could retire after the Olympics and settle down in marriage. But that was before Covid-19 happened and disrupted every sportsperson's best laid plans.
"It is only the Olympics that has been missing from my volleyball CV. I might have to call it quits after Tokyo to concentrate on other things like settling down and starting my own family," Wacu, who has made four Olympic appearances but without clinching a medal, told this writer then.
It appears Wacu's secret admirers and those who have been waiting to see her settle down might have to wait a little longer should the Kenyan volleyball poster girl shelve her retirement plans.
Team Kenya to the Tokyo Olympic Games started departing on Tuesday with Chef-De-Mission Waitakha Kioni among those who made part of the advanced party so as to attend the Delegates Registration Meeting ahead of the teams' arrivals.
"The teams have been divided into small travel parties to manage the risks of Covid infection which may force a team to be quarantined, as well as the period of stay guidelines by the organisers.
"The teams have been divided into small travel parties to manage the risks of covid infection, which may force a team to be quarantined," NOCK clarified.
The last batch of the volleyball team is set to depart on Friday, July 9, for Kurume City ahead of a two-week camp.
The team will then proceed to Tokyo a week before the official start of the games on July 23.