Why lie: 'Vasha' weekend of carousal offered relief from Covid pain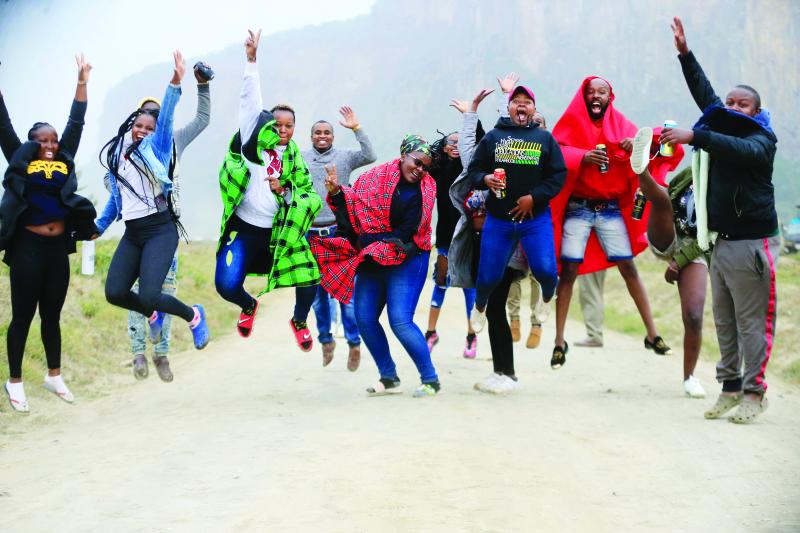 'What Happens in Vasha, Stays in Vasha'. The 'Happy Valley' came alive as motorsport enthusiasts and merrymakers alike descended on Kedong ranch and other many points in Naivasha last weekend.
The area temporarily lowered its Covid-19 guard for visitors to have fun, imbibe booze and engage in other forms of revelry as Safari Rally yet again placed Kenya on the world map.
Hotels and tour companies also made a killing as all their makeshift tents were filled to capacity forcing many to stagger from open bars and eateries late in the night to seek accommodation as far away as Gilgil. Not left far behind were individual entrepreneurs - both young and old - many of whom relocated for a weekend of business from Nakuru city and other nearby towns.
Food and drinks
However, thrust into the party mood, not even the scorching sun could stop them from having fun as Kenyans, starved of adventure after months of curfews and lock downs and fueled by the adrenaline rush associated with rallying cheered on the drivers who were battling the unforgiving terrain.
"Like bees attracted to a flower, city dwellers from Mombasa, Nakuru, Kisumu, Eldoret and Nairobi love the fun and wild revelry. The Safari Rally, which was happening in Naivasha, which is well associated with road trips, offered the ultimate spot for many to be naughty, escape away from their routine and live free to enjoy life to the fullest," a rally fan from Nairobi said in Naivasha.
Of course, there was lots of nyama choma and drinks to the party-hungry fans who tagged along their best boyfriends, girlfriends, family and colleagues to witness the event stamp its unchallenged demeanour as the ultimate test of the motorsport world.
History will prove many right that the return of Safari Rally to Kenya and Africa has given the World Rally Championship (WRC) the global appeal it has lacked for long. It offers the true test of machine, dust and mud where only the best emerge from unscathed.
No wonder it was not hard for President Uhuru Kenyatta to convince FIA President Jean Todt to extend the partnership to have the Safari Rally in the WRC for another three years beyond the 2023 deadline. This means the rally will be part of the WRC until 2026. For Kenyan fans, the experience in Naivasha where curfews and other Covid-19 protocols set by the ministry of Health were temporarily paused, it is one moment they will relish to revisit. As way back as Thursday, Naivasha was lit from dawn to dusk.
What happens here, stays here
Borrowing from Las Vegas' award-winning campaign - "What happens here, stays here" - Naivasha was christened 'Vasha' and for three days and night, a massive human and vehicular traffic brought the area to a standstill. Those who failed to get accommodation in the 'Sin City', parked their cars by the roadside and continued partying, with everything on the menu, including randy sex.
A senior manager at Viewers Park Hotel, Ms Mary Rahab, said they ran out of rooms even as booking inquiries continued to made a day prior to the start of the rally.
" I don't think there is anyone in the sector complaining about lack of business," she said.
Comedian Eric Omondi with DJ Joe Mfalme and singer Mejja hosted Dunda festival at Barons Sports Club near Delamere and the event did not disappoint.
WRC Safari Rally CEO Phineas Kimathi said the event has rightfully earned Kenya global recognition. "It is an iconic event that will market Kenya with a global audience being treated to quality production and 155 television stations beaming the event live," Kimathi said.
And when it came to the rallying circuit where the rubber met the road, there was enough fun for the local and foreign rallying crews.
That history has a way of repeating itself was in evidence in Naivasha as rally drivers for the first time in 19 years battled dust and rugged roads.
Whereas the last time Safari Rally was part of the WRC was back in 2002, one iconic car that has always been ever-present in the rallying scene throughout has been the Toyota rally team. Their victory on Sunday was the ninth claimed by Toyota in the history of the Safari Rally.
Winners and losers
Toyota, which last won the Safari Rally back in 1985, through its flagship brand Toyota Celica was this time round led by Frenchman Sebastien Ogier navigated by Julien Ingrassia driving a Toyota Yaris.
Ogier has won the World Rally Drivers' Championship seven times in 2013, 2014, 2015, 2016, 2017, 2018 and 2020. His win at the Safari rally will see him secure two additional bonus points in the Power Stage taking the Frenchman's championship lead to 34 points ahead of team-mate Elfyn Evans, who remains second in the standings.
"One out of one (Safari) is not so bad. We had amazing support from the people. It has been incredible. The people have been cheering for us. It is a beautiful country," said Ogier.
"It's been an amazing experience to be here. The support we got from the people has been incredible. Thank you so much, you have a beautiful country. The Safari Rally might be a bit shorter compared to the past but the challenge is still very tough. We enjoyed it!"