Safari Rally: Randy Subaru Boys heading to Naivasha as 'service providers'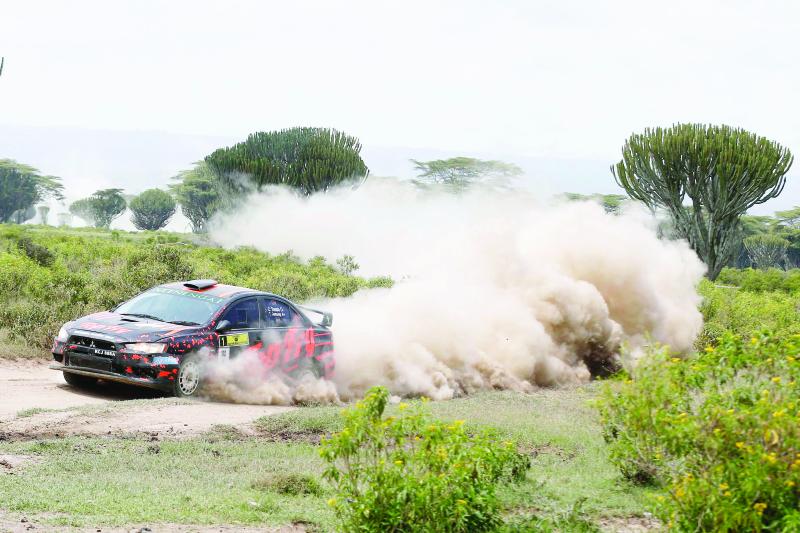 Frenchman Sebastien Ogier was only 18 years old when Kenya last hosted the iconic Safari Rally as part of the World Rally Championships (WRC).
However, the Toyota World Rally Team member will start from the poll today (Friday) as the Safari Rally proper zooms off in Soysambu.
While the professional crew will battle as rubber hits the road, unique spectators, whom the government has tried to rein in, the Subaru Boys will too be having their rubber hitting the road on makeshift camping tents and in backseat of their Forester cars.
Alongside the wildlife, that makes the Safari Rally a true adventures experience, the Subaru Boys will seek to outpace the lions, leopards, giraffes, zebras and hippos while keeping a watch on the action from a distance.
On social media, the Subaru Boys raised a storm saying most women are going to disappear this weekend from Nairobi for randy hot sex escapades in the wild parks. However, the Subaru Forester Nation, as they are known on social media, they vowed to show up in Naivasha as 'service providers'.
"We are in Naivasha for the rally as essential services providers. Those other things we are hearing doing rounds on social media belong to Mark X Owners. If your girlfriend disappears, ask them," @Foresternation posted on twitter.
Of course, the middle class men in Umoja, Buru Buru and Lang'ata estates in Nairobi have had to content with news their girlfriends and slay queens will be away in Naivasha this weekend to attend to their crucial ladies conference.
@Shikohkihika posted: "Your women are attending a conferences(sic) in Naivasha and Elementaita, please give them an ample time."
Inspector General of Police Hillary Mutyambai has assured of safety.
"I want to take this opportunity to assure all the stakeholders involved in the upcoming WRC Safari Rally that the government would provide much needed security and there is no cause for alarm," he said.
Indeed, the Safari Rally organisers have come up with unique solution to hotel with special camp with tents, which will accommodate fans and the Subaru Boys, who are the true kings of Naivasha road trips.
While the sideshows will capture the randy experience of the rally as it returns to the global series, none of the WRC's frontline drivers have experienced the Safari, which brings a unique challenge to the 12-round championship.
Car testing is banned outside Europe so championship leader Ogier and Toyota Yaris team-mates Elfyn Evans and Kalle Rovanperä camped in Spain to try to simulate what lies ahead on the Great Rift Valley roads.
"I'm always excited to discover a new challenge in my career, and I believe this rally will be very different from what I have done before," Ogier, who leads Evans by 11 points in the standings as the series reaches it midpoint, told WRC.
"We've heard a lot that we are going to have to set our targets a little differently. The way we drive nowadays in the WRC is by really pushing the limits all of the time, but in Kenya it will be much more about trying to survive the rally without trouble.
Car reliability will be a major concern and mechanics and crew will have to put in their best to keep out the dust and mud from damaging the ventilation systems and at the same time avoid the rocky sections from damaging the car.
"I think it can be interesting to have a challenge like this during the year. It has been hard to know what is the right way to prepare, so I think the drivers will probably have to adapt a bit during the rally," added Ogier, who has three wins to his name this year.
For an event that was dreaded and loved in equal measures, the Safari Rally seeks to reclaim its spot on the 14-tier WRC and reputation as the world's toughest rally where team crews specifically tested their cars for weeks on end to come up with a bullet-proof set-up that could cope with pulsating and punishing African roads.
Dust and mud were the prelude of the main rally and as President Uhuru Kenyatta on Thursday flagged off competitors away from the Nairobi start, there was no doubt that the event, now run under closed door in controlled ranches in Naivasha, will live up to its reputation.
The 58 drivers on the start list, 24 of them foreigners, must be prepared for what lies ahead with 18 special stages covering 320.19km before Sunday's finish in Naivasha.
However, none of the leading WRC title contenders have made the trip to Kenya and that has paved the way for five Kenyan drivers and a Pole to fight for honours in Africa.
Frenchman Yohan Rossel has a 34-point advantage over Poland's Kajetan Kajetanowicz after five rounds of the series, with Nicolas Ciamin a further seven points adrift in third place.
In their absence, Kenyans Onkar Rai, Carl Tundo and Tejeer Rai will line up in Volkswagen Polo GTIs against their countrymen, Karan Patel (Ford) and Aakif Virani (Skoda), and Poland's Daniel Chwist (Skoda).
Tundo is the most experienced of all the local drivers and has won the non-WRC Safari Rally on five occasions (2004, 2009, 2011, 2012 and 2018) when it counted as a round of the FIA African Rally Championship.