St Anthony's sports and academics dominance down to balancing act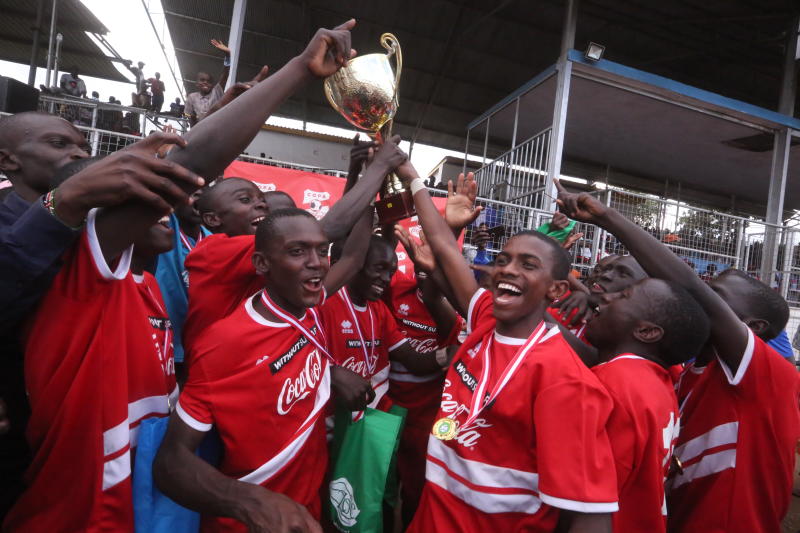 For the past two decades St Anthony Boys Kitale in Trans Nzoia county has excelled in academics and extracurricular activities.
The national school, which is sponsored by the Catholic Church, has mastered the tricks of conquering academics and sports to the envy of other schools in the county and the larger North Rift region.
When Education Cabinet Secretary Prof George Magoha announced the 2020 KCSE results, St Anthony Boys was among schools that had an improved mean score. The school posted a mean score of 8.73 up from 7.8 the previous year.
With a registration of 392 candidates, the school had 340 students scoring C+ and above, the pass mark for joining the university.
The school's exemplary performance in football has been recognised beyond Kenya's borders and many a time, it has churned out talent to compete in several Football Kenya Federation (FKF) competitions.
Last March, FKF inaugurated the school as the Centre for Excellence for football in the country.
Importantly, being an academic giant, St Anthony Boys has proved its critics wrong showcasing it is not hard to balance education and sports.
Last year, the school clinched Kenya secondary schools football under-19 trophy as well as the national schools hockey title.
Six times national football champion, St Anthony Boy's senior soccer team are also the former East and Central Africa Secondary School soccer champions. However, it was in 2002 that the school clinched its first title as champs of East African when they defeated Kibuli Boys of Uganda.
And if that is not enough, they too are the national music champions, winning the class 371 Luhya-Luo folk.
"Basically it has been our tradition to balance academics and sports. We don't see any conflict between the two as we have mastered tricks to ensure we excel in both,'' Victor Makanda, the school principal told The Nairobian.
According to Makanda, the education curriculum is clear on when academic is done as well as sport activities.
"It is clearly defined in the timetable on matters games and class time. We have always followed this and achieved our feat," said Makanda, whose office is decorated with several trophies.
St Anthony Boy's does not view extra-curriculum activities as a compromise to academic excellence.
"It has been proven that sports enhance discipline among students. An exhausted student from the field is refreshed, fit and alert in the mind. Our school is a testimony that sports heighten discipline and disengage students from being destructive," he noted.
Makanda formerly served as principal of Barding Boys in Siaya and helped the school to clinch East and Central Secondary Schools soccer champions in 2016.
"We also like sports, because it presents opportunities for students who are weak in academics to nurture sporting talents," he argued.
Great partnership
He cited a partnership between the school and other institutions such as Strathmore University, which offers free scholarships to six students every year.
For example ,one of the 2019 KCSE candidate Wisdon Naya, who scored a C (Plain), has since joined Sofapaka FC.
Another former student, Tyson Kapchanga, joined Bandari while Geoffrey Onchwati and Elly Saenyi are on trials with a club in Denmark.
Another potential player is Juma Lugogo, who attained a C+ (Plus). He has become a hot cake for local clubs.
Despite extra–curriculum activities draining resources, Makanda argues that it is worth it.
"Last year we spent Sh6 million in extra-curriculum activities, but it is worth it to win national trophies,'' he said.
Teachers at the school, he says, have been associated with sports and this has made it easy for the institution to win local and regional competitions.
Makanda attributes the impressive results to high discipline demonstrated by students and commitment from teachers.
In 2019, the school produced the top performer in the county scoring an A.
"My teachers are committed both in class and sports. We have maintained our spirits, and we have ensured we are not defeated by our rivals," said the principal. The improved results are linked to hard work and early completion of syllabus, which secured enough time for revision.
"The trick is simply, to cover the syllabus on time and ensure adequate time to revise," adds Makanda.
At the end of the day, those who excel in sports and earn good grades stand a high chance to pursue their talents having earned scholarships.
Solidarity Boys soccer are top in the Football Kenya Federation North Rift league. Makanda says the school is building a strong soccer team to defend its national champs title next year, and it's quests to claim a regional trophy.