Sports divas love the game , but groupies love men in the game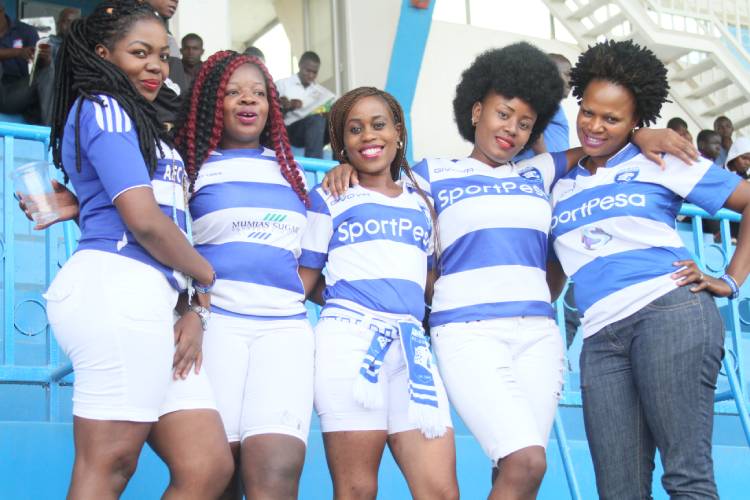 Afande Cele recalls with ease the name of the goalkeeper who wore the gloves when Bandari beat Tunisian side-Ben Guerdane in the first round of the CAF Championship League on September 14, 2019.

From the dressing room, politics to the current league-standing Afande Cele spits with confidence any news touching on Bandari FC, her favourite football club in Kenya. Cele, a professional policewoman and she understands operations at the Mombasa-based side like the bat of her gun.

Then there is Lilian Achieng. She struggles to recall the name of the Football Kenya Federation president. Telling Achieng to name the last two captains of the Harambee Stars is too much a task.

Interestingly, both Achieng and Afande Cele claim to be ardent female football fans and adventure and fun junkies. According to Achieng, she has travelled to virtually every stadium in the country-from the remotest part of Kenyan to the big cities of modernity.

But the striking difference between the two is that while Afande Cele identifies as a football 'diva', Achieng who is dating a top Kenyan Premier League player, on the other hand, claims a WAGS title-an acronym for Wives and Girlfriends of high-profile sportspersons.

While WAGS are either married or dating sports personalities, just like Achieng, they rarely attend matches at the stadia, unless on special occasions in which spouses are involved. Achieng, who lives in Umoja Estate together with her boyfriend of seven years, has Masaku Sevens to thank for a soul mate.

Eight - years ago, she teamed up with a group of party hoppers; beautiful lasses who have cut a niche for themselves. They have developed an unsuitable appetite for masculine sportsmen. They usually attend sport-themed-social gatherings with the hopes of a sliding tackle on the prey-the masculine and moneyed sports personalities.

This group can easily be confused with what most Kenyans wrongfully refer to as 'football diva. A diva is the Latin word for a goddess; a woman of outstanding talent in the world of opera, theatre, cinema, and popular music.

But in Kenya, we have attached the meaning to this word to a female football supporter.

Be that as it may, 'KPL divas' we have been there and they play a significant role though they now face a stiff challenge from the other group, better known as the groupies.

"I support Gor, first because I love football, then secondly, because I am a Luo," says Janet Juma who identifies as Gor Mahia supporter (diva).

While divas are there for support, Groupie, on the other hand, are known for their wild romps, binge drinking, and after-game sexually stimulating moves.

You will always find them at the Lewa Marathon and Rhino Charge. They are associated with top footballing clubs and are the nectar that sucks rugger boys into hard, life-threatening tackles and then you have the 'Subie queens', a group of lasses who are always at Subaru car owners' events.

"Take a moment and observe their skimpy outfits and the boozing and weed smoking. Why can't they spend their time and money on more productive activities?" Lucy Wambui, a mother of one, scoffs. "It is all about peer pressure."

Appalled by what she calls the "bad behaviour" at these events, Wambui cites the infamous shenanigans that accompanied the Masaku 7's in 2014.

"I am not against my child having friends or having a bit of fun, but considering what I have seen happen in past events, I would think twice about letting him or her be in attendance," Wambui says.

But Belva, an influencer who attends social events as part of a job, dismisses this narrative as hot-air.

"It all depends on your choice of friends. Unlike what most people think, some of us are not driven to sports events to promote promiscuity. We frequent these events to have fun. We have WhatsApp groups where we discuss everything we need, from the amount of alcohol to buy, to what we will wear and accommodation if the event is out of town," Belva says.

While some sectors of the society could be jittery when the 'youngings' are mentioned, event organizers have always taken advantage of groupies to rip maximum profit because of the crowd that they usually tag along with.

"Besides the loud music that welcomes you to the event even from a few meters away, there is a lot of alcohol and drug consumption.

"I don't think there is anybody to blame for that. Events are all about fun, after all, you paid for the event."

Quick Nyakwaka, a former rugby player and founder of the defunct Masaku Sevens says that Groupies should be encouraged for the benefit of the modern game.

"Ladies have always been in groups like Chamas. Our mothers and grandmother used to be in these Chamas, but urban women tend to have more money than our mothers so they would want to go out there and have fun but in groups.

"Modern rugby is technically complex, very physical which creates a sporting spectacle, and this appeals to fans who might not necessarily have the understanding of the rules of the game but still want to have fun.

Groupies are good for the growth of the game and it should be encouraged because this is one of the unique ways to broaden the fan base," added Nyakwaka adding that plans are underway to revive the Masaku Sevens.

But before that, the forthcoming Safari Rally Championship presents a perfect opportunity for groups to once again step out and sample the cuisine that sports serve its loyal followers.