Third time lucky? World Champion confident of Olympic glory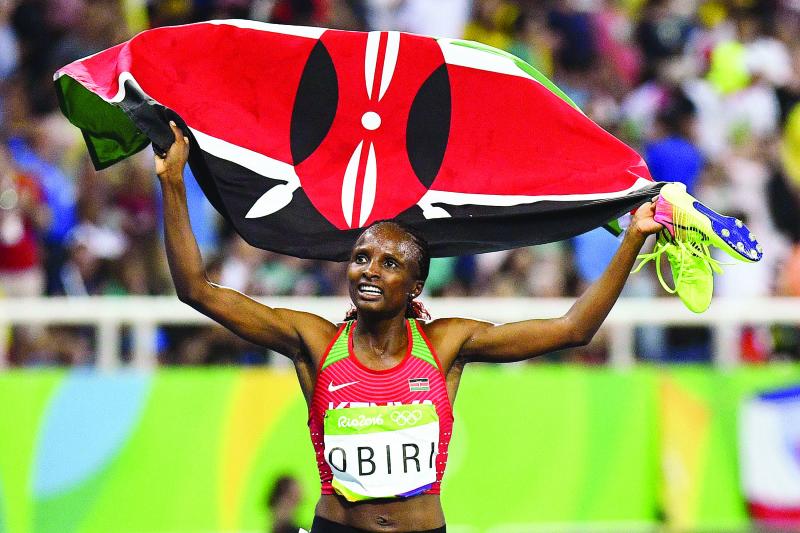 On her third attempt, veteran World 5,000m champion Hellen Obiri is confident she will finally weather the storm and clinch the elusive Olympic gold medal in Tokyo in July.
The 31-year-old will launch her belated season on the global front in two weeks' time in Qatar during the Doha Diamond League and she relishes the challenge, which she hopes will help her brush off the rust and gauge her fitness ahead of the big battle that is the Olympic Games.
Obiri, a mother of one, has made two attempts to clinch a gold medal at the Olympics without success. The best she got was a second place finish behind a specially talented fellow Kenyan Vivian Cheruiyot, five years ago in Rio. Her first shot at the ultimate prize was in London in 2012 where she finished eighth clocking a disappointing 4:16.57 over the shorter and explosive 1,500m distance.
The former World Indoor 3,000m champion does not buy the idea that there is a level at which an athlete is expected to achieve his or her ultimate goal and be on top of the world. For Obiri, form comes and goes and momentum shifts. Stars periodically align, but, then again, it is feelings such as this that define sports.
Ahead of the Doha meeting, Obiri is certain she has the perfect form to chalk another win. She has had issues with her back but as a remedy, she opted to compete in selective races last year to avoid fatigue and aggravation of her injuries.
"I love running in Doha because it is the place where I won my last World Championships title in 2019, but this year, it is all about the Olympic Games as that is the only major gold medal that I'm missing and I'm working hard to change that this year.
"The 3,000m and 5,000m races are very competitive at the moment and I expect we will see some fast times in the next few months and in Tokyo," says Obiri, who will be running in the 3,000m race as the athletics season gets underway.
After her two failed attempts to win gold at the Olympics, Obiri has been undertaking self reflection and she is not happy with how things went. Sometimes, this leads to a sense of anger, humiliation and hate for having let the chances slip through her fingers in Rio and London. Though she has another to redeem herself at the Tokyo Olympics, she is alive to the fact that defeat will always leave a glaring scar on her heart.
With certainty, Obiri will have her hand up when the starter calls the competitors to line up for the finals in the 5,000m race in Tokyo. However, she is undecided if she will dig in deep and challenge for a double in the 10,000m race. That decision may be made after a review of her performance in Doha in two weeks' time.
Up against Obiri in Doha will be world record holder Letesenbet Gidey of Ethiopia. The two have clashed before and their rivalry will be catalyzed with the prospect of gaining psychological edge ahead of the Tokyo Olympics by winning in Doha.
Obiri, an Olympic 5000m silver medallist in Rio 2016, is an experienced competitor with three world track titles dating back to 2012 (two outdoor, one indoor). She is also the reigning World Cross Country champion and Commonwealth Games champion over 5000m.
On the other hand, Gidey is a silver medallist over 10,000m at the 2019 World Athletics Championships, and she is a prodigious young talent. A former world under-20 cross country champion (2015 and 2017), she finished third behind Obiri in the senior race at the 2019 World Cross Country Championships. In October 2020, she broke the world 5000m record in Valencia (14:06.62).
"I'm happy to start my season in Doha," Gideywho is the Ethiopian national record holder for 3000m (8:20.27) told World Athletics. "It will be my first race as a world record holder and I feel excited to see where I am in terms of condition. It will be a very important stepping stone towards the Olympic Games later in the season."
However, Obiri has defeated Gidey in their most recent clash (over 5000m) at the 2020 Monaco Diamond League in a time of 14:22.12.
"After my half marathon debut in April (she ran 64:51 minutes in Istanbul) I'm looking forward to getting back on the track, especially at the Doha Diamond League meeting where I will be going for my fourth 3,000m win. I ran the Kenyan record there in 2014 (8:20) and the second fastest 3000m in my career there last September (8:22)," adds Obiri.
From cross country to Africa championships, Indoor Tour to the Commonwealth Games, Obiri has stood the test of time to inscribe her name on Kenya's hall of fame. However, to confirm her legendary status prior to moving to road race and marathon fully, she has to secure the Olympic gold.
"I've won a lot but I'm not yet there," she says. "Olympic gold is the only medal that's missing from my collection. We were training for the Olympics in 2020 but then of course we received the sad news that there would be no Olympics.
"It's hard to put your dreams on hold for another year when you wanted to achieve something good, but we have to be patient and train hard for 2021. The pandemic has affected the whole world. All we can do now is look ahead to 2021."
Though she has had her moments of glory and loss on the track, one of the hallmarks of a champion is the ability to bounce back and Obiri has time and again in her career, which spans a decade, showed her true character to overcome depression, injury and poor form to road right back into the top echelon of her competition.
It is what she will be expecting in Doha, another rebound will send her to the Tokyo Olympics with a lot of enthusiasm and hope to finally get the texture of the Olympic gold to wrap up the year with yet another victory.
Generally, the 2021 Wanda Diamond League comprises 14 meetings - starting with Gateshead in United Kingdom, replacing Rabat as the first host city on this year's circuit on Sunday 23 May - leading to a single final across two days in Zurich at the end of the season.
The 2021 calendar remains subject to change depending on the global health situation in the coming months.
Hide your knickers
Hanging your underwear on a public clothesline makes them public property