From the pitch to the boardroom: getting to know FKF boss Kentice Tikolo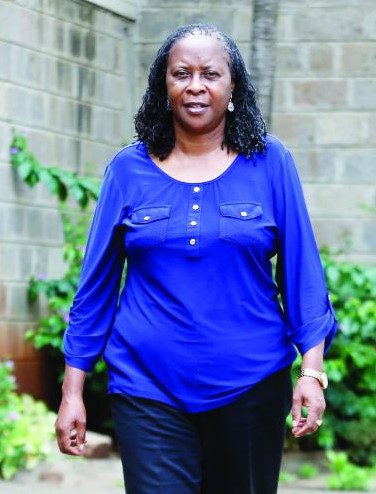 Kentice Tikolo has broken several glass ceilings in her many years in academic, research and professional fields but nothing would compare to her elevation to become the chairperson of the Football Kenya Federation (FKF) Elections Board, the first woman to hold the position in this male-dominated sport.
But the "Boss Lady" is not new to the sports world having been a player in virtually all sports disciplines, scratch swimming. If you threw her into the deep ocean, the 57-year-old former Lawn Tennis player cum communication specialist will not do much to save her life. She has, however, promised to add swimming to her bucket list, and is determined to venture into it by the end of next year.
"What I can't understand is why I can't swim. Perhaps, it's because none of the schools I went to had a swimming pool," she reasons.
"We didn't have tennis courts at Loreto and I remember we would use the one at Limuru Girls but we nonetheless excelled in the discipline," she says.
Kentice, who also chaired Wazito FC, is one of the few Kenyan sportswomen who have successfully transitioned from the game to settle in the corner office. Currently, she is taking golf classes under the tutelage of renowned female golfer Rose Naliaka.
But golf is not the only sport that she has shown interest in. The multi-talented Kentice has also previously taken part in basketball and athletics and competed in 100m and 200m races as well as long jump. Further, she was a centre-forward in hockey and by her own admission, she was an excellent volleyball and tennis player.
But like most youth in Kenya, Kentice never took sports seriously until she joined high school.
"During our days, sports was associated with people who were not endowed intellectually. But this is no longer the case. Sports is not for intellectually challenged, but an investment in talent," she says.
It was at Loreto High in Limuru and later Alliance Girls that she excelled in hockey.
"I took to sports like a fish in water," says Kentice, also better known as "Miss-Fix-It". "I was tiny but I played excellent volleyball and was excellent in tennis. When I got introduced in a sport, I ran with it. It just happened. I was a natural sports woman," says Kentice, who is one of the few women to have juggled between sports and professional career as a strategic corporate communications and public relations expert.
Born in Kakamega, Kentice was clearly destined for greatness from a young age. She is not your usual rural girl, neither can you say she's a city lady. Kentice's personality was perhaps influenced by her father, Joseph Muyeka's frequent travels as a teacher. He would move with his entire family whenever he was transferred from one school to another.
"I grew up with a father, who loved sports. I remember he would buy a crate of soda for the family whenever AFC Leopards won a match. But woe unto you if you asked any favour from him when his favourite team had lost," Kentice says with a deep reflection from a small but well-furnished boardroom on the fourth floor of Somak Building.
"My father was a teacher and he used to change work stations. So, he would move with us," she says.
Funny enough, Muyeka, 85, who was once also gymnastics tutor, can swim better than a fish even at his advanced age, a big challenge for the aquaphobic Kentice.
Even though she never took part in sports at the highest level, other than being drafted in the Kenya junior lawn tennis team, Kentice would later move from the field to the corporate world where she has been climbing the ladder stealthily.
An opportunity to work with the First Lady Margret Kenyatta, immediately after President Uhuru Kenyatta won the 2013 presidential election gave birth to Impact Africa now Cause Impact. Kentice is the brains behind Beyond Zero Marathon, a project managed by the First Lady, which aims at improving maternal and child health in Kenya, and to reduce new HIV infections among children.
"When Jubilee government came to power, I was asked to come up with a concept for the First Lady and that's how we came up with the Beyond Zero and from there, I had no option but to set up Impact Africa now Cause Impact," says Kentice.
The company deals with development and implementation of various strategic public relations and communications programmes.
Talking of problem-solving, it is this 'fix-it-attitude' approach that she picked up the moment she was thrown in the deep end of the pool, following her appointment to head of Football Kenya Federation (FKF) Electoral Board'. It is a challenge that she easily tackled and won by delivering a violence free FKF poll early last year. And with that, she became the first woman to have chaired and delivered football elections in Kenya.
Beyond football politics, Kentice is also linked with the recent transformation of the FKF- Premier League moneybags-Wazito, a club that she has supported right from the grassroots until it was purchased by the Swedish billionaire Ricardo Badoer, an investor whom she lured with her infectious smile and the effective communication skill horned in Scotland.
But where did she incubate her love for sports and later management? Kentice grew up in a sports environment; a milieu that would later prepare her for a union with Tom Tikolo, a former Kenyan cricketer, who was at one time the Cricket Kenya CEO.
But even before she met Tikolo, with whom they have another sport nerd, Jeffrey Tikolo, Kentice's path was perhaps charted a long time ago, thanks to the influence by her dad, Muyeka.
Muyeka did not only love football but also studied sports at the then Kenyatta University College. His love for Ingwe (AFC Leopards) is what spurred his daughter into sports, at an early age.
And like her, Jeffrey is also excelling in sports and was the winner of the footballer of the year title/most valuable player in the league, for his university at the University of Cape Town, South Africa. Her younger son, Immanuel, is also a footballer
A Bachelor of Education (Botany and Zoology) graduate of Kenyatta University, Kentice also holds a Masters Degree in Public Relations from Stirling University in Scotland.
She joined Kenya Sugar Authority as a public relations officer and rose through the ranks to become Head of Corporate Communications at Kenya Wildlife Service.
Kentice has also worked at Kenya Civil Aviation Authority, Care International in Kenya, ILRI and Aga Khan Academy among others.
She is also a former chairperson of the Public Relations Society of Kenya (PRSK).
Hide your knickers
Hanging your underwear on a public clothesline makes them public property