Tactical shift: football fans get creative to cheer teams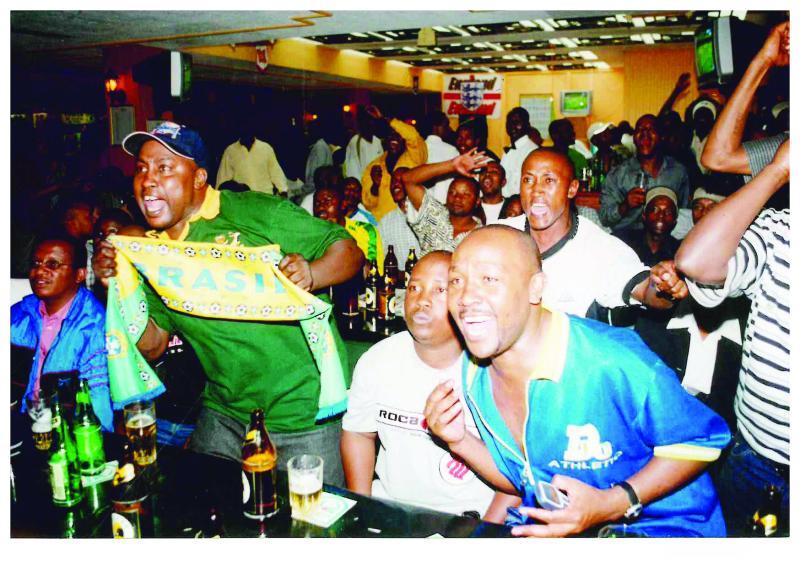 The suspension of contact sports and entertainment joints operations by President Uhuru Kenyatta has certainly not stopped fans from accessing and watching their favourite foreign clubs compete for various trophies.
A creative fan in Kakamega, for instance, has come up with a way of hosting and providing live feed to his clients. Walking through the town, you will be surprised to see a board outside a dilapidated mud-walled structure with systematically-placed wooden seats to accommodate football fans.
Outside the structure, the owner, Chrispen Lichoti has planted a 'notice board' which carries a very short message, such as 'Chelsea vs Real Madrid leo 10pm'.
Inside, the structure is dimly lit, by the brightness of two 32-inch television screens, which are playing soft music, with Lichoti seated at the far left corner.
It's in this structure that fans of all top football leagues assemble to quench the thirst of seeing their teams play against rivals. Though most congregate here because they cannot afford to pay for cable television at the comfort at their homes, the ambience and stadium-type atmosphere created in this structure is of its own kind.
However, these curious fans have had to mutate and devise tactics to avoid being nabbed by law enforcers while watching games during curfew hours.
During their goal celebrations, one factor has remained constant, the wild celebrations accompanied by jumping up and down. However, a new rule has been put in place, which goes against any form of noise.
Any client, who gets overwhelmed to an extent of shouting loudly, is immediately refunded his money and kicked out.
When Lichoti started this business, two months ago, he was worried of how he would manage to show games during curfew hours without landing into problems with the police.
"I started this business during this Covid-19 pandemic. I was bored and broke at home and therefore decided to get a business that would help pay my bills. I thought for some time and settled for this particular one," he explains.
He says that most of late night UEFA Champions League games are most watched and attract larger crowds of fans.
"This late night games attract larger crowds meaning more money for me. Most of the games are the top league games or Champions League, which fetch me up to around Sh3,000 per single game," he says.
Lichoti notes that he has had to talk to his clients to watch the games in late hours silently to avoid being arrested by the police, something that they willingly oblige to.
"They say necessity is the mother of invention. We have had to change tactics so as to avoid sleeping in the police cells after getting caught. Once a team scores, they perform all manner of noiseless celebrations. The main door is always locked during these games."
Calistus Milimu, one of the frequent customers, says he derives pleasure from watching football games despite the fact that he does not have a television set in his home.
"We are a depressed generation as youths. Every day comes with new struggles and new challenges. Some of us have resolved to watch these games to keep the momentum."
Milimu says fans are always willing to oblige to any restrictions so long as they are able to watch the games.
He also notes that police officers patrol the area daily in efforts to enforce the curfew order.
"We don't blame the police, we know they are only doing what they were employed to do. It's only that watching these games is just irresistible. The feeling is just unexplainable," he said.