Golf gets better treatment than football, but should it?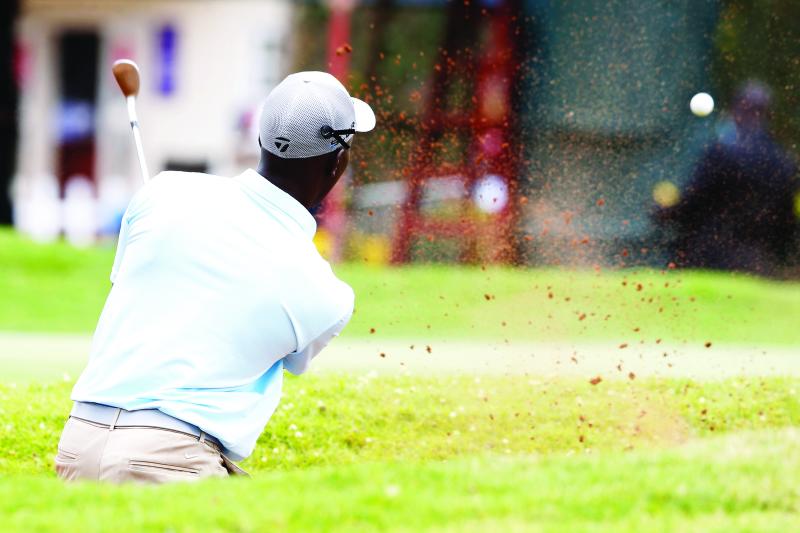 There are many facets of discrimination in sports. It can be based on gender, nationality, religion or even ethnicity. And while governments across the world have gone to great lenghts to eliminate the vice, certain actions have inadvertently served to encourage the same to the detriment to majority of the citizens.
Take investment, for instance. It is obvious that governments and corporates are more willing to put their money in traditionally elitist sports disciplines, which mostly attract the more economically endowed, at the expense of popular and economically accessible team sports.
One of the best examples of disciplines were such discrimination is rife are golf and football.
Kenya has not been spared this sad state of affairs. Take the Kenyan Premier League, for example. A football club is entitled to the winner's purse but that amount won't make much sense until you compare it to what South African Justine Harding took home for lifting the 2021 Magical Kenya Open Golf Championship, which concluded last month at the Karen Country Club.
Harding pocketed a cool Sh20 million after a mere three weeks outing in Karen. When you compare that to the Sh3 million that Gor Mahia earned last season after toiling for 52 weeks to lift the KPL title, you realise the two disciplines are not certainly in the same league.
Worse still, Gor's prize money payout had to be shared among 23 players, the technical bench, officials and the club itself. Harding, meanwhile, just needed to tip his caddie and pocket the rest.
Viewed from such a prism, the gashing valley of financial and infrastructural disparity, may make any neutral arbitor throw up. But such is what defines the Kenyan football scene, a sport founded on poverty vis-a-vis golf, which is a safe haven for government and corporate retirees, who make up a huge part of society's moneyed elite.
Private member club houses hidden in the secluded posh estates are also where top State officials hide to strike deals in the dead of the night while the masses are snoring lazily in their rented apartments or informal settlements.
Yet football remains the beautiful game that is the most popular sport the world over. To put it succinctly, football beats golf, a sport that rarely hits the headline in the local dailies, hands down when it comes to mass following. But the psychographics of these masses are centred in the lower middle class.
From infrastructure to prize money, football has always played second fiddle to golf. The bias in financial support is best denoted by the government, which for a long time, has perpetuated the inequality in how it handles the two disciplines.
Take the fact that the final day of Kenya Open, for example, is graced by a sitting Head of State. That tradition offers golf the corporate edge and President Uhuru Kenyatta once had to go against his word to show up at this year's event, which was in contravention of Public Order Number One on Covid-19 he issued on March 12.
Since independence, Kenya has constructed just two stadia of international stature, Kasarani and Nyayo, both in Nairobi. On the contrary, there are 42 golf courses - 10 of which are of international standards.
Again, this will not make much sense until you throw in some figures. While only 156 golfers were registered for the Kenya Open and the sister event, the Savannah Classic Golf Tournaments, a football tournament of that magnitude, like the Africa Cup of Nations (AFCON), brings together approximately 800 players.
This number excludes members of the technical bench and referees.
In short, for a simple football
intal tournament of 24 teams to take place, it will require close to 2,000 individuals to take part, translating into lots of revenue and business for the hosting nation. Yet, lack of government support denied Kenya the golden opportunity to host the 2018 Africa Nations Championship (CHAN) and 1996 Africa Cup of Nations (AFCON), which the continental football governing body CAF took away to Morocco and South Africa respectively due to poor infrastructure.
Granted, the country was recently voted the best golfing destination in Africa, beating countries like South Africa and Morocco. Karen Country Club also won the best golf course in the country for the second year running. Besides Karen, Kenya also has Vipingo Ridge, which is Africa's first and only PGA-accredited course.
Other golf courses in Kenya include Muthaiga Golf Club, Nyali Golf and Country Club, Royal Nairobi Golf Club, Sigona Golf Club, Leisure Lodge Beach and Golf Resort, Mombasa Golf Club and Vipingo Ridge, which was designed by European Tour pro-turned-course architect, David Jones.
But note that the country boasts of only a handful of amateur and professional golfers even after the government, through the Kenya Tourist Board (KTB), injected Sh200 million in sponsorship.
"Kenya is widely known for its prowess in sports especially in athletics and golf is now proving to be one of our major selling points as a destination. We therefore see an opportunity for the country's tourism in this aspect which we shall continue to leverage on," KTB CEO Betty Radier said after the board Sh25 million towards activation of the two European Tour events.
It is this continued partnership and financial support from different government agencies and blue chip companies that sets golf apart from Kenyan football, a discipline that often than note beg for corporate support.
But golf has also not been spared by the ghost of sports mismanagement and poor planning. The ghost visited Magical Kenya when the first three days of the European Tour failed to light up TV screens. This was after Skyport, which was the contracted TV broadcast failed to clear the equipment in time for the game, leading to a 'blackout' and loss of revenue in advertisement, running into millions of shillings.
The poor pay and constant suffering in the local football was the main reason why Jacob Okello, Kenya's most decorated golfer at the Kenya Open, ditched the perceived beautiful game for golf.
Okello now has poor management to thank for his new found love even though he admits that golf also has its skeletons in the closet.
"During our days (early 80s), there was no payment. We would play football but get nothing in return," said Okello, who entertained K'Ogalo fans alongside Abbas 'Zamalek' Magongo at the heart of Gor Mahia midfield until an injury kicked him out of football-his first love.
By the time he was making a career switch, Okello was still chewing books at Kakamega High School where he also played for the Green Commandos.
"The incident was too heavy for my family. I was left on my own by the club. It was my dad Ben, who foot the hospital bill when I picked the injury.
"As a family, we agreed I end my football career when Gor took us in circles over the bill. It was a painful decision to make. Looking back, I can't regret because I have achieved amazing things with golf. Unless we change the attitude and start taking sports as an investment, there is nothing that we can do about the regrettable situation," said Okello.