Goalkeeper uncertainty killing Harambee Stars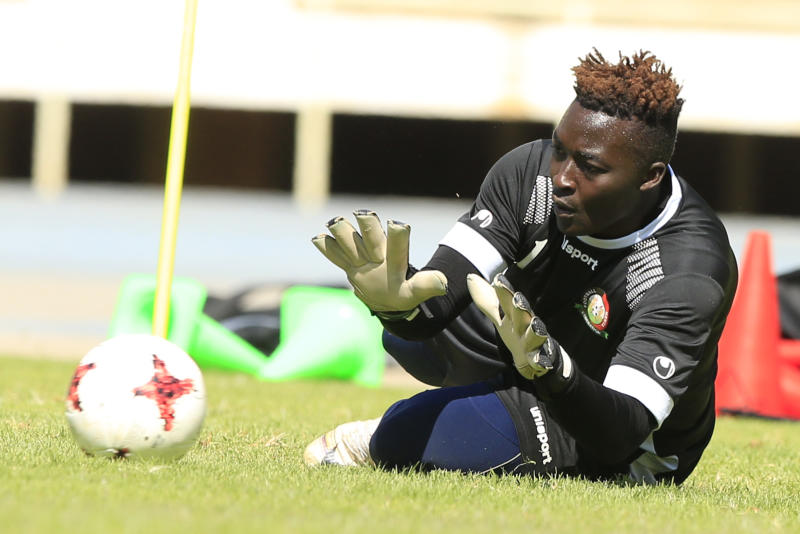 It is unpredictable to guess which player Jacob 'Ghost' Mule will trust with the gloves when Harambee Stars take on Uganda in a FIFA World Cup qualifier in June.
Unlike other teams, who have specific names inscribed for this position, the revolving door of Harambee Stars goalkeepers continues to gain speed with each tournament or coach appointed to oversee the national team.
No wonder it is hard to name, with your fingers, the goalkeepers who have featured in the last five consecutive games in Harambee Stars' colours.
Such has been the life of Kenya's number one.
Since Francis Onyiso retired from active football in 2012, there have been no less than 10 goalkeepers who have between the poles for Kenya. Arnold Origi, Wilson Oburu, Duncan Ochieng, Boniface Oluoch, Jerim Onyango, Patrick Matasi, Ian Otieno and James Saruni have all donned the gloves in different tournaments.
Worrying as it may be, this instability has cost Kenyan football opportunities at the big boys tournaments.
The number of goalies who have passed through the national team is worrying, perhaps an interesting area of research for those studying sports management.
However, that wasn't the case during the reign of the late German tactician Reinhard Fabisch, where predicting Stars' first 11 was as easy as taking a selfie.
Today, betting firms have a bounty for punters to place their money on who will be the Harambee Stars goalkeeper in their next match. The odds are high meaning the risk is also big.
Predicting a probable Harambee Stars line up, or even players likely to earn a call to the national team, is like studying nuclear science for an average Kenyan football fan. Such is the inconsistency that has left many worrying because merit alone is not enough to cement a player's spot in the national team
No wonder the national team has never booked a back to back qualification at the African Cup of Nations (AFCON).
Goalkeeping is the last line of defence, but this crucial department is Harambee Stars' Achilles heel. Kenya conceded an average of one goal per game in the last AFCON qualifier. Interestingly, the two coaches, 'Ghost' Mulee and his predecessor, Francis Kimanzi, used three different goalkeepers - Origi, James Saruni and Ian Otieno - in six games.
This tells a lot about a department whose success is founded on consistency and where players mature slowly and late into their careers, just like the fine old wine. The modern Harambee Stars is a circus, a classic tremolo!
Mahmoud Abbas is a living legend and his name will forever be engraved in the memories of most football fans who watched him between 1977 and 1986. During the entire period, he was a key feature at the national team.
He was first called to Harambee Stars at just 19 years of age. But Abbas stood the test of time. He was so good that he had to be recalled out of retirement, in 1989 and would play a key role in Harambee Stars' 1990 World Cup qualifying campaign.
"There is a big problem with modern goalkeeping at the national team. I can't tell exactly what the problem is, but being called to the national team at a tender age is not among the problems we face because personally, I was first called when I was just 19," Abbas, who inherited the gloves from legendary Kenya Breweries star Mohammed Magogo told The Nairobian.
Magogo's reign at the national team was between 1975 and 1977.
Abbas was a gem, for both club (AFC Leopards) and country (Harambee Stars) with whom he won the Gosage
Gangsters now targeting houses of God
The gangsters made away with an audio mixer, three loud speakers, their tripods and two sets of microphones. The items were stored in a cabinet inside