Blame it on the hormones: Women players get more injuries during their periods and a few days after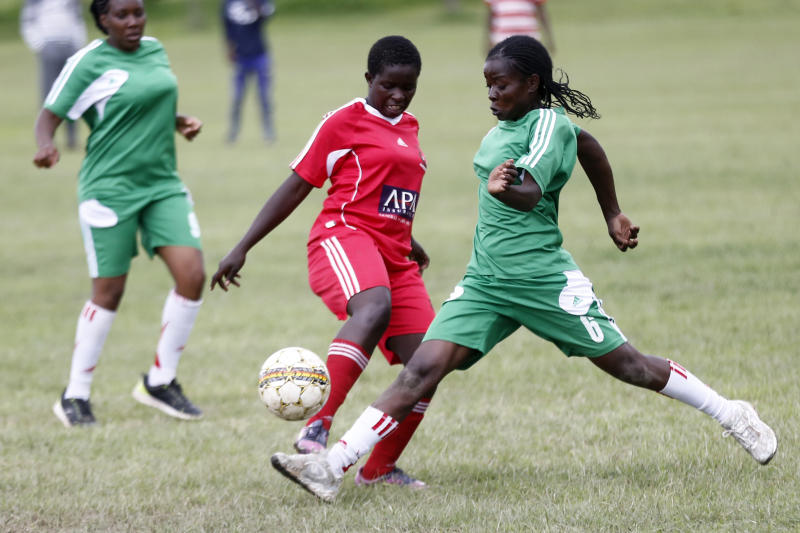 Female athletes have periods too at the end of the month; and sometimes 'roll' just before a critical game, impacting their overall performance.
Several studies explain how the menstrual cycle affects performance of sportswomen. Apparently, women are more susceptible to injuries during their menses and a few days after.
This period is known as the follicular phase; described as the time between the first day of the period and ovulation. At this stage, estrogen rises as the egg prepares to be released, changing hormone levels that affect ligament properties.
Dr Francis Mbugua, an orthopedic surgeon and sports medicine specialist, says it is generally accepted that women are at higher risk of sports injuries than men for more reasons than one.
Main factors
"The main factors that we think contribute to this are hormonal factors. Ladies have higher estrogen hormones than males," he says.
According to Dr Mbugua, estrogen increases the flexibility of your joints, tendons and ligaments. This is good for general movement but it increases the chance of injuries because of too much mobility of joints.
"During the menstrual cycle, estrogen kennels also go higher than normal. This also increases the flexibility of joints, hence leading to higher chance of injuries," he explains.
He adds that the female anatomy is also a huge contributor.
"Ladies have wider hips to allow for child bearing. This makes the angle at the knee and ankles different as it is not aligned but very straight. This means when they land, the legs can turn inward and cause injury," he says.
Moreover, women don't tend to exercise as much as men but they exercise almost the same. This results into nutritional deficits of vitamins and minerals that leave them at increased risk of injuries.
Menstrual cycle
A study by University of Lincoln, Nottingham Trent University and The Football Association found that muscle, tendon, joint, and ligament injuries are unevenly distributed across the menstrual cycle. According to the study, estrogen decreased the stiffness of tendons and ligaments, which is good for childbirth but leaves knees and other joints less stable when levels are elevated.
This study divided the menstrual cycle into two halves: the follicular phase, which begins on the first day of menstruation; and the luteal phase, which begins with ovulation. Estrogen is lowest at the beginning of the follicular phase, then rises to its highest peak shortly before ovulation. Then it drops sharply, and rises again to a gentler peak during the luteal phase.
A story by the BBC agrees that estrogen, the hormone that repairs and thickens the uterus lining during menstruation, can increase the elasticity of joints in the days before ovulation, leading to anterior cruciate ligament (ACL) problems, which occur if a knee or lower leg is twisted. After the ovulation, comes the actual periods with their own set of unique challenges for sportswomen.
Women and their periods
Since time immemorial, sportswomen have to deal with discomfort, excruciating period cramps and erratic hormones associated with monthly periods.
"It really affects the matches. There was a time in 2015, we went to play with Thika Queens, and nine out of 11 were on their periods. We lost," says Harriet Fakhiri Bwire, a striker with Makolanders Ladies FC.
She adds: "The coach was disappointed and we were also disappointed. Imagine if it were qualifiers, it could have cost us."
The striker explains that players are forced to man up during their periods, as football as a game was initially meant for men and little attention is given to women's needs.
"Some teammates would miss training, they would not explain what the issue is. Just a general answer like stomach pain or headache. Most of the time, players do not give details," says Harriet.
The menstruation conversation is still very uncomfortable in sports and many players opt to hide the truth about their menstrual health. Sometimes, players simply pretend they have a stomachache or a headache.
Anne Wangari, a player at Soccer Sisters football team, said players avoid giving out too much information especially if the coach is male.
"In most cases, the coach is male, so when the period cramps are unbearable, you tell the coach you are unwell and can't make it or you will make it to the pitch but ask to be exempted from heavy exercises," says Wangari.
Wangari adds that football exercises do not recognise gender. Also, sometimes when she is menstruating, exercise helps, she says, noting that sensitisation is highly necessary.
Talk freely with players, says coach
"Sometimes, the exercise eases the pain. But enlightenment is important. Players should be comfortable with male or female coaches when they are menstruating. It's not like the male coaches will not allow you to rest. It's just that we grew up believing that we do not talk about menstruation with men," she said.
It does happen, but it depends on each players. There are some players who are mature enough who can easily deal with it.
Such problems cost coach Paul Bitok a slot at the World Cup during his time with the Rwanda beach volleyball team in 2018.
"When I trained junior players, I found it challenging because they have no experience of dealing with it. So to remedy this, we have some medicines dispensed by team doctors that we use to reduce the effect.
But at the worst, the coach has seen his team lose because of the condition.
"As a coach, I use two players in one position so that either can serve as substitute. This is because I have come to understand my players. We talk freely before going for the trip to know their condition and when they expect to roll.
"This helps in the naming of the final squad to the international championships," said Bitok, who has coached the Kenya and Rwanda volleyball national teams.