Olympic bronze medalist Margaret Nyairera: This rule is unfair becasue I was born muscular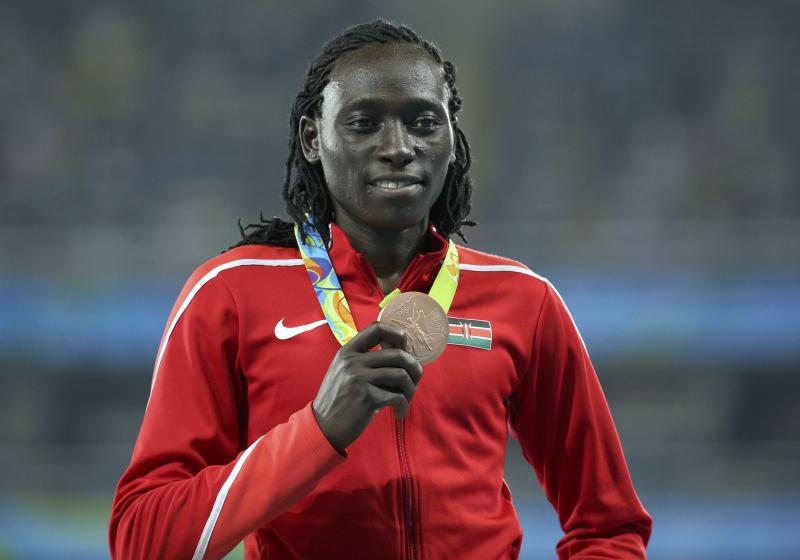 Female athletes, who have above-normal amounts of testosterone, are yet to overcome a rule that requires them to take medication to lower their testosterone levels to be eligible to race in future international competitions. In the event they don't want to alter their body's chemistry, these athletes must then compete against men! Testosterone is a hormone that strengthens muscle tone and bone mass, and is a doping product if injected or ingested: high doses render one to appear muscular and vice versa.
But now, affected female athletes can compete if they lower their testosterone levels over six months and continuously thereafter-to remain in contention. This has given hope to Olympic 800m bronze medalist Margaret Nyairera, who could have missed out on the Tokyo Olympic Games slotted for July this year. Nyairera is hopeful World Athletics ruling on high testosterone levels among female athletes will be rescinded one day.
New regulations for middle distance races (400m-1,500m), require any athlete who has a high Difference of Sexual Development (DSD) and those who are androgen-sensitive to take medication to be eligible to compete in restricted events.
Though South African two-time Olympic champion Caster Semenya appealed in court against the decision, she lost. This move did not only disorient Semenya but many athletes, including Nyairera. Speaking to The Nairobian, Nyairera, the 800m Olympian, says she can't focus in training after her test found her to be having high levels of testosterone and was advised to first reduce it in order to continue in the competition.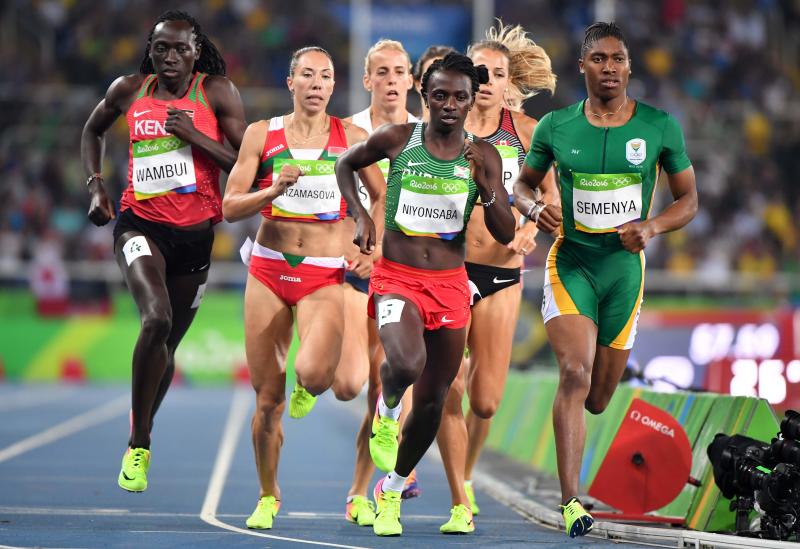 Nyairera is skeptical about altering her body and she doesn't understand why she should be subjected to it yet she is not doping or using artificial methods to her advantage. Besides , why aren't male athletes, who look like women, not subjected to the same tests?
"This is unfair because this is how I was born," says Nyairera.
The 26-year-old athlete, who resides in Ngong, says athletics is what dominates her daily life, this is the sport she believes will change her life. It is the same sport that earned her her current and only job, a wardress at the Kenya Prisons, which has cushioned her for the last two years.
"I was relying on athletics and since this ruling was passed in 2018, I have not participated in any race because the last race I took part in was the 2018 World Championship in Doha and I finished in position five. Athletics is what got me a job at Kenya Prisons and that is how I have been able to sustain my life,'' she says.
One Diamond League meeting would fetch Nyairera over Sh5.5 million ($50,000) in prize pack alongside appearence fees, shoe contract and other incentives. In a season, she could compete in at least eight meetings, alongside the World Championships or Olympics. Currently, Nyairera is training in spite of not knowing when she will be allowed to race again. However, she hopes Human Rights Watch would be able to succeed with having the rules reviewed for them to resume active competition.
"I have faced humiliation from people I least expected and on social media too after this ruling was passed and I hope with the help of Human Rights Watch, this issue will be settled and we will get a fair judgement," says Nyairera
Speaking to experts to understand the science behind the varying levels of testosterone in men and women, it is clear the two sexes produce different levels of testosterone, which may be considered advantageous if they are to compete together.
Human Rights Watch senior researcher Agnes Odhiambo believes it offers one sex an advantage.
"Sex testing largely affects females. The fact that there is only such a regulation for women and none for men means the regulations are fundamentally discriminatory against women," she says.
This is a topic that is of keen interest to Human Rights Watch, which believes that female athletes should not be subjected to such demands, terming it as an effort to frustrate them.
"The science behind the claim that having "higher" testosterone levels gives women performance advantage in sport is deeply contested. The practice is based on stereotypical gender norms and flawed science, with serious negative consequences for affected athletes,"adds Odhiambo. "Sport governing bodies should end sex testing in policy and practice, acknowledge the racial and gender biases in sex testing regulations, and develop human rights respecting policies that support women's sporting careers."
Sports physician Lamec Bogonko posits that if any athlete decides to lower their testosterone level as recommended by World Athletics, they must first see a specialist in this case a gynecologist, who will carry out the tests to determine why they are producing high levels before prescribing treatment.
"Athletes cannot start treatment before they fill a form called Therapeutic Use Exemptions (TUE) that needs to be approved by World Athletics before treatment commence and the reason for this is to ensure that the applied treatment doesn't include the banned substance by WADA," warns Bogonko.
In an effort to understand the best remedy for athletes, who would like to continue with competition, Dr Eric Njenga, a Consultant physician and senior instructor in Endocrinology at Aga khan University Hospital, gave two options as a solution to the matter - surgery and medication.
"Surgery will be the permanent solution but it is not recommended by World Athletics therefore the only method would be to have athletes on drugs daily throughout the competition journey until they decide to retire," he says.
"There will be some side effects that comes with these medication such as venous thromboembolism, which is a risk for developing clots in the legs (DVT) or lungs (pulmonary embolism)," adds Dr, Njenga.
Going by this ruling, the affected athletes will have to make a decision to comply with these rules and embark on medication or quit the competition.