Kings of the ring: They hit hard, their boots too big for those who followed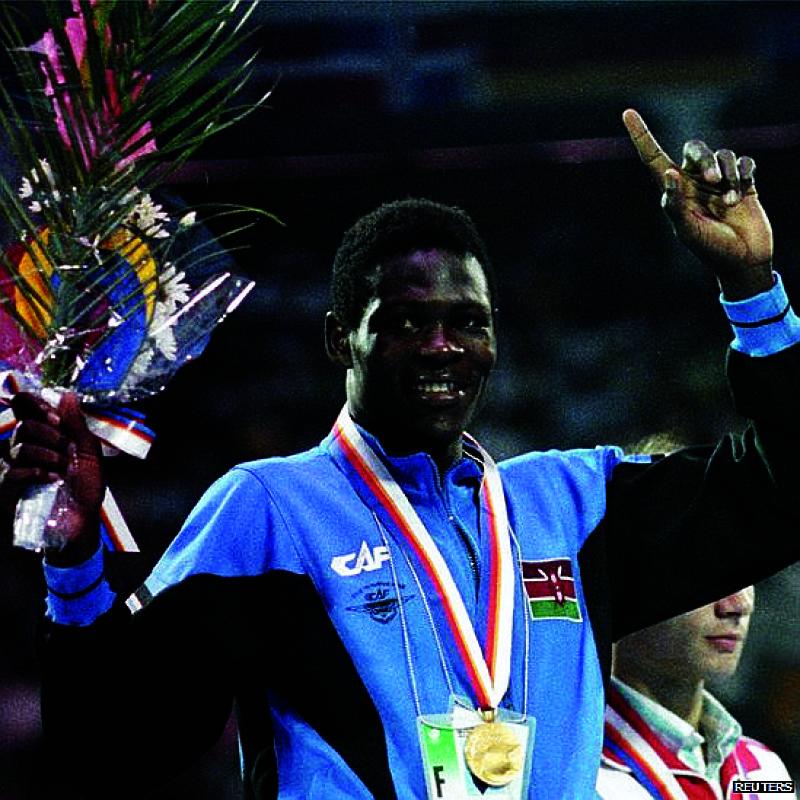 Kings of the ring: They hit hard, their boots too big for those who followed
Kenya was a world boxing powerhouse that made minced meat of feared Cubans. Here is how the 'Hit Squad' was knocked out.
Kenya boasts of only one gold medal in boxing at the Olympics Games. It was Africa's first such gold claimed by the late Robert Wangila in 1988. The gold in welterweight was one of two boxing medals at the Olympics, the other a bronze by middle weight Chris Sande.
The 1988 Seoul Olympics were the last Games Kenya ever won a boxing medal.
In total, Kenya has seven boxing medals: one gold, one silver and five bronze since it first took part in the Games as an independent state during the 1964 Olympics in Tokyo.
The 2020 Olympics Games are returning to Tokyo after they were postponed due to the vagaries of the coronavirus. Two boxers so far, have qualified — African lightweight champion Nick Okoth and Commonwealth Games flyweight Christine Andiego.
Six other boxers are yet to fight in their qualifiers in France over coronavirus. Boxing Federation of Kenya Competitions Secretary John Waweru argues that the six will enhance chances of having more entries at the Olympics because "our performance at the African Olympic qualifiers was good but I still believe we have a good chance of making more entries".
But will those who will qualify repeat the feat of Wangila and Sande in the 1988 Seoul Olympics? Or the silver and two bronze medals achieved by Philip Waruinge, Samuel Mbugua and Dick 'Tiger' Murunga in the 1972 Munich Olympics?
Kenya was a world boxing powerhouse in the same breath as the USA and Cuba. In Africa, we were the real 'Hit Squad.'
But why is it that our boxers have had a medal drought for over 30 years? Why are majority of Kenyan pugilists floored in the first round in all Olympic Games after 1988 when Wangila knocked out Frenchman Laurent Boudouani?
Only two boxers, Suleiman Bilali and Peter Mungai, have reached, but lost in the quarters of any Olympic Games since 1988.
Things were so bad during the 2004 Athens Olympics that only one Kenyan boxer, bantamweight David Munyasia, qualified. But alas! he was spirited out of the Olympic Village after testing positive for Cathine, a substance found in miraa! He had not even gone sightseeing in Greece. He never entered the ring despite reassuring Kenyans "I am travelling as an underdog but you are all going to be surprised."
The 2008 Beijing Olympics also saw Kenya with one boxer, Benson Gicharu, who did not advance beyond the first round.
So what happened to the country that once dominated the Olympics, World Boxing Championships, Commonwealth Games, All African Games and Africa Boxing Championships and serious international invitational tournaments like King's Cup in Bangkok, Thailand?
According to Boxing Federation of Kenya Secretary General David Munuhe, boxers performed well due to immense support from the government and corporates "who ensured boxers were handsomely compensated while in training plus their winning bonuses."
The government, says Munuhe, funded invitational tournaments, which shaped the team and confidence of boxers ahead of serious international championships as at the time there were fewer sporting disciplines vying for state money unlike today.
He adds that "different dynamics, which include economic constraints have shaped the face and destiny of boxing in the country" as many talented boxers were employed once they were recruited to play for various corporate and government bodies guaranteeing regular income.
This motivated boxers to take the sport seriously since they did not have any worries of their survival after their participation in national and international tournaments," explained Munuhe, adding, "but we are up to the task of correcting the situation."
Among places where boxers found employment included Kenya Breweries where Managing Director Kenneth Matiba had founded a boxing team, East African Industries (Kimbo), Kenya Railways, Kenya Ports Authority, Kenya Posts and Telecommunication Corporation(KPTC), Kenya Farmers Association(KFA), Nairobi City Council, Kenya Police, Armed Forces (now Kenya Defence Forces) and Kenya Prisons.
All these clubs died after their parent companies withdrew their sponsorship due to financial constraints and economic hardships save for three in Kenya Police, KDF and Kenya Prisons, which explains their dominance in the National Boxing League for the last two decades. Munuhe says it was after this withdrawal that "standards had to drop because there was no motivation" as corporates went for top talent making the league championships more competitive as it was played on home and away basis and "the boxers ended up advertising the products of their respective companies."
Participation of corporates had the ripple effect of encouraging coaches, who were equally well paid, to scout for top boxers, explains Munuhe, also the National Boxing Team Deputy Coach. He adds that boxers were "paid training allowances and winning bonuses besides their salaries on time, which made them more dedicated". This is not possible today save for a few exceptional cases.
The other problem facing boxing is that unlike soccer whose federations are funded by FIFA, local boxing one don't receive any funds from the International of Amateur Boxing Associations (AIBA) which is broke leading to its suspension by International Olympic Committee (IOC) which funds most of its programmes.