Brewed soccer: How the late Kenneth Matiba uncorked the distilled story of Tusker FC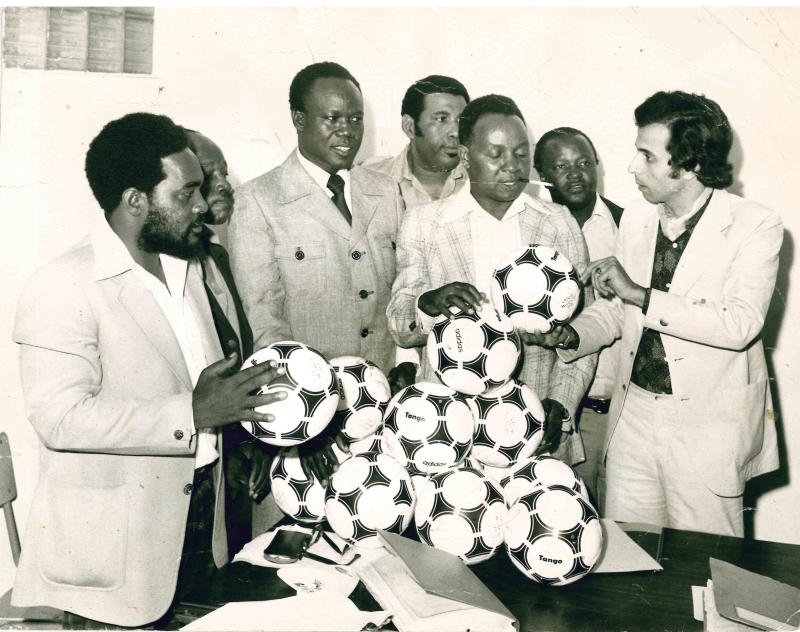 Brewed soccer: How Kenneth Matiba uncorked the distilled story of Tusker FC
The story of Tusker FC, one of Kenya's more formidable corporate clubs, dates back over 40 years ago to a man called Kenneth Matiba.
He was appointed MD of Kenya Breweries when indigenous managers were taking over from mzungus in the decade after independence. Matiba had been headhunted from the civil service where he had grown tired pushing paper. He was only 38. Matiba was to understudy before taking over from MD Brian Hobson when few blue chips had local Kenyan managers.
A mountaineer, Matiba was sporty. Even today, his Naro Moru River Lodge, still attracts mountain climbers.
Being a shrewd and young corporate executive, Matiba looked at things differently from old guards who led other companies. He had the vision to see the power of sports, specifically, that of soccer in disrupting the dominance of athletics-after Kipchoge Keino, Naftali Temu, Ben Jipcho, Amos Biwott had put Kenya on the map with their exploits at the 1964 and 1968 Olympic Games.
But Matiba, who became a multimillionaire in his 40s, did not wish to join the bandwagon. Though he introduced other sports at KBL including boxing, darts and ajua, Matiba saw his chance in football, the world's most popular sport.
Locally, he had seen how Abaluhya FC (Ingwe) and Gor Mahia (K'Ogallo) both founded in Nairobi became crowd pullers within a short time. He liked the crowds, saw the gaps.
There was a shoe company in Limuru which employed workers from the Luo and Luhya communities. Both provided good footballers, shortly, Bata Bullets FC, was up and running, going places.
Matiba did not break bones reinventing the goalpost. He just copy pasted the Bata concept and voila! Kenya Breweries FC was born. He did not stop there. He went to Limuru and poached the brains behind Bata Bullets, Chris Obure and brought him to Ruaraka where the now East African Breweries is still based. With impeccable academic credentials, Dr Chris Obure left Bata for Breweries to become company secretary and chairman of Kenya Breweries FC. After all, Obure, later a Cabinet Minister and Senator for Kisii, was a footballer, one-time winger for Harambee Stars.
Kenya Breweries FC came with a disruption philosophy, dismantle or weaken the big boys Abaluhya and Gor Mahia FC. It was even easier when Matiba discovered that some of the best players for both clubs worked at Breweries. He saw 'traitors' as in corporate lingo they were 'promoting other brands' instead of their employers. Something had to be done.
A corporate decision was made and with an internal memo things changed overnight. Employees (read footballers) had to choose between playing for the employer and continue to enjoy the benefits like better salaries, free housing, medical and transport. Or they were to quit and continue playing for their 'tribal' clubs losing the numerous benefits. That put talented players in a Catch-22 situation. But besides being a corporate team, Matiba, also wanted to use Kenya Breweries FC to eradicate witchcraft practiced by Ingwe, Gor and coastal clubs Champion and Mwenge FC-which was notorious for guiding players through overnight graveyard tours before major tournaments!
With the stroke of a pen, Livingstone Madegwa, Arthur Okwemba, Arthur Okoth, Samson Odore, Ben Waga, Peter Odera (although he joined later) and many others became pioneer players at Kenya Breweries where Matiba fired five players for washing team jerseys at Kariobangi with water used for bathing bodies at City Mortuary!
The stage was set for future bruising battles.
Examples of good and exciting players who dodged the Luo – Luhya community clubs during Matiba's tenure were Peter Odera, Elly Adero and Maurice Oloo. They took advantage of the company's fringe benefits and allowances to secure themselves a better future probably with a pension scheme to boot. They were offered attractive salaries, housing, transport, medical insurance, pension and security within Tusker Village.
According to Peter 'Shapshooter' Odera "I became a target of social ridicule when I snubbed Gor for Breweries. I was always taunted and ridiculed whenever I met Gor fans. This made me restrict my movements but prove my prowess on the pitch".
The most memorable game Odera remembers was when the brewers played against Gor Mahia in a floodlight match and he scored a hat-trick. Maurice Oloo maybe ranked the player who scored the most hat-tricks in Kenyan history. Poached from Ramogi FC in Mombasa, he scored at will at Breweries but failed to spark when drafted in the national team. Elly Adero was a speedy winger in Marshall Mulwa's team that won the 1981, 82, 83 Cecafa Senior Challenge Cup. He was also the most successful coach who took Tusker FC to the 1994 Africa Cup Winners finals.
Matiba's project immediately became an instant enemy in the eyes of Ingwe and K'Ogalo supporters. He was accused of trying to kill the two Luo/Luhya clubs at the expense of promoting his 'mpira kwa wote' thinking. They were bitter that he crippled them by poaching good players and giving them goodies that community clubs could not march. To add insult to injury, Kenya Breweries FC won the league trophy two years later in 1972.
In later years, Breweries still snatch talented Luo and Luhya players from the grass roots. The Kenyan coast produced very talented players through the Olympic Youth Centres, but majority of them could not sign up for a beer company owing to religious reasons. Some did like; Mohammed Magogo, Mahmoud Mohammed and Mohamed 'Tostao' Nazir but due to social pressure, shortly left for other clubs.
Kenya Breweries was nicknamed 'Bururi' and the media referred to them as 'Ruaraka Boys. It still exists today as Tusker FC, but like most corporate clubs, had problems drawing own supporters. For snatching players from both Ingwe and Gor, bitter fans from either club often put their differences aside to growl at Tusker — especially when decisive league points were at stake.
If say, K'Ogalo fans wanted Leopards to drop points, they would go to the stadium to support Tusker to beat Ingwe. Such matches often turned into mini-derbies for Nairobi. For many years Kenya Breweries spoilt the party for Ingwe and K'Ogalo despite most referees having been drawn from the Luo-Luhya communities and who dictated how clubs fared, which for Matiba's team was perpetual tripping. Nevertheless Tusker managed to win ten league trophies since inception.
But even under their new name Tusker FC, fans to date the club were hard to come by despite supporters being the 12th man on the pitch.
To strengthen the team, Matiba hired a former Manchester United goalkeeper Ray Wood to coach the Brewers besides loaning him to Harambee Stars in 1975. And sure enough, Stars won the Senior CECAFA Challenge Cup after defeating Malawi in the final.
He also saw to it that Tusker FC was among the few clubs with a club house and own pitch for home matches. Matiba was ahead of his time. The only thing he did not do was convert the club into a limited liability company with shares sold to his fellow tycoons from Murang'a. Had he copied that model, maybe the club could be as good as Orlando Pirates or Kaizer Chiefs in South Africa. But the height of their powers was in 1994 when they lost their return leg match against DR Congo's Daring Club Motema Pembe at Nyayo Stadium where they lost 3-0 after forcing a draw in Kinshasa and up in smoke went their dreams of winning the Africa Cup Winners Cup.
Kenneth Matiba, 85, died and was cremated in 2018.