Africa Javelin Champ Julius Yego builds Sh400,000 gym at home with Covid Athletics fund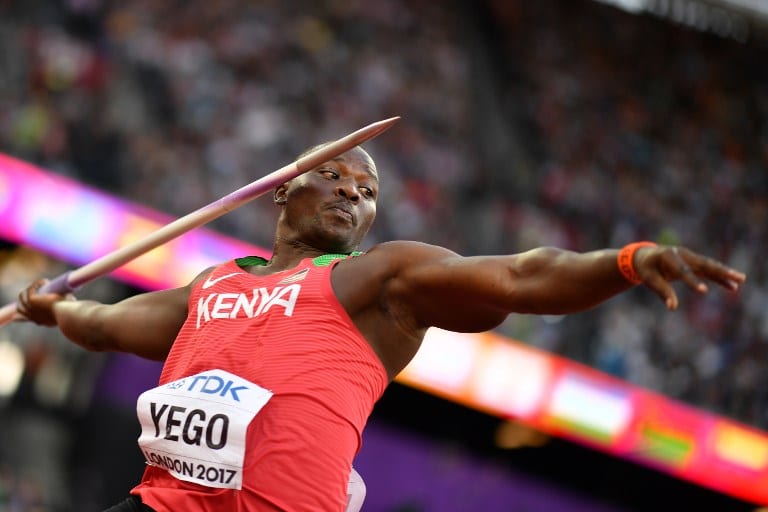 Javelin champ Julius Yego builds Sh400,000 home gym with Covid fund
Africa javelin champion Julius Yego was looking forward to rebound season in 2020 after overcoming poor form and injuries.
With unlimited access to Kasarani stadium, where he worked on his throws, Yego was focused towards victory at the Tokyo Olympic Games. Then, the coronavirus pandemic came, and the YouTube man was out of moves.
He retreated back to his home in Eldoret, where, like many other sportsmen, he was locked down with his family with no access to a sporting facility. It left Yego's vision blurred, his dreams shuttered and even the top form he enjoyed meant nothing.
There were no sports competitions to launch his campaign or to gauge himself against the world's best. The Olympic Games were postponed and nobody was certain of when competetive sports would resume. Simply put, Covid-19 had decimated Yego's plans.
However, despite running into headwinds, Yego was not done. Luck smiled and he was listed among the athletes to benefit from the World Athletics fund to cushion athletes against the effect of Covid-19. It focused solely on athletes who had not earned any money from the Diamond League in the 2019 season. Yego's injury and loss of form the previous season meant he was eligible for the fund.
He was selected among hundreds of athletes to benefit from a one-off $4,000 (Sh400,000) welfare grant which was launched in May by the World Athletics and the International Athletics Foundation (IAF) to cushion athletes against challenges caused by the pandemic.
Also read: https://www.standardmedia.co.ke/sports/athletics/2001379064/javelin-champion-julius-yego-lands-new-global-job

With his salary streaming in from the Kenya Police, Yego opted to invest the funds in something that will help him get his best in training and also other athletes. Yego set up a gym, in his home, where he was doing his training.
"I was happy to be considered. I reviewed my plans and saw that accessing a gym was a headache for me. The World Athletics Fund came in handy," Yego told The Nairobian in Eldoret.
The fund supports athletes who have met the Tokyo Olympic Games entry standard and provides welfare grants to be used to cover basic living expenses.
"I have been seeking gym services in a hotel in town and it was so crowded, making it difficult to do my physical exercises during the Covid-19 pandemic period. I decided to start a gym right here in my home," he said.
It is an inspiration that Yego hopes to use to springboard to victory at the Olympics. He has raised the bar during this pandemic period and the coastline is clear. As Yego's raises the sails to exploit the winds navigating towards Tokyo, the stars have lined up and he is ready to stake claim to the javelin gold.
"Let my fans across the world be assured that I am in top form. Most people don't know that I sustained an injury (during training) and had a minor injury last year. I am now ready to compete," Yego told the Nairobian in an interview at his Eldoret home. The 31-year-old has been having a strict training guideline that involves morning runs, javelin throws at the Eldoret Sports Club and gym work in his house, albeit in the absence of his Finnish coach, Petteri Piironen.
Since bagging silver at the Rio Olympic Games in 2016 injuries and fate connived to delay his career to blossom. However, the 2015 javelin World Champion, is determined to turn around the fortunes and exit the Olympic stage with gold medal dangling under his neck.
Though Yego hopes to return to Nairobi soon to continue his training at Kasarani Stadium, he has set up a gym at home that will outlive his career and help him nurture more young talents.
At home in Eldoret, Yego says he has had adequate time to play football with his two sons.
"I am an Arsenal fan and I use part of my free time to watch English Premier League matches. I also swim but I could not do it during the pandemic period," says Yego.
The former world champion has a personal best throw of 92.72 metres. But he has been missing in action. A groin injury ended his campaign at the Rio Olympics. Later on he survived a road accident in Eldoret, which left him with an ankle problem. He has since been treated and discharged.
However, Yego still believes he has the strength to hurl the javelin to a new world record. Czech Jan Zelezny holds the current mark at 98.48 metres, which has stood for 24 years. Yego says he is focused on throwing the javelin past the 99 metre mark before retiring from the sport.
However, already German Johannes Vetter threw an amazing 97.76m at the Continental Tour Gold level athletics event in Chorzow, Poland last week, which is the second best distance in history.
"I feel like I can throw 99m. I am sure with good training I can manage," the Kenyan ace said. "I got inspired when the world record came under a threat. Vetter's techniques were perfect and that is what we luck at the moment."
Yego said he is ready for the re-scheduled Olympic Games next year.
Yego, who served as team captain for Kenya at the Moscow World Championships, has also been at the forefront to champion the welfare of his colleagues. In July, Yego was named to serve on the board of the Athletics Association, a global independent body formed to champion athletes' rights and welfare. He will represent African athletes in the newly formed association.
The new position catapults him to a management level in athletics.
The board headed by field event athlete - two-time Olympic and four-time World champion Christian Taylor, as the inaugural president, was established to champion the rights of athletes.
"I am happy to be part of the Athletics Association board. This is the team that will be the voice of the voiceless – the upcoming athletes," Yego said.
The board is made up of representatives from every continent and comprises 24 athletes.
They include individual global champions like Taylor (President), steeplechaser Emma Coburn (Vice-President), Allyson Felix, Ashton Eaton, Yego, Katarina Johnson-Thompson, Shaunae Miller-Uibo, Shelly-Ann Fraser-Pryce, Tianna Bartoletta and Tom Walsh.
Yego said through the association, where he represents male African athletes in the board, he will team with other board members to ensure that plans to drop events including 3000m steeplechase, discus throw triple jump and 200m in the Diamond League are shelved.
Among some of the issues he will be fighting, through the board, Yego said, include, racism in athletics, anti-doping and prize money.
"I have received complaints from Kenyan athletes who want some local race organisers to stop slashing prize money. We want the issue taken seriously. Kenyan race organisers should prove that they have adequate resources before holding athletics events," Yego said.
He said through the association, athletes are seeking what he termed as a more dynamic approach to doping.
"We have seen cases where athletes complain about the testing and claiming that they are targeted. I don't believe that athletes from certain countries are targeted, but we want a more dynamic World Anti-doping Agency (WADA)," he said.
According to Yego, the Athletics Association board will help athletes address problems without going through their local federations.
The athletes also intend to gain a seat at the table with World Athletics to command real involvement and power when it comes to decision-making in the sport, as we look to amplify the voices of our members and athletes all over the world.
"The association is not ant-world athletics and federations. It is here to have complaints addressed much faster," Yego noted.