Premium
Till death do us part: Kenya's top steamy secret love affairs that ended tragically
SCANDALS
By Pkemoi Ng'enoh | Feb 3rd 2023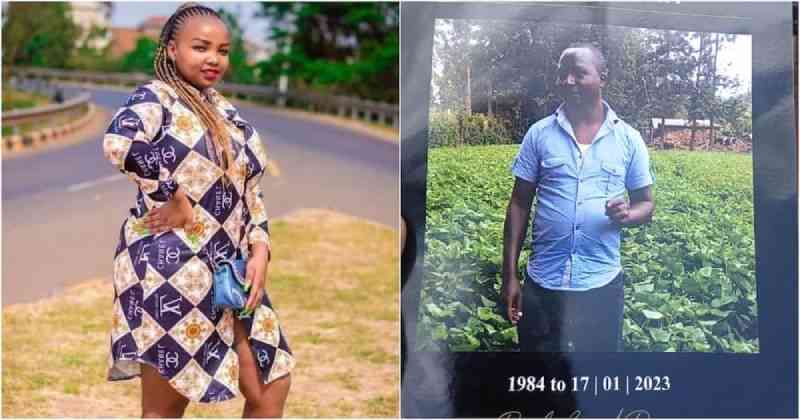 A sombre mood engulfed Kagwanja village in Mathioya, Murang'a County on Wednesday as the family of a 23-year-old woman who died alongside her lover, businessman Tirus Maina Gikonyo, following a tragic plunge into Titanic Dam in Juja, Kiambu County on January 17 held a low key funeral.
The family of the deceased, Fridah Warau Kamuyu, requested the media to leave the ceremony before they started their speeches and asked locals not to take any videos or recordings during the proceedings.
Her parents, Chris Kamuyu and Grace Ruguru, in their eulogy, described Kamuyu as a happy woman, who brought so much joy to the people she interacted with.
Tirus, 39, and Fridah, 22, were in the former's Nissan X-trail when it plunged into the dam.
Sarah, Tirus's wife, said her husband left their Thika home for work in the morning and later called at around 7 pm saying that he was attending a meeting far away from home.
Unknown to her, the man was in the company of Fridah at the shores of the enticing Titanic dam.
On the fateful Maina was out with Fridah about 17 kilometres from his Thika home where his family lives.
Witnesses said the two had parked the vehicle near the dam and it is not clear how it ended up plunging into it.
"We spoke in the evening around 7 pm and said he was in Juja for a business meeting, I asked what he would want for dinner and that was the last time we spoke," Sarah told the media.
It is the latest in a series of secret love affairs that turn tragic.
Stay informed. Subscribe to our newsletter
On July 29, 2017, the murder of Independent Electoral and Boundaries Commission (IEBC) ICT manager Chris Msando claimed the life of a woman he was secretly dating.
Chris Msando and Carol Ngumbu
The body of Carol Ngumbu was found next to Msando's in a forest in Kikuyu, Kiambu County.
The two had met for an evening date before they disappeared only to be found dead. Her body was identified at the City Mortuary by her sister.
In July 2021, businessman Peter Ndwiga died at the hands of killer cop Caroline Kangongo was on the run after killing a male colleague at Nakuru's Central Police Station staff quarters.
After having lunch and drowning their meal with some drinks, Kangongo and Ndwiga booked a room at Jogoo Kimakia Country Lodge in Thika.
When Ndwiga left home, the man informed his wife that he was headed to a business meeting.
Later on, it emerged that Kangogo shot him in the head at point-blank range before fleeing from the hotel room.
Experts now say in such embarrassing deaths with men being the leading victims happen because they are daring, including lying and using sexually enhancing drugs that kill them.
"Chances of women being affected by this are almost zero, in one or two incidences we have heard them dying, they have been killed physically because something went sour," counseling psychologist James Mbugua explains.
Blue pills
"Oftentimes, if you check the men are elderly and the results of the postmortem reveal that they were using blue pills if their health is not okay basically in a situation like that the drugs turn them in," added the psychologist. Mbugua warns that Viagra was not meant for sex but for other purposes.
"That is why when it is used for that purpose without the doctor's recommendations, oftentimes the end result is high blood pressure going over the roof," notes Mbugua.
In January 2021, the death of former Machakos Senator Boniface Kabaka shocked Kenyans.
His death at an apartment in Kilimani was linked to the effects of a stroke arising from a blood clot that has been bothering him for a while.
Police investigators told a Nairobi court that the senator checked in at 2 pm and booked apartment No 306. He is said to have looked normal, with no sign of illness before a woman joined him an hour later.
They then ordered drinks and food by telephone from the nearby restaurant, which were brought and served by the apartment's staff.
Following the politician's death, the woman was arrested but later released after tests conducted on the senator ruled out the possibility that he could have been poisoned, as earlier thought.
Not so long ago, Pastor Geoffery Maingi, 70, collapsed and died inside a woman's house in Buruburu. The woman, only identified as Esther, was not his wife.
The preacher was seen entering the woman's house by neighbours at around noon.
At seven in the evening, a taxi driver alerted neighbours that there was a dead man in Esther's bedroom.
The woman reported that the pastor had visited her house in the afternoon for a prayer and fellowship session.
"After a while, he complained that he was not feeling well and requested to take a nap in my bedroom," the woman of the house narrated.
Age factor
Other common cases are the aging men who die in lodgings in the company of much younger ladies. In most cases, the old geezers are overpowered by the blue pills.
On January 27, for instance, a 71-year-old man died in a lodging he had been with a 22-year-old woman in Parklands.
The woman told police they had booked a room at a lodging and after a short while, the man started gasping for air.
He then complained of chest and back pains before his hands and legs went numb.
Celebrate Easter in style with our KES999 annual offer