Premium
Mzee wants three children, and I am happy to give them to him- Manzi wa Kibera
SCANDALS
By Benjamin Imende | Nov 3rd 2023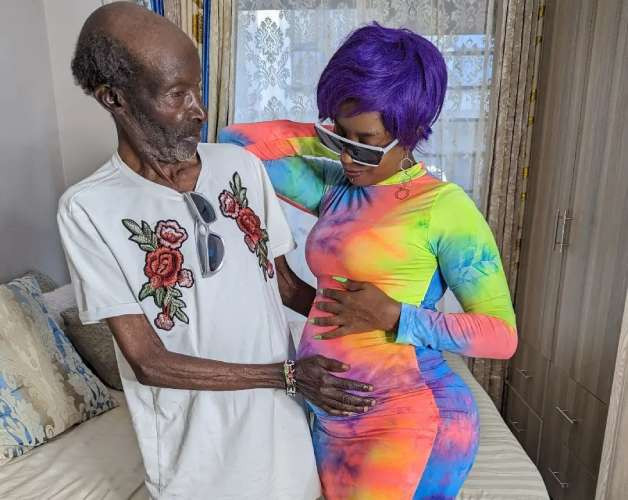 Manzi wa Kibera has described Mzee as a dynamo in bed, stating that the 66-year-old is responsible for her pregnancy.
Sharifa Wambui, 24, said that she is ready to conceive more children for the man who has been giving her the best experience in life.
She said that Mzee told her to give birth to two more children so that he buys her a village farm but she is ready to have four children out of the love she has for him.
"I know people are saying that this pregnancy isn't his, but we are fine with it, and we anticipate three more pregnancies," Wambui said, adding, "He told me that after I have three children, he will buy me farmland in the village."
Wambui, who describes the man as a powerhouse in bed and in life, said that those dating younger men are wasting their time.
"These young men have no time for a woman. First, sex is over in a minute because they lack stamina. Second, they have no time for a woman," she said, adding, "You know, some things should be kept private. Let's not discuss pregnancy for now."
Magistrates, Judges want Salasya arrested over Kakamega Magistrate threat

Magistrate says MP Peter Salasya threatened to kill her over ruling

Bank bosses face sanctions for forex manipulation in probe

Salasya denies threatening magistrate, says case is political witch-hunt
Wambui said that she is experiencing the best times of her life, arguing that the nights are getting shorter, and life is becoming more enjoyable.
"I love my man, regardless of what people say. He listens to me, and I love and respect him. I don't think there is anything that can distract me or us," she told The Nairobian.
She expressed her newfound happiness with her new love, Mzee, saying that his energy in both their personal and intimate life is in stark contrast to her previous partners, who were younger.
In her latest interview, Wambui told The Nairobian that Mzee keeps the passion alive all night, adding spice to their nights with the right kisses, the right words, and touches during their romantic escapades.
She described Mzee's prowess as impressive and satisfying. She explained that they prefer making love while listening to Mugithi music in the background, with candlelight illuminating their room, making their love feel pure and sweet.
Wambui affirmed, "A night with Mzee is therapeutic. It is pure sweetness. You wake up in the morning, and the only thing you're looking for is cold water after a marathon night."
Limelight
Wambui first made headlines by confessing her love for Mumias East MP Peter Salasya, who was seeking a wife after being elected to Parliament.
Stay informed. Subscribe to our newsletter
However, her bold move led to a Twitter response from Salasya, where he criticized her attire.
This rejection prompted her to explore new possibilities, and she now considers Mzee the love of her life.
"We are in love. We have a great time every time my man is around, just enjoying each other's company," Wambui said.
She added that Mzee took the opportunity to reach out to her privately and asked for a chance to love her. To those who accused her of seeking attention, she simply said, "For those who claim I am seeking attention, it's your problem. Focus on your own lives."
She said that their love story defies age, class, and drama, much like the lyrics in Rihanna's song, "We found love in a hopeless place."
Wambui recalled Mzee's response when she asked him why they should date. He suggested a casual meeting over coffee or lunch to explore their future.
She appreciated Mzee's straightforwardness and respected him for it. Their communication evolved into a loving relationship. They kept their love a secret for a month before making it public. Despite facing opposition from others, they remained committed to their relationship and hinted at wedding bells in the near future.
Wambui urged those criticizing their relationship to focus on building their own lives. She revealed her background as an orphan adopted by a white man and her successful body enhancements business. With a sense of contentment, Wambui stated that she saw Mzee as a friend and a potential future husband.
She admitted to using body enhancement pills to achieve her desired figure but expressed her plans to undergo surgery in the near future.
Wambui emphasised that Mzee's wife had passed away in 2007, and she assumed multiple roles in their relationship. She expressed her satisfaction in finding a mature and loving partner.
She went on to praise Mzee's performance, emphasizing that love transcends age, distance, height, and weight. She expressed her happiness in Mzee's arms and their intimate connection. Sharifa shared that their nights were filled with non-stop passion and romantic gestures.
They enjoyed candlelit dinners, listened to Mugithi or country music, and shared delicious meals together.
Although Mzee had left for a business trip, Wambui believed he was young at heart and eager for new experiences. She highlighted his willingness to try new things.