Bishop Muthaka: Garissa has only one sister, we need more sisters and priests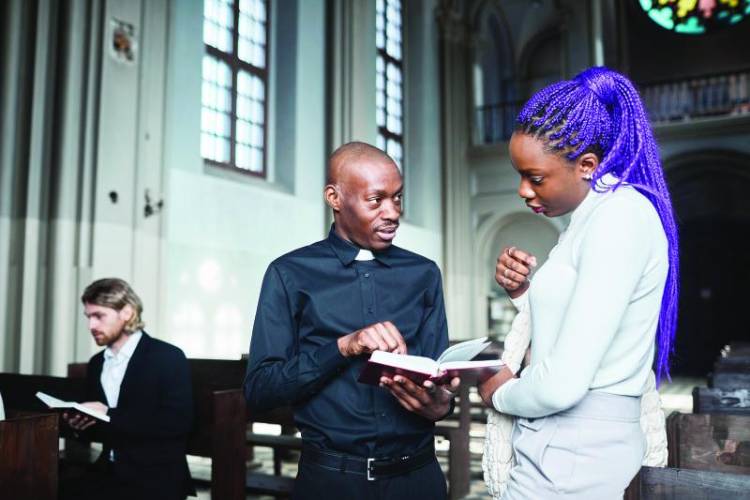 A Catholic Bishop has warned men against distracting young women who wish to serve God.
Bishop George Muthaka of Garissa Diocese was preaching during a televised Holy mass on May 8. In the sermon, the cleric reached out to men who intend to mess with young ladies who would have served in church.
"Today's sermon is about vocation Sunday, a day of calling and praying because the church needs servants who will spread the Word across the world," he told the congregation
He explained, "We understand in our dioceses, we need sisters and priests because they are very few."
According to the bishop, some of the areas facing a shortage of servants are Garissa, Mandera, Wajir and Tana River.
"We need priests and nuns who will take over and spread the Word. That is why I challenge the youth from our diocese to hear the calling and respond."
Muthaka challenged parents in the four regions to support their children who want to be church servants. If not, the cleric said there will be nobody to carry the Word forward.
"In our diocese, we only have three priests. That is why we need more so that we can continue spreading the Word of God."
Bishop Muthaka said Garissa has produced only one sister in many years. He said there is a need to encourage those ready to step up.
"I don't know how God is feeling about that. I call upon the young men to allow these girls to be sisters," he added.
For this reason, the bishop says he has tasked one of the priests in the area to be a vocation scout.
His role, he said, will be to look for youth who show both interest and ability to be absorbed as priests.
The cleric said the scout will be walking around the region, hoping to recruit residents who want to serve in church.
A catholic nun, Mary Akinyi, says for one to become a catholic sister they must express interest, have a calling or be inspired by someone.
"After that you will be told to choose a congregation you would like to be a part of. From there the recruits will be enrolled in vocational training," she explained.
According to the sister, most congregations absorb those willing to serve from as early as after completing secondary education.
She said after training, the next step is to become a novice and continue learning and becoming better at it since it is a lifetime choice.
"From there, one will leave some things in life, like getting married or living alone. One must live in a community and do things within a community that has a superior leader," she explained.
Who should do the dishes?
It may seem like a non-issue. It may seem trivial, until one person returns from work, catches sight of a mountain of plates rising from the sink and starts demanding a refund for their cows.