Kenyans blow Sh48 billion on illicit sex in lodgings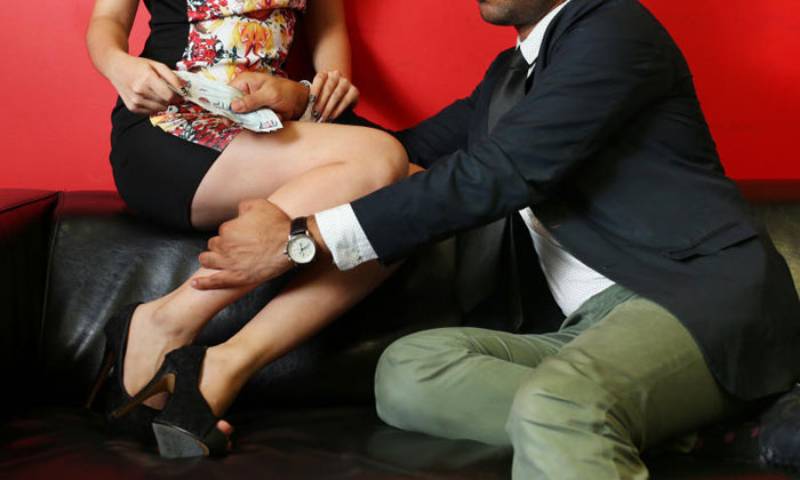 Sex is good business, and the government now knows it. Official government data shows that sexual escapades in the thousands of lodgings that dot cities, towns and other urban centres around the country could be fueling an industry valued at Sh48 billion.
You don't believe that, right?
It gets better. Money made by lodgings is more than twice the value of the entire arts, entertainment and recreation sector, which is estimated at Sh27 billion. This cash is 70 per cent the size of mining and quarrying which was valued at Sh72 billion and is more than enough to finance the Independent Electoral and Boundaries Commission (IEBC) which is set to hold elections next year at a cost of Sh40.9 billion.
The Teachers Service Commission (TSC) received in 2019, about Sh260 billion, which is to say bonking can pay a fifth of the teaching profession. It is a third of the earnings paid out in the construction sector, including the building of roads, railways, ports, bridges which is valued at Sh152 billion.
This industry pays seven times what professionals like engineers, lawyers and chemists employed by the Government earned in 2020 and is three-quarters the size of the country's health sector which was valued at Sh64 billion.
Sex in lodgings is so huge that it generates nearly half what those employed in agriculture - the backbone of Kenya's economy - took home last year at Sh109 billion.
Polin Maweu runs a 28-room hotel in the Transami Area of Embakasi. The rooms housed in a four-storey building were once one-bedroom residential houses before being converted into lodgings.
"In 2010, all these were rentals," she says, pointing through the dimly-lit corridors. "Then we decided to turn them into lodgings and on the ground floor, we put up a pub in the space that was formerly occupied by a supermarket."
This, she says, is the best decision she and her husband ever made.
"Unlike rentals, you don't have to chase someone to pay. In lodgings, they pay first, and very quickly before they are shown to the rooms."
She charges Sh1,000 for the rooms that have no windows, Sh1,500 for rooms situated at the front and the back with windows and Sh2,000 for the spacious rooms on the fourth floor. Even during the economic downtime that was caused by Covid 19, she says her business has been thriving.
"The bar business has been a bit slow but the rooms are constantly full. I have to employ two receptionists, one for the day and the other one works at night because customers can come in or check out at any time."
Maweu believes setting up the pub was a good business decision because most of the patrons end up spending the night in the rooms. Although in the area, there are also other hotels which offer the same services, Maweu is not worried about competition.
"There are enough customers to keep all of us busy. Most of the times, when we are at full capacity, we even call other lodgings to ask if they have vacancies and refer customers to them. There is not much competition."
A cursory walk from Catherine Ndereba Road to Maweu's lodging, one can count up to eight different lodgings all within a 500m stretch.
"There are different classes of lodging here, the ones near the petrol station charges Sh3000. Some here charge Sh 500. So there is no competition, everyone has their clients," says Maweu.
Adolf Rugendwa, who owns a pub in the Donholm area known as Caltex, says even though the area has more than 10 pubs as well as 17 wines and spirits shops, he still has his fair share of customers.
"We all agreed to price our drinks at the same cost. That way, no one has a competitive advantage over the other. The only bit we outdo each other is which pub has the hottest barmaids," says Rugendwa.
He adds that the pubs that do better, mostly have one outstanding advantage, lodgings.
"If a person can drink, eat and sleep at the same place, then the business owner is miles ahead of everyone. Rooms are the most attractive feature in any bar. Good thing is I have a plan with a hotel owner nearby where I can take clients to," he says, pointing at a huge printed sign by the counter that reads, 'ROOMS AVAILABLE'.
Tony Omondi (not his real name) who is an avid user of lodgings says his monthly expenditure on rooms ranges between Sh10,000 to Sh15,000.
"There are places that charge Sh500 for a three-hour duration. That's very fair because sometimes, all one needs is an hour. There are places I go to, depending on the class of my partner, and I pay Sh2,000. "Being a happily married man, I prefer the three hours' place. It even has hot showers and it's in the middle of town," he says.
But security consultant Richard Tuta warns that even though pubs and lodgings are good for the economy, having them residential areas is a security threat.
"Many types of crime are planned in places with alcohol. Dirty deals, murder, fraud and even extra martial affairs coalesce around places where alcohol is served. Nondescript lodgings are the places criminals hide before or after robbery because such places don't screen their customers like high end hotels," says Tuta.
How government discovered the billions in 'lungula'
The government was aware that most Kenyans book lodgings kutoa stress from the taxman, cope with abusive relationships or to indulge in "curiosity of the cat".
Unfortunately, Kenya National Bureau of Statistics (KNBS) had not been counting the billions that were being made in the many lodgings around the country as part of our Gross Domestic Product (GDP). Now they do. After finding the tools to measure the worth of these lodgings, the value of a sector known as Accommodation and Food Services swelled by close to Sh47.7 billion from Sh119.5 billion in 2019 up from Sh71.8 billion in the previous estimates.
That "swelling" is the unseen billions that are made each time a Kenyan darts into a lodging like a thief and sneaks out after a quick one praying no one from their church saw them.
In its report, KNBS explained that the significant revision was attributed to expanded coverage of the sector activities through better coverage of what was described as "informal rooming activities."
"These are unincorporated enterprises that engage in provision of accommodation services, loosely called "lodgings" in most shopping centres and urbans areas".
"If you visit most of these areas, you find some bars offering accommodation services which are difficult to capture from surveys and other administrative sources," said a source from KNBS, who could not reveal their name as they are not allowed to speak to media.
Essentially, realising the ubiquity of lodgings, and where there was unreported rooming services, KNBS simply grossed up the room nights available by 20 per cent. The source from KNBS noted that during the revision, the national statistician did a tailor made study on informal rooming activities that helped them collect key economic variables such as revenue generated, occupancy and expenditure by the lodgings.
"Then, using records from county governments, we were able to estimate the number (stock) of the enterprises, which we used together with data from the study."
The source added that the previous estimates, unlike the current ones, were not as robust as revised series, given the data that was available then.
"In addition, the revision benefited from new data from the integrated survey of services that helped update benchmarks and revise the input/output ratios. Further, there was increased use of tax administration records than we did in the previous compilation."
This way they were able to estimate the money made by the informal rooming services.
"Estimation of output from informal enterprises is not always straightforward, not just in rooming services, but in most activities undertaken by informal enterprises.
However, national accountants are equipped with sound tools for estimating output for such activities to ensure that every part of the economy that generates wealth is put into consideration," said our source.