Bernard Sivo: Njoro officer was angry after squandering his loan on girlfriend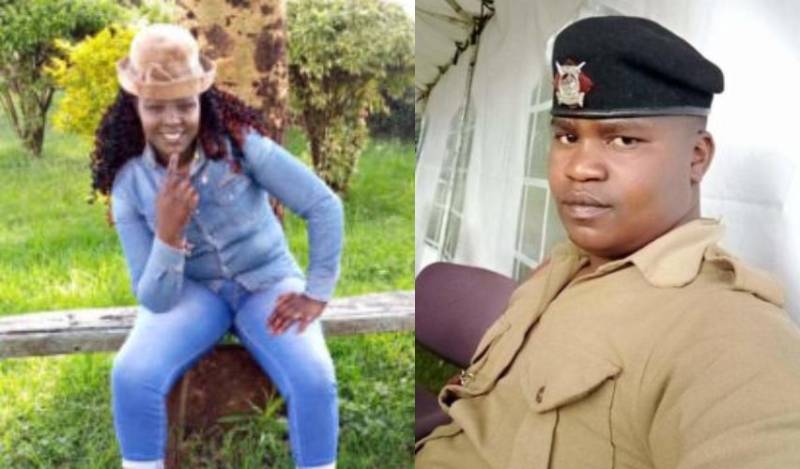 Bernard Sivo, the police officer who committed suicide after killing his girlfriend was a stressed man.
Mary Nyambura succumbed to bullets wounds at Njoro Sub County Hospital where she had been rushed after being shot by her police lover. Reports indicate Nyambura was shot 14 times by the officer who ran amok, holding his colleagues at Njoro Police Station hostage for more than two hours.
It is now emerging that Sivo was unhappy that a loan he secured from a local bank had been "wasted" on Nyambura. For almost one year, the two partied in popular joints in Njoro and Nakuru as Sivo, 28, showered Nyambura with love.
According to fellow officers, the relationship hit turbulence three months ago when Sivo's deep pockets started drying up. A colleague told The Nairobian that Sivo was upset after Nyambura started avoiding him.
"He took a loan from a commercial bank, which he squandered with the woman. On realising that he was left with nothing, he became unhappy and resorted to the bottle," said an office.
The young constable, who is married with two children, reportedly could not fathom Nyambura's excuses for ending their relationship.
"Going by the huge amounts of cash he spent on her, Sivo was not ready for the abrupt breakup. He persistently pleaded with Nyambura to reconsider her position. At times, when drunk he would openly beg her not to desert him," added the officer.
There are claims that part of the loan money could have been used to establish the wines and spirits shop Nyambura operated in Njoro.
"Nyambura was employed at the joint by Sivo's close friend who is also a cop. Sivo was a frequent patron at the place where he felt at home whenever Nyambura was around," said our source.
When the joint was not open, Sivo would change into civilian clothes and pick up Nyambura, 29, from her house and go have fun elsewhere.
Peter Karanja, Sivo's friend, says the officer was always overprotective of Nyambura, a mother of two children from a different man.
"He nearly hit a reveller with a table on the head after he returned from a short call and found her dancing with another man. Days later, he beat her up mercilessly outside the liquor store. I informed his colleagues, but they assumed it is the normal differences among lovers," said Karanja.
Despite having a mistress, Sivo respected his wife Joyce Ndunge who has described him as a remorseful man full of love for their two children.
Ndunge said that after learning about their affair, she had disagreements with her husband which always ended with Sivo profusely apologizing to her and promising to change his randy ways.
"Nyambura and I have been contacting each other on phone calls and text messages. I used to beg her to quit wrecking my marriage just because hers too had been broken. She would instead explain to me how Ben (Sivo) was a good man and would not harm her," said Ndunge.
"Whenever on the wrong, my husband would profusely apologise to me. He would however go on the extreme when angered," said Ndunge.
When Sivo called her informing her of his actions, she was quick to urge him not to harm himself and instead surrender his gun.
"I walked up to him after he picked our daughter from the house as he continued to fire in the air. He told me he had 'finished' the woman with whom I was always at loggerheads over our marriage. He let go of our daughter and ordered us back to our house," said Ndunge.
The incident is the latest statistic of the growing list of police officers committing murder and suicide because of "mental health" issues.
Few weeks ago, Deputy Inspector General of Police Edward Mbugua linked cases of homicide and suicide within the service to stress.
Unfortunately, to mitigate the mental health challenges, most officers get addicted to alcohol making a bad situation worse.
"Many turn to abuse of drugs which eventually orbits to suicide or murders," Mbugua said during a mental health awareness training at Chiromo Hospital Groups.
Fourty-seven county police commanders attended the training conducted by Dr Frank Njenga, a psychiatrist and mental consultant. The training focused on ways to identify signs of mental health and intervention mechanisms.
"Regional commanders have already been trained on mental health awareness. However, due to the vast nature of some counties, some junior officers may take too long or never receive the information," observed the police boss.
Njenga said due to the nature of their job, police are predisposed to mental health challenges whose likely outcomes are committing murder or suicide. Officers frequently encounter strenuous and traumatic incidences that affect their emotions.
"This constant exposure to devastation, life-threatening situations, and the physical strain of working long hours can lead officers feeling hopeless and anxious. Police officers face a great deal of trauma on a day-to-day basis," observed Njenga.
The psychiatrist said the exposure to horrific accidents can lead to multiple mental health issues that often get unnoticed and untreated adding trauma deals a great blow to mental health causing a feeling of lack of control, vulnerability and inability to cope with future occurrences.
"The work of a police officer can also disrupt sleep, cause friction with loved ones, create financial strain, and trigger substance abuse," noted Njenga.
Vincent Makhoha, director of Chaplaincy, Counselling and Psychosocial Support at National Police Service said work environment and job satisfaction influence officers' mental health.
"As the world changes, so do our minds and we might get an overwhelming feeling like we may not be able to deal with it; this is not specific to police but affects all of us," he said.
According to the hospital's CEO Vincent Hongo, the problem is compounded by the fact officers fear seeking medical help due to stigma surrounding mental health.
"Many officers view asking for help as a sign of weakness or that if they acknowledge they have a problem with mental health then something is wrong with them," said Hongo.