Exclusive: 120,000 condoms were used during World Rally Championship weekend in Naivasha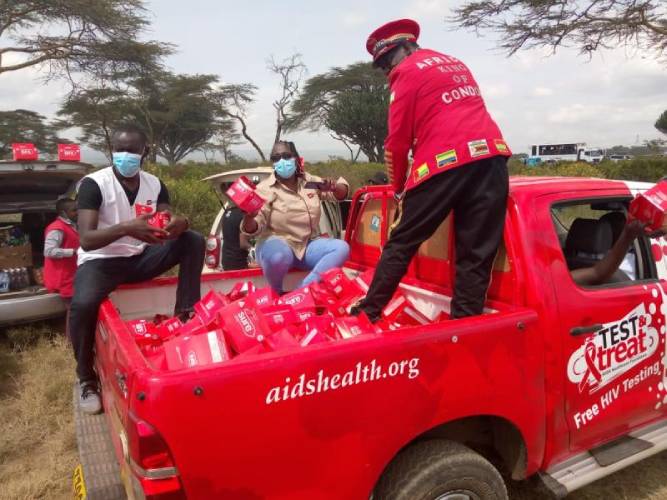 The Nairobian can exclusively confirm that about 120,000 condoms were used during the World Rally Championships over the past weekend in Naivasha Town.
According to King's Condoms Promotion CEO Stanley Ngara alias King of Condom, thousands of condoms were distributed to revelers by King's Condom Promotion in collaboration with NASCOP Kenya, KCP, Kenya Red Cross and LVCT.
"We distributed 120,000 condoms in three days, that equals to three pickup trucks, we had been planning for Safari Rally event for long and I'm happy that many lives will be saved," he told The Nairobian.
"We were targeting the youth and Safari Rally enthusiasts including top global car manufacturers, drivers, rally navigators and technical personnel and fans who had thronged the venue for three days in case someone wanted to engage in safe sex after swallowing some bottles, our role is to ensure everyone leaves without regrets," he said.
Also read: https://www.standardmedia.co.ke/entertainment/the-standard/2000114561/the-king-gives-nairobi-6000-condoms-a-week
The three-day event, attracted some 58 drivers, including 34 Kenyans and thousands of safari rally fans from various towns who thronged Naivasha town to witness the return of the safari rally after 19 years' absence in Kenya.
Among them were hundreds of sex workers who had migrated from the nearby towns to make a killing from thirsty revelers and motorsports fans.
"Most of the rooms were fully booked in advance by the ladies from as far as Nakuru, Eldoret, Nairobi and even Kisumu, they usually flock Naivasha when there are serious events," Ronald Kibe, hotel manager told The Nairobian.
The Ministry of Sports, Culture and Heritage had anticipated that the event would inject approximately Sh6 billion in the form of foreign currency into the country.
Why should men pay your rent, girls?
I'm not saying it's wrong for the man to chip in but it shouldn't be a primary demand neither should your relationship be pegged on what he can spend.