Billonaire was a lonely, tight-fisted playboy, loved them young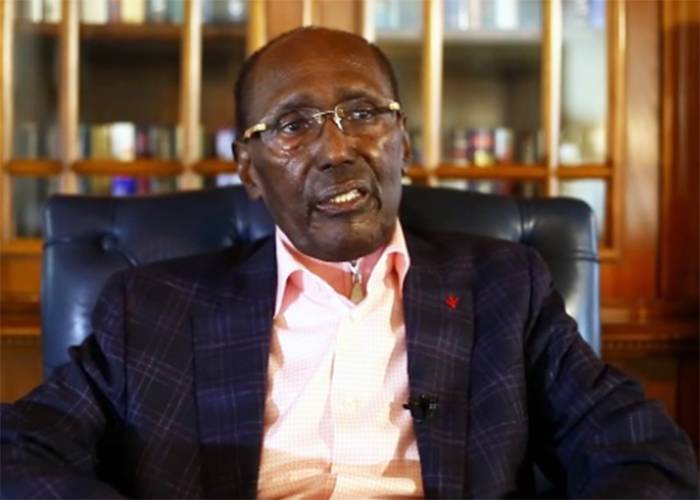 Chris Kirubi was a lady's man, but no sponsor. He was very careful with his money, only palming out a maximum of Sh 10,000 to any of the fetching lasses who spent some time with him.

Ann, who knew Kirubi for over two years before the billionaire fell sick, says the highest amount of cash she ever got from the industrialist was 100 US dollars.

"We met at an entertainment spot in Westlands at about 8pm. I was seated with friends when a waitress brought drinks over, and said they had been bought by CK. I had not known he was in the club and the waitress pointed him out to me. He was seated alone at the counter," recalls Wanjiru.

As the night wore on, they joined his table where he paid a bill of Sh7,600.

"He wasn't great in conversations because every story turned out to be about him but I found him intriguing in the sense that he was a billionaire. So I thought I might learn business tricks from him."

Ann says she got drunk and agreed to go home with the billionaire.

She adds that from the four times she met Kirubi, she realised he wasn't a very heavy drinker and probably just drank whiskey as a social distraction but not to get dead drunk.

"When we went home, he tested me but I don't remember him doing any tests. He had these new fancy gadgets that didn't need blood for tests. Right now, these are easily available but back then, I think very few Kenyans had seen them. So we tested and things got a little steamy but you know...he was an elderly man. So he left me in the room and went to sleep in a different room. In the morning, I didn't see him when I woke up, but a driver asked me to get dressed and dropped me in town. He gave me 100USD."

Ann says she called him the next day but he didn't pick up. After three days, Kirubi called her and they met at the same entertainment spot in Westlands where after a few drinks, they went home.
"This time things worked and we were able to go the full length. He still gave me Sh 10,000 in the morning."
She adds that after a few weeks, she got into some family emergency that needed money. So she called and begged for money from Kirubi.

"He flatly told me he couldn't help. A few weeks later, we met again and this time when we got home, he couldn't function. He left me in the room and went to sleep in a different room. Come morning, I was dropped into town and when I asked him for some money, he refused, saying he didn't do anything. I tried reasoning with him, saying it's not my fault, because I am not the one who wasn't able to do it. I was ready. He totally refused."
Ann says the billionaire never texted or even sent WhatsApp messages to her. If she texted, he would then call back, but the phone conversations never went more than a few seconds.
"He hated long stories. He wanted everything short and to the point. Brevity. He was also a very good guy to ask for advice because he would dispense it freely. And he was a man who lived his life to the fullest. He took me to a beautiful hotel in the Rift Valley where he allowed me to try any activity no matter the cost. Even then, he was still busy working. He told me he had spent almost Sh200,000 that weekend, but he still gave me the usual Sh 10,000."

She adds that Kirubi could treat a lady very well, as long as it doesn't involve money.
"He would talk to you in a very loving way. When with him, you'd think he was going to change your life. You'd feel you are the special girl in his life."
A former employee says the word philanthropy didn't have space in Kirubi's vocabulary.
"The only donation he ever made was a blood donation. He didn't believe in giving out money unless there was a very special reason."
He may have struck gold in business, but the fallen tycoon found it hard to strike and maintain friendships. He often kept to himself at a personal level. During public events, he could appear bubbly and charming, but deep down, you could get the sense that he was a lonely man.

During a 2016 business trip in Paris, a scribe who spoke to the Nairobian in confidence recalls how the business magnate struggled to keep company either with politicians in the presidential entourage or fellow CEOs. He appeared to avoid entreaties or small talk. When Kenyans met for drinks in the evening, he tried joining the team but he couldn't just fit in. "He wasn't buying rounds like other CEOs. At lunchtime, he tried sitting at some tables with fellow Kenyans but he either felt they were beneath him, fellow business people ignored him and he couldn't catch the eye of the president who was so busy. He was just alone most of the time.

"At one point, the only people who were talking to him were journalists and he accused them of not being patriotic because they publish negative stories. They in turn asked him to start publishing patriotic stories because he also owns a media house. He also started avoiding the journalists because he felt slighted," recalls the journalist.
A young woman who had a memorable chance encounter with DJ CK says she was invited out of town for a weekend with the billionaire and she tagged a friend along. They had fun, accruing bills in the bar and riding horses. But when the night came, she wasn't comfortable spending a night in his room, and he graciously allowed her to go sleep alone. The second day, she still wasn't ready and being a perfect gentleman, Kirubi didn't seem disappointed or angry. She woke up the next morning to find the businessman had left for Nairobi, having only cleared his bills. The two lasses were forced to fundraise to clear their part of the bill that was running in hundreds of thousands.
With great wealth comes great power and Kirubi was no different. Activist Boniface Mwangi remembers a time when Kirubi threatened to harm him over a story he had posted in a social watch website.

"In 2012-2013 @Pawa254 was running a website called Mavulture. We used to publish stories of powerful crooks. We did a story on Chris Kirubi and he requested a meeting through a mutual friend. When we met, he threatened me. He said, 'You know I won't sue you but l can harm you'," says Mwangi.

A former newspaper editor also saw the devious side of Kirubi when he took back a bribe he had been offered to kill a story touching on him. The billionaire had picked a female from an upscale entertainment joint for a private party at his house. A few weeks later, it emerged that the girl was a few months' shy of her 18th birthday. Her parents, senior officials at an international agency, went to the police but the case headed nowhere. They then headed to the media but Kirubi also blocked the publication. It is then that the billionaire sent over a package to the editor with a threat that he would be 'finished' if the story ever gets published.