I live in Kitengela, not Kawangware: Woman in cheeky poster denies being husband snatcher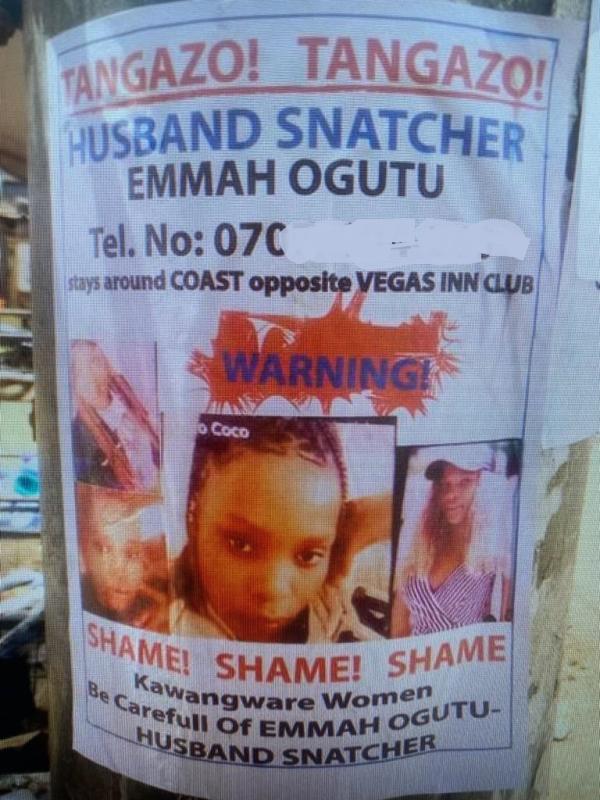 A Nairobi woman, whose posters have been doing rounds that she is a husband snatcher, has strongly denied the claims.
The posters that have her photos and mobile number were circulated together with statements shaming her and warning the public, mostly married women, to beware of her.
The undated posters claim in part that the youthful woman, identified as Emmah Ogutu, is a, "husband snatcher, who stays around Coast area in Kawangware, which is opposite Vegas Inn Club."
"Kawangware women beware of husband snatcher," reads the poster.
It is believed, the posters, which were first pinned on electricity poles around Kawangware, were glued overnight. But when The Nairobian reached her, Ms Ogutu distanced herself from the claims, saying she had received similar information from another person.
"I'm in shock too. Someone told me while I was at my workplace. I don't know who could have done that because I don't stay in Kawangware. I live in Kitengela and I have never stepped in Kawangware. I have already engaged police officers so that they can assist me on the case," she said.
City lawyer Felix Kiprono argues that the person behind the posters could end in jail for defaming another person in public and invading her privacy.
"It is wrong to vilify someone in public and the law is clear that it is direct defamation to another person because we all have rights to privacy. The aggrieved party should have tried other means of solving the problem. Maybe they know each other," Kiprono said.
Kiprono, a senior lawyer at Keaton and Keaton Advocates, pointed out: "It is a dodgy move and if the culprit is found and knows the victim, and worse if the said defaming statements are false, it may cause the targeted party to take harmful action."
In his view, when it comes to relationship issues, there are other avenues to solve them, saying it is better to go separate ways once you realise your partner is a hoax.
"That is why people resort to such options or even killing each other. The earlier you leave the better," he said.
Hide your knickers
Hanging your underwear on a public clothesline makes them public property