City lawyer in steamy video: I'm single, she's not my girlfriend, I'm not seeing any one, I am not married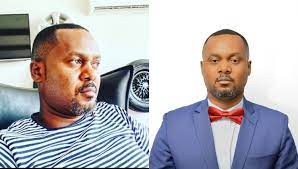 After starring in a steamy video with an unidentified woman whom he suckled on her tits like a toddler does to his mother, criminal lawyer Harrison Musyoka has come out to set the record straight.
The vibrant lawyer has told The Nairobian that he does not regret what happened and only feels sorry for the woman in the video, a friend who is devastated and is not talking to him.
"She does not come from a background similar to mine, probably her family might take time to reason with her," said the Nairobi-based lawyer.
Musyoka further explained that the video was shot during a birthday party attended by six people including the birthday girl.
"She was the birthday girl, she is not my girlfriend, I am not seeing any one, I am not married; I am a bachelor and I am allowed to go out there and have fun!" Musyoka said, describing the situation as, "One of those days you are invited for a birthday party and you are dared to do something."
He didn't expect the hullabaloo as, "It was a dare that went wrong."
Musyoka added that he has no idea what implications the video might have on his career; arguing that it is his social life and not a reflection of what he does for a living.
Who leaked the video?
For Harrison, the leaked footage is not a big deal and, "I really don't see anything wrong with the video but I feel for the lady's plight, she has been exposed and I really feel her pain, she is going through a lot. I really wish I could pull the video down but I don't have the expertise."
Remorsefully, Musyoka is asking people to stop sharing the video for the sake of the lady.
When asked who leaked the video, Musyka is not aware.
"I don't know if it was one of my friends or the ladies' friends. If we knew who recorded the video, we would have already reported it to the police," he says adding that, he wants to find out what was running through their mind.
"I know I am a good lawyer and that video cannot possibly affect what I do for a living. I don't understand why they had to expose the lady that way but for my case I really don't care. But I wish to know why someone would relay such private information to the public. It is a criminal offense," the lawyer added.
As for what family thinks, "We have been raised in a cosmopolitan setup, I don't think my sisters would have a problem with that, they have called me and we have talked and there is nothing big about it to them," the lawyer told The Nairobian.
"In my family it is not a sin as long as you are not hurting someone. I don't have anyone that I am supposed to protect in regards to my personal life except my daughter. I hope she does not see the video but she is not in the country right now.
Lawyers are human beings
Regarding his work reputation, "Being a lawyer we are supposed to act holier than thou, as if we are not human beings. But you do understand we are human beings and some of this things we do like all the other people."
Harrison however will not disclose the venue of the birthday party to protect the other attendees.
"We were six of us and that is below the approved number of people in a gathering, moreover, it was a house party."
Hide your knickers
Hanging your underwear on a public clothesline makes them public property