Chinekeeee! Kakamega village left in shock after cow delivers an egg instead of calf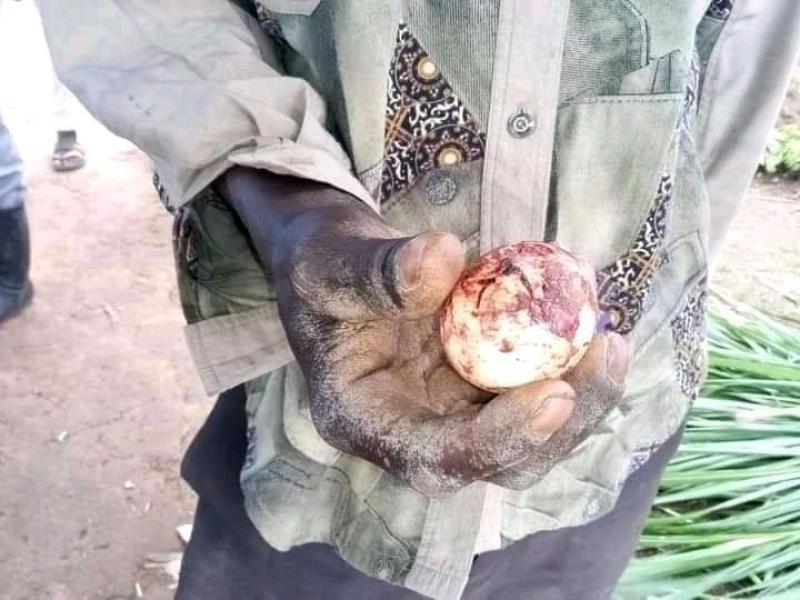 Residents of Bulovi village in Shinyalu, Kakamega County were treated to a rare incident after a cow delivered an egg instead of a calf.
Locals flocked to the homestead of David Mateche, the owner of the cow to witness the incident which left many totally tongue-tied.
The cow gave birth to a chicken-like egg which had blood stains allover with elders in the community warning that a ritual had to be performed to appease the gods and avert the 'enchant'.
Mateche says the cow was only a month-old pregnant hinting that he had hopes that it would eventually give birth to a healthy calf.
"I noticed that the cow was pregnant last week. I was elated because I knew it would eventually give birth to a health calf and provide us with fresh milk for quite some time. However, I was really shocked when it gave birth to an egg resembling that of a chicken.
He told The Nairobian that such an incident has never been heard of before in the entire county.
"So many people have been coming here to see the cow and the strange egg. Such a thing has never happened in this community and it left me in pain because I expected a calf and not an insignificant egg."
George Shamala, one of Mateche's neighbours says they woke up early in the morning to witness the bizarre incident after getting the news from his brother.
"I came here immediately I was informed of the strange happening. I still can't believe my eyes that a cow has delivered an egg after a whole month's pregnancy," He lamented.
Shamala said it was a sign of witchcraft urging Mateche to consult elders on what needed to be done to avoid such happenings.
"This is not only strange but also worrying. I suspect that somebody might have charmed the cow, which calls for consultations with area elders to ascertain the next course of action.
However, the area elders now want a ritual performed to cleanse the family and prevent such incidences in future.
Led by Peter Muluka, they want a traditional ritual ceremony conducted to avert any bad omen in the family citing that such happenings signify a bad spell for the community.
Muluka notes that a ritual must be conducted on the cow before it's sold as soon as possible.
"Such happenings only indicate that something is very wrong. We cannot just sit and face the future blindly. We will conduct a ritual according to our culture and customs to avert any form of disaster that may befall our community, it's not a good sign."
Hide your knickers
Hanging your underwear on a public clothesline makes them public property