House girl steals Sh1.4 million from employer, buys family gifts and expensive clothes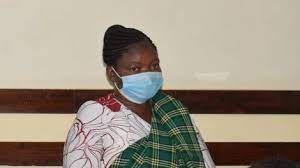 A househelp, who stole Sh1.4million from her employer seven years ago, has been found guilty. Gladyce Iminza Ayekha is alleged to have gone on a shopping spree with the stolen money. Ayekha is said to have spent the money buying her family members gifts and expensive clothes.
She was charged alongside her husband, Benard Sangare, father Josphat Ayekha and brother Jackson Ondari, but the three were later acquitted after court found them innocent. The court, during trial, heard that Iminza stole the money from her employer, Catherine Mwende Ndemwa in Imara Daima estate, Nairobi on January 20, 2014.
It is also alleged that Iminza's husband also worked for Ndemwa as a houseboy, back in the village. On the fateful day, it is alleged that Ndemwa arrived home from work to find Iminza missing. Upon calling her, Iminza's phone had been switched off and when she (Ndemwa) rushed to her bedroom, she found her safe had been opened and the money was missing.
She asked the watchman about Iminza's whereabouts, who informed her that she had left at around 1pm.
This prompted the complainant to call Iminza's husband who didn't pick up her calls. Ndemwa reported the matter to cops who arrested the four family members.
Cops recovered Sh259,000, a new motorcycle, and an assorted electronics from the couple.They were arrested and charged with being in possession of stolen money. In court, Iminza couldn't explain the source of the money and lied that the money was part of her savings.
However, the judge dismissed the claims, stating, "the couple ought to have worked for about two years without spending a coin in order to save such an amount. I find that their explanation does not hold any truth."
Hide your knickers
Hanging your underwear on a public clothesline makes them public property