Lover's zone: As night falls, popular city footbridge is abuzz with adult activities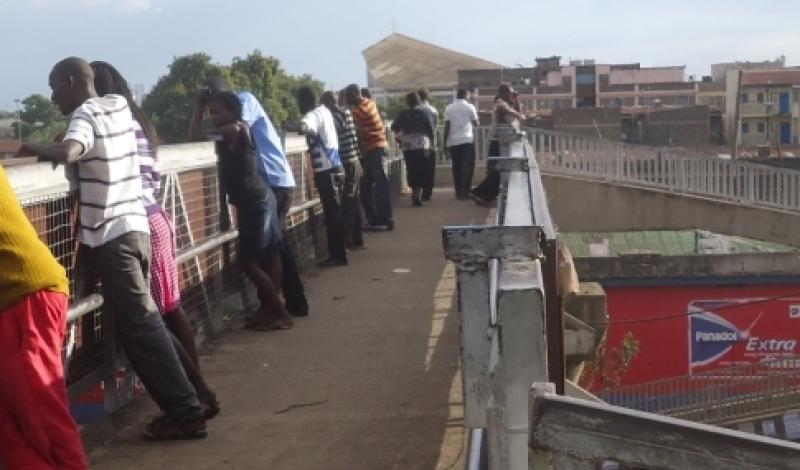 A recently completed footbridge in Kware area in Pipeline estate has been converted into a favourite hangout by hundreds of lovebirds during weekends.

On Sundays, lovers flock the flyover from mid morning to late evening.Residents who spoke to The Nairobian say the area, which was once a hot spot for muggers and a black spot for motorists, was transformed when the footbridge, with a roof to boot, was completed. It ushered in a new era of improved safety, business opportunities and lately a lover's paradise.

"On Sundays, young couples flock here to have fun because there is no open place to hang around like Uhuru Park or other amenities. Some just come here to while time as they share candies," Felix Muiya, a sugarcane seller said.
"Before its construction, many people risked getting knocked by speeding vehicles as they crossed the road. But things have changed as has business in the area," Muiya added.

However, some pedestrians say they have been embarrassed to walk in on couples in compromising positions on the footbridge, especially late in the evenings.

Other footbridges that are 'fully booked' on Saturdays and Sundays include one at DC stage in Makadara and City Stadium. Some of the footbridge users who spoke to The Nairobian said it gets 'messy and noisy' as night falls. That is when lovebirds start entertaining ideas of breaking a certain biblical commandment.

"I was crossing the bridge with my children a few minutes to 7pm when we found a couple who had forgotten they were not in their bedroom," said Richard Muthee, a frequent user of the footbridge in Makadara area along Jogoo Road.
Hide your knickers
Hanging your underwear on a public clothesline makes them public property