There is no shame in conceding the fight when you've been exiled to the couch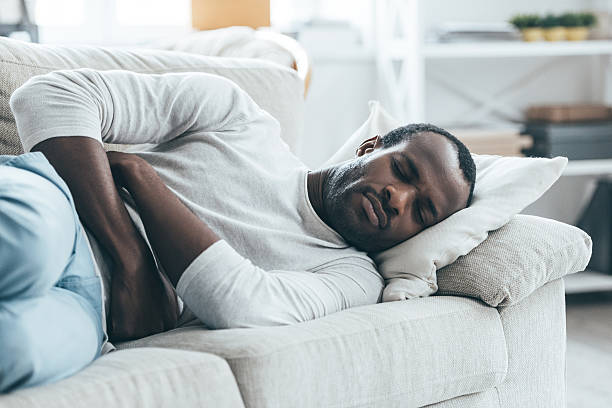 As any man who has spent the night on the couch will tell you, it rarely feels like a victory.
It is not a fun place to spend the night, that lumpy couch that has imbibed centuries of silent farts and absorbed gallons of 'accidental' fluid… that couch which holds the unique buttprints of everyone in that household. Your couch is a perfectly sound surface on which to absentmindedly watch the latest trending show on Netflix. But it turns woefully inadequate when your wife declares that it will be your bedroom for the duration of whatever disagreement you refused to give her the satisfaction of winning.
The fire of your rightness will keep you warm enough that first night. You will toss and turn, yes, mainly as you adjust to the lack of a sharp knee digging into your back, or the absence of a less-than-fragrant bushel of stale weave hair prickling your nose.
But you will be comforted by the knowledge that you were right, dammit. You refused to give in to the lunatic ramblings of your roommate/wife/stranger with whom you have children. You chose to plant your flag resolutely on the hill of logic, and that is what matters. In fact, you only agreed to sleep on the couch because the thick fog of stupidity clouding your bedroom would not have allowed you to fall asleep.
On the third night, though, reality will have started to sink in, and your resolution, unfortunately, will have begun to waver. It might have something to do with your enemy forcefully waking you up at hours colder than a witch's nipples by wrenching the curtains open and shouting that her living room is not a dorm. It won't help that she will choose those very hours to loudly remind Jesus that she belongs to him, by way of hymns and Angela Chibalonza lyrics. This is war, sir, and there are no rules in war.
You can keep your foot planted on the ground. You can keep your jaw taut and your spirit unmoved, even when the enemy starts hinting that she has stopped wearing anything to bed, or loudly suggesting that all will be forgiven if you just admit you were wrong.
But let's face it. This one is a lost cause.
At this point, your win will be meaningless. Let's be honest, it is no longer about the principle. Now, it is a pissing contest. Metaphorical tape measures need to be brought out, because this is now about whose ninio swings lowest.
And so, if I may address that esteemed expatriate of ours, the one who was forced out of his bedroom and is now making the rounds at foreign embassies like a boy band in its prime. I cannot address him directly, because I was never good at mchongoano in primary school, and he will finish me on Twitter. I have also seen the photos of his prides and joys, and I don't want to kneecap a potential in-law dynamic.
But I am very sympathetic to his plight.
A word of advice, Mkubwa. You have slept on that couch for far too long. You were right, and the missus was wrong. Ten times out of 10, you win that fight. Nine times out of 10, the neighbours join in and support you. Everyone knows you were right. But in the spirit of living to fight another day, maybe it's time to consider throwing in a small white sock. Not a whole towel. We will never give 'her' that satisfaction. Viva! But maybe if you throw in a white sock, she will see it as a concession.
Just tell her that she's beautiful, Bwana M Squared. Even if deep down, you know she isn't. Tell her she is right, that she has a keen eye and should be considered for a UN job, thanks to that frighteningly razor-sharp mind of hers.
If you have to, drop down on one knee and soften her with that winning smile you once used to eviscerate that former governor and amateur softcore videographer. You're not begging, no no no. You are simply yielding a little ground, which, in the grand scheme of things, isn't so bad.
Once you're off the couch, you can restrategize, re-evaluate and relaunch your attack from a point of experience.
Lose this battle in order to win the fight. You have been on that couch too long. And as any husband will tell you, sometimes you accept the L and live to fight another day.
@sir_guss