Many Kenyan men secretly love mashakura a la carte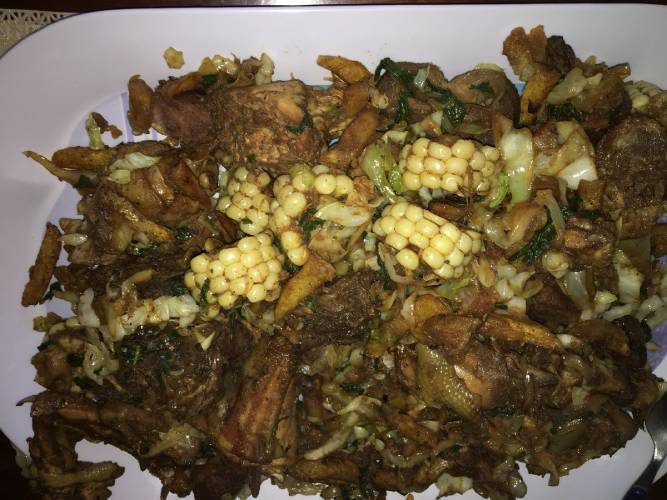 Our sisters from the slopes have long been vilified over a perceived lack of culinary expertise. It is said they cannot buy carrots at the mama mboga without drawing knowing smiles. Without being asked if they want minji to go with the carrots. Ati they have a secret stash of potatoes in an airtight corner of their kitchen, and another one at the neighbour's house in case of a midnight emergency. They also claim that the boot of a Probox is meant for carrying sacks of produce from the village and nothing else.
Our light-skinned sisters, who have shockingly been saddled with nicknames such as minji minji due to their affinity with the grains, are often uncharitably associated with a specific delicacy christened mashakura, comprising a madcap mix of assorted vegetables, dinner leftovers and a sprinkling of impatience.
Mashakura, for anyone just waking up from a coma, is a culinary miracle with the most straightforward recipe of all.
It asks you, the chef, the very question God asked Moses while they were roasting snakes by the burning bush: "What do you have in your hand?" Well? What do you have in your kitchen? Beans? Leftover cabbage from yesterday? A morsel of beef that somehow escaped the previous night's feast? Throw it all in there. Bring it to a boil and voila. Serves 4-13.
The sheer versatility of this meal should afford it a lot more respect than it currently gets. In order for my people to get the recommended balanced diet, they would have to keep the jiko alive long enough to cook three things. Ugali, of course, vegetables and vegetables, the latter being savoury (something protein-based like chicken).
But with mashakura, there is a bit of everything in that swirling broth. All the food groups are catered for and then some. Need a bit of Vitamin D? What about the one which gives you strong knees? You won't have to worry about any of that if you're on a steady diet of mashakura versus basmati grade 2.
It is an impressive feat of their other credentials that daughters of Mumbi are still able to wreak such havoc on the dating pool, even accounting for this supposed tastebud deficiency. We mock the yellow-yellows, but they have a sizable proportion of our men in a headlock. There is just something about them, something men don't want to tell us.
My theory, though, is that those men do in fact enjoy mashakura a la carte.
I know my gender. We are generally a very pretentious lot. We will gush about those elegantly designed entrees, the kind of snacks you see at high-end restaurants with a single leaf of parsley perched on the side of the plate. But we would much rather eat a bowl of githeri prepared with a touch of impatience. How else would you explain the eternal appreciation men have for kibanda food?
The proprietor of that kiosk has never heard of Gordon Ramsay. She does not check her tomatoes to make sure they are blood-red instead of burnt orange, and she certainly doesn't care if her chapos are dotted or pockmarked. But that small tin hotel she runs will be packed to the rafters like Anfield on a Champions League night.
Similarly, we all pretend we want one of those sophisticated women who can work miracles in the kitchen. The ones who own cookbooks and make cheese plates and add ingredients one at a time. They know coriander stems are for frying, and leaves for garnish. You know, the ones who marinate meat for two days.
But those same men will wolf down the silvery-brown sludge the house-help prepared in lieu of stew. They will clear a field of steamed cabbages faster than you can blink, then wash it down with a beer and pass out on the couch happily.
Kids don't need gourmet meals, you see. They need nourishment, and our in-laws from the seat of power understand this better than most wife-material pretenders. Why do you think the potbelly is a pandemic that side of the country? Nourishment, that's why.
And so I must ask that we halt the assault on our beloved yellow yellows. They occupy the kind of market space Apple does, and are hated in much the same way. Let us appreciate mashakura for the important work it does.
Who knows, maybe the secret to leadership is buried somewhere in that watery stew.
- [email protected]
@sir_guss
Dated for years? He won't marry you
Yaani you start dating someone when you're 24 years old, and on your 29th birthday you are still in the girlfriend zone asking 'what are we?'