'Daktari wa mapenzi' must come back, there's more work to be done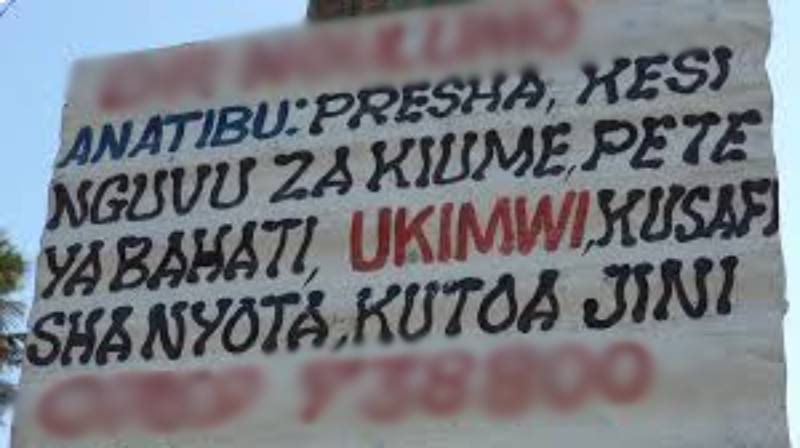 I read with amusement the story of a man, a snake and an eagle. It was a chaotic tale, involving questionable aerodynamics and a snake so dedicated to the task 'at hand' that it had hired an eagle as its private Uber.
Not only was it a scene straight out of my Class 8 composition book, it also bore all the indicators of good, old-fashioned waganga involvement. And I, for one, could not be more thrilled at the prospect of their return.
For whatever reason, those spiritual consultants had disappeared from the limelight in recent years. I cannot remember the last time I heard a classic waganga story, even before that pandemic sent us to work from our bedrooms.
It has been relatively quiet on that front; no bees gathering on a Prado side mirror, no naked men seen chewing grass… Perhaps, like other service industries, Covid has been hard on the purveyors of specialised arts. 4G network may have penetrated right to the bushes, but there are still consultations you need to make face to face.
In any case, I would like to be the first one to welcome them back.A more combative person would immediately question why they abandoned us in our hour of need. Why their specific skillset, their pills and potions, were so ineffective against that small virus from majuu.
For people who can make your enemy's genitals disappear, waganga were strangely blunt against our biggest enemy of the last two years. For people who can treat conditions like heartache and jealousy; conditions which have defeated our brothers in medicine, these our alternative medical experts have been curiously stumped by the virus. Even if that virus has been changing clothes at random like a runway model.
But I am not a combative person, and I will not hold this small failing against them. I am encouraged, if anything, by their sudden, bombastic return to the limelight, and I heartily invite their attention on certain issues of national import. I wonder, for instance, if they can intercede on behalf of the boychild on the following issues: DNA tests, women who soil your good reputation on social media, female lawyers, the continued existence of petticoats, and the epidemic known as 'Nitumie' texts. We are barely hanging on as it is.
Might they also intervene in the matter of building bridges? What's happening there? Was reggae really stopped? Do we need to throw the whole sound system away?
If I might also make a personal request… there is a team in the northern burbs of London that has been breaking my heart more consistently than lightskinned women. We are only asking for a small trophy, please, not even a big one. We have been trusting the process, but we need something to cheer beyond our manager's sharp dressing.
More than anything else, however, I am relieved at the return of the wizards because it promises to bring sanity and respect back to the dating game. I cannot be the only one who has noticed how disrespectful those streets have gotten.
These days, a small boy with tendrils on his chin will sweep your woman right from under your nose and not even flinch. A toddler with a university ID will chew your missus even though she has a wedding ring, a wedding tattoo and the c-section scars from which your kids burst forth.
And he won't even have the decency to pretend to be in love with her, he'll just upend her uterus and send her back to you with a litany of "How come you no longer..." questions.
It was different when everyone knew the consequences of plucking the forbidden fruit. Back when people were getting stuck together while in the act, there was a little more caution.
When you could relocate a cheating lover's soft bits from their pants to their forehead, people checked for a wedding ring and kept a wide berth. When you could purchase enchanted steel underwear for your man so that those loose women knew what was yours was yours.
The noble and ancient institution that is matrimony, holy or otherwise, is on its deathbed as it is. Happily ever after lasts about a year… six months if the couple was ever locked down together. We need to revive it, make it great again. We need to put the fear and awe back in the minds of cheaters, much like the people behind that snake, eagle and driver shenanigans did.
Welcome back, waganga. There is work to be done.
— [email protected]
@sir_guss