Premium
Polls reveal Kenyans are mistrustful of Judiciary and its 'cosy relationship' with polticians
Politics
By Gabrielle Lynch | Sep 25th 2023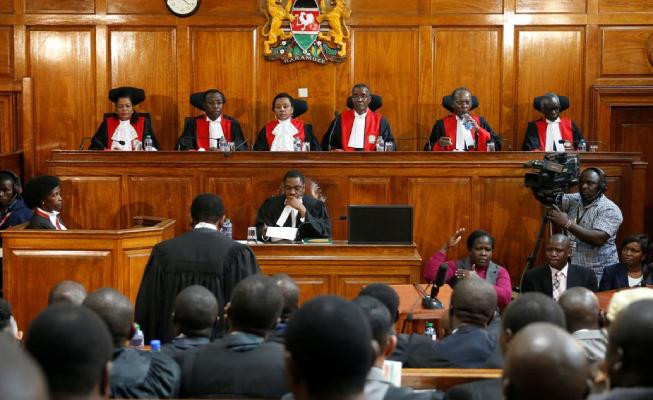 The international reputation of the Kenyan judiciary is running high following a raft of judicial reforms brought on by the 2010 Constitution. The reforms, displays of judicial independence, and largely positive personal experiences might lead one to expect that public trust in the courts has increased. But among the Kenyan public, it has not.
High-profile Supreme Court judgments have showcased a newfound judicial independence. The most notable include the nullification of a presidential result in 2017, the rejection of government efforts to force through constitutional changes in 2021, and the recent confirmation of the rights of LGBTIQ+ people to form associations.
Personal experience of the courts is also largely positive. In March 2023 I commissioned Trends and Insights For Africa, a market research company based in Nairobi, to add questions on the Kenyan judiciary to a nationally representative face-to-face survey.
It revealed that 18.7 per cent of respondents reported having been involved in a case in a Kenyan courtroom. Of these, 43.4 per cent rated the experience as very positive, and 25.1 per cent as quite positive. Neutral responses made up 11.9 per cent; 6.3 per cent were quite negative; and 11.9 per cent were very negative. Of the overall sample, 12.8 per cent had a positive personal experience of the courts, and only 3.4 per cent had a negative one.
Public perceptions of the Kenyan judiciary have been tracked for nearly 20 years. According to 2021 data from the independent research network Afrobarometer, 16. per cent of Kenyans had no trust in this key institution, up from 11.4 per cent in 2003. The only time that public trust was clearly lower was in 2008. This followed the 2007 election and post-election crisis, which drew attention to a perceived lack of judicial independence.
More worryingly still, a majority of respondents in my March 2023 poll thought that Supreme Court judges were very often or sometimes bribed (58.1 per cent) or intimidated (59.4 per cent) to give a verdict unsupported by the evidence. There was hardly any distinction between public perceptions of the Supreme Court, High Court and magistrates.
Voters' resistance to abortion restrictions clouds Republicans' future in 2024

Karua joins suit questioning her move to the East Africa Court

Inside story of wealthy Kenyan in US court over plot to kill his wife

Religious leaders, MPs clash with Supreme Court over LGBTQ rights
This confidence crisis is a problem because people need to believe the judiciary is acting independently if it is to play its role. For example, the fact that the Kenyan opposition did not trust the courts in 2007 led them to protest about the election on the streets, rather than bring a petition. It sparked the country's worst crisis.
I am a political scientist who has studied Kenya for 20 years. My current research focuses on the critical role of the judiciary, which is relatively understudied.
Shaping perceptions
It's important to try to understand the confidence crisis.
Despite reforms, there are still regular reports of judicial bias and corruption. There are also interactions that suggest a "cosy relationship" between the judiciary and the political elite. This casts a shadow over the whole judiciary.
Public perception reports must also be considered in context. The year 2003 was a time of great optimism in Kenya. It followed the landslide victory of Mwai Kibaki over the party that had ruled the country since independence. Kenyans were the most optimistic citizens in the world at the end of 2002. Public confidence in other key institutions – including the president, parliament, electoral commission, police, and army – was higher in 2003 than any subsequent round of the Afrobarometer.
Optimism soon turned to pessimism and finally deadly violence following the disputed election of 2007. A new constitution in 2010 failed to provide "quick fixes". Governance and socio-economic problems persist.
Scholars and international observers have high regard for the Supreme Court's 2017 presidential petition ruling and subsequent bold decisions. But public opinion in Kenya is divided. My March 2023 poll asked people whether there was a Supreme Court case that they disagreed with. Ordinary citizens cited exactly those cases that have been internationally lauded: 47.4 per cent referred to the gay rights of association case (freshly concluded in February 2023); 21.2 per cent cited the 2022 presidential petition, 8.6 per cent the 2017 petition, and 5% the 2013 petition.
Stay informed. Subscribe to our newsletter
People's views on these cases differ depending on their own views and interests, the opinion leaders they listen to, and their expectations of how a court should behave. For example, of the 26.3 per cent of respondents who said they were dissatisfied with the way the Supreme Court handled the 2022 presidential petition, 43.8 per cent said one of the reasons was that the decision was not based on evidence or was biased; 11.3 per cent cited outside interference or coercion and 32.8 per cent bribery. And 18.2 per cent said that they were annoyed because the court didn't nullify the election.
However, 24 per cent said that they were dissatisfied because the court was rushed or had insufficient time, and 10 per cent because the ruling used rude or dismissive language. Those who cited time issues or language as one of the reasons for their dissatisfaction were a minority but they remind us of how public perceptions are informed not only by the substance of rulings but by how judges behave.
It also means that acts that have attracted public criticism – such as the chief justice and deputy chief justice lining up alongside politicians to welcome President William Ruto to the opening of parliament in September 2022 – have helped to reinforce popular perceptions of a judiciary that is biased or liable to being bribed or intimidated.
The writer is a Professor of Comparative Politics, University of Warwick. This article was first published on the conversation.com.